Monday, August 20, 2012 - 8:30 pm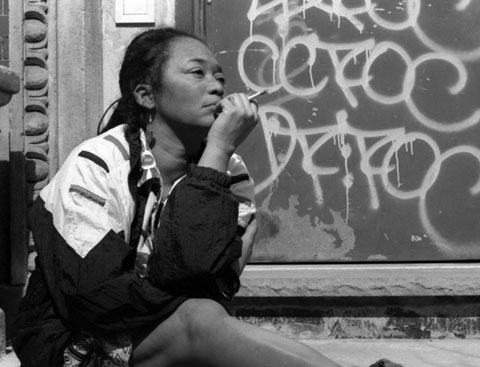 Programmed by Amy Kazymerchyk
In her vast and compelling oeuvre, media artist and poet Abigail Child's created three unique films that speak to women's political, sexual, and economic experiences on the streets of New York. Mutiny (1983) is a panoply of expression and gesture. It's a collage of women: at home, on the street, at the workplace, and at school — talking, singing, dancing, and playing the violin. Mutiny belongs to a series of montage films, entitled "Is this is what you were born for?", in which Child conducts an archaeological dig through the miasma of images and expectations we are born into. In Game (1972), an intimate portrait of a couple, Child's compassion, generosity, and fearlessness nurture a complex conversation on civil rights, sexual politics, prison justice, love, and economics that reveals the real game within American culture. B/side (1996) is a poetic rumination on urban homelessness. Framed by footage of the encampment locally known as Dinkinsville on New York's Lower East Side, B/side is composed of sensitive vérité footage of the site's external conditions and intimate vignettes of women's interior fantasies.

Abigail Child is a media artist and writer whose original montage pushes the envelope of sound-image relations. Her work in the 1980s explored gender and strategies for rewriting narrative. In the 1990s she recuperated documentary to poetically explore public space. In the 21st century, her films investigate the awkward drama of everyday, often utilizing archival material to examine the past. Child has also turned her vertical montage to installation, creating prismatic and interruptive multiple screen narratives at galleries across the world. Harvard has created an Abigail Child Collection dedicated to preserving and exhibiting her work.
PROGRAM
Mutiny. 1983, Colour and B&W, 16mm. 10mins. 

Game. 1972, B&W, 16mm. 40mins. 

B/side. 1996, Colour and B&W, 16mm. 40mins.