Now

I used to lie in wait to see the clover open
Or close,
But never saw it.
I was too impatient,
Or the movement is too subtle,
Imperceptible
And more than momentary.
My five-year-old self would tire of waiting
And when I looked again
– All closed for the night!
I missed it
Once more.

Cinematographically
I have registered the opening of escholtzia
On an early summer morning.
It gave me a sharp awareness of time passing,
Of exact qualities and values in the light,
But I didn't see the movement
As movement.
I didn't with my own direct perception see the petals
    moving.
Later, on the film, they seemed to open swiftly,
But, at the time,
Although I stared
And felt time not so much moving as being moved in
And felt
A unity of time and place with other times and places
Yet
I didn't see the petals moving.
I didn't see them opening.
They were closed,
And later they were open,
And in between I noted many phases,
But I didn't see them moving open.
My timing and my rhythm could not observe the
    rhythm of their opening.

The thing about poetry is you have to keep doing it.
People have to keep making it.
The old stuff is no use
Once it's old.
It comes out of the instant
And lasts for an instant.
    Take it now
    Quickly
    Without water.

There!
    
    Tomorrow they'll be something else.
From origins and elements, 1959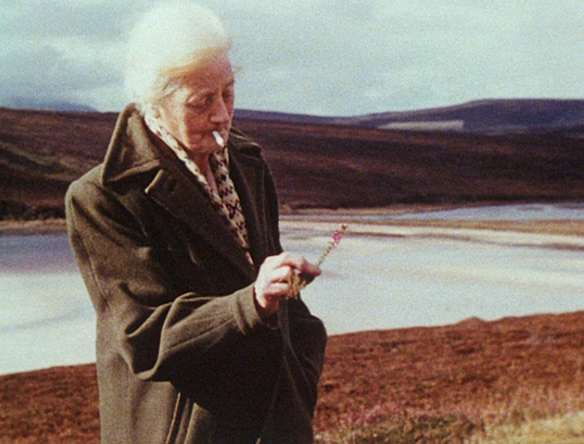 Programmed by Sarah Neely and Matt Lloyd
Margaret Tait (1918-1999) stands out as one of Scotland's most innovative and stridently independent filmmakers. Although her work was relatively unknown during her lifetime, recent years have heralded a more widespread acknowledgement of her significance across several areas of the arts in Scotland — film, art, and poetry. Marking the centenary of Tait's birth, this program showcases part of the body of work she referred to as her "film poems." Made in Edinburgh and Orkney, the two places she lived and worked for most of her life, the films, shot on 16mm, capture the people and places she was most familiar with. Celebrations of the everyday, they approach their subjects with great intimacy, unravelling the mystery of the commonplace through details often overlooked.
Three Portrait Sketches | 1951. 10 min.
A Portrait of Ga | 1952, 5 min.
Where I am Is Here | 1964. 35 min.
Aerial | 1974. 4 min.
Colour Poems | 1974. 12 min.
Tailpiece | 1976. 10 min.
Screening format: 16mm film converted to DCP
Images courtesy of LUX, London
"A unique and underrated filmmaker, nobody like her. Born of the Italian neo-realists, formed of her own Scottish pragmatism, optimism, generosity and experimental spirit, and a clear forerunner of the English experimental directors of the late 20th century. A clear example of, and pioneer of, the poetic tradition, the experimental tradition, the democratic tradition, in the best of risk-taking Scottish cinema."  Novelist Ali Smith on Margaret Tait. Full text here.
Programmed by Steffanie Ling
ARTIST IN ATTENDANCE! In her speech to the (UK) Conservative Party Conference in 1987, Margaret Thatcher claimed that British children were being taught anti-racist mathematics as part of a new curriculum delivered by "extremist teachers." In Anti-Racist Mathematics and Other Stories, a series of three speculative educational videos, Vancouver artist Byron Peters attempts to figure this anti-bias pedagogy within the lexicon of our contemporary mediascape. Each episode, visually distinct in its playful didacticism and in the composition of its unreliable narrator, is a thought experiment that oscillates between satirical dramatizations and sincere propositions for a world wherein the equation 10 − 3 = 13 expresses an ideology of sharing, collectivity, and mutuality.
Anti-Racist Mathematics and Other Stories is a series commissioned by VIVO Media Arts Centre that initiated with the exhibition Byron Peters — Before and After the Sixth Radar Conference (VIVO, 2017).
Episode 1 | Byron Peters/Canada 2017. 22 min. DCP
Episode 2 | Byron Peters/Canada 2018. 30 min. DCP
Episode 3 | Byron Peters/Canada 2018. 30 min. DCP
Post-screening Q&A moderated by Stacey Ho, an artist, writer, and curator living on the unceded Coast Salish territories of the xʷməθkʷəy̓əm (Musqueam), Sḵwx̱wú7mesh (Squamish), and səl̓ílwətaʔɬ (Tsleil-Waututh) peoples. Their practice considers intersections of culture, history, and embodied experience from a feminist perspective. They also spend a lot of time thinking about math, plant medicine, and perfume.
Byron Peters is a Vancouver-based artist and writer whose collaborative and solo works take the form of sculpture, text, sound, and video. His research engages emerging technologies, economic imaginaries, prison education, and the histories of science.
Steffanie Ling is a writer, critic, editor and producer of pamphlets, stories, essays, exhibitions, reviews, bluntness, anecdotes, shout outs, wrestling storylines, proposals, applications, jokes, readings, minimal poems, poems, dinner, compliments, and diatribes. She is the former Events & Exhibitions co-Curator at VIVO and the new Artistic Director of Images Festival.
Co-presented with VIVO Media Arts Centre
Image: Production still, Episode 2, 2018, courtesy of the artist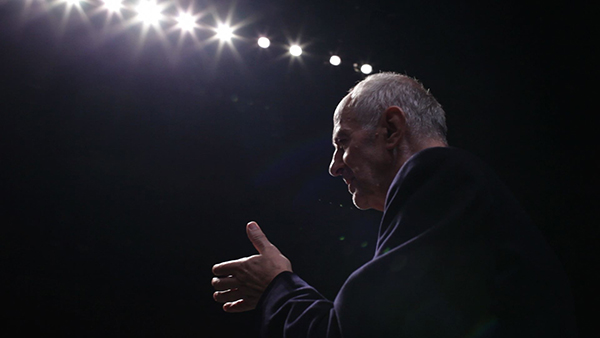 Programmed by Michèle Smith
Fascinated by the "erratic meetings and schisms" of images, artefacts and histories, Canadian artist Corin Sworn builds her research into "scripts," sometimes as objects and propositions in a gallery, sometimes as characters and narratives in a film. The script for Lens Prism, a fragmented soliloquy delivered by an unidentified man to an empty theatre, reflects on a common paradox of representation: that we express ourselves more readily by appropriating pre-existing narratives — here from literature, theory, and film — than by finding the words for our own experiences. Prompted by a collection of slides taken in Peru thirty years earlier by the artist's father, the script for The Foxes, first shown in the Scottish pavilion at the 2013 Venice Biennale, leads to a consideration of the legibility of photographs and the shifting nature of the narratives we create from them. Finally, the feature-length script for The Coat, made with fellow Emily Carr University alumnus Tony Romano, uses an ingenious subtitling strategy to combine the directors' response to interviews with migrants in Canada and Italy with Sworn's research on the commedia dell'arte, resulting in a loose adaptation of Aristophanes' play The Birds filmed in Calabria.

Lens Prism | Corin Sworn/Great Britain-France 2010. 15 min. DCP
The Foxes | Corin Sworn/Great Britain-Canada-Peru 2013. 18 min. DCP
The Coat | Tony Romano, Corin Sworn/Great Britain-Canada-Italy 2016. 58 min. DCP

Image: Still from Lens Prism, 2010, courtesy of the artist and Koppe Astner, Glasgow.
Programmed by Michèle Smith
"A work of modestly daring wonder, of exploration and inspiration ... Akerman's film is of a piece with Bausch's dances." RICHARD BRODY, THE NEW YORKER
Before Wim Wenders's Pina, there was Chantal Akerman's — shot on tour with Pina Bausch's legendary dance company in 1982. Midway through — interrupting the rehearsals and performances, the rituals of costume and make-up — Akerman herself appears on screen to confide to a friend, to us: "When I watched one of Pina's performances for the first time a couple of years ago, I was overcome by an emotion I can't quite define..." Plunging fearlessly into the realm of memory and emotions, in particular the tangled quest for love, Bausch's choreography — a mixture of movement, monologue, and narrative — often drew inspiration from answers to questions she posed to her dancers (hence the title, One Day Pina Asked). Further exploring the power to express lives lived in large movements and small gestures, this program also includes classic performance works by Bausch's contemporaries Yvonne Rainer and Joan Jonas.
Hand Movie | Yvonne Rainer/USA 1966. 5 min. DCP
Songdelay | Joan Jonas/USA 1973. 19 min. DCP
One Day Pina Asked | Chantal Akerman/France-Belgium 1983. 57 min. Digibeta
Image courtesy of Icarus Films
Programmed by Amy Kazymerchyk
In equestrian culture, Groundwork is comprised of exercises that mature a horse's response to its rider's cues and the environment. This program of landscape films from the 1960s through 1980s similarly demonstrates structural and formal methods used by artists to finely tune their perception of natural phenomena. In The Sky on Location, French cinematographer Babette Mangolte focuses her camera on seasonal light and its variegation of the American West's colour palette. American avant-garde filmmaker Marie Menken uses stop-motion capture to slow down the wonder of night-sky gazing in Moonplay. Using optical printing techniques, feminist artist Barbara Hammer explores the proximity and distance between the human body and the natural world in Puget Sound, Yosemite and the Yucatán. This selection of 16mm works reflects the visual and linguistic iconography of conceptual art, feminist art and land art that Feminist Land Art Retreat draws on in their new 3-channel video work, No Man's Land.
The Sky on Location | Babette Mangolte/USA 1982. 78 min. 16mm

Element | Amy Greenfield/USA 1973. 11.5 min. 16mm.
Moonplay | Marie Menken/USA 1964. 5 min. 16mm 

Place Mattes | Barbara Hammer/USA 1987. 8 min. 16mm
Western Gothic | Sandra Meigs/Canada, 1985. 11 min. 16mm
Co-presented with SFU Galleries, in parallel with Feminist Land Art Retreat's exhibition Free Rein at the Audain Gallery, which runs from May 31 until August 4, 2018. sfugalleries.ca
Image: still from Babette Mangolte, The Sky on Location, 1982, courtesy of The Film-makers' Cooperative
Programmed by Michèle Smith
35mm print. "A beautiful, moving, mysterious film" (Andrew O'Hehir, Salon), Pirjo Honkasalo's multilayered observational documentary was made in response to the blind eye turned by many European nations, dependent on Russia for oil, to the conflict in Chechnya. Her movie is designed as a piece of music, a symphony in three movements, or rooms, each representing the spiritual state of children affected by the war. "Longing" is set in a military academy near St. Petersburg, where young cadets, many orphaned or abandoned, are trained for future roles in Russia's army. "Breathing," filmed with cameras bravely smuggled into Grozny, the devastated Chechen capital, focuses on one woman's attempts to rescue orphaned children. "Remembering" follows her across the border to a refugee camp in neighbouring Ingushetia, where the children are given shelter. "Luminous ... A prodigious, almost spiritual experience" (O'Hehir). "Magnificent ... A director-cinematographer with a poet's vision" (Steven Holden, New York Times).
The 3 Rooms of Melancholia
Finland/Denmark/Germany/Sweden 2004. Dir: Pirjo Honkasalo. 106 min. 35mm
Image: Courtesy of Icarus Films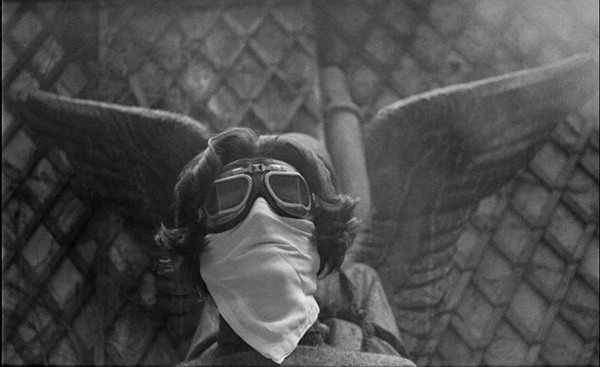 Programmed by Michèle Smith
Regarded in its time as one of the best documentaries of the New Left, Troublemakers, subtitled "a film about organizing people for change," follows the frustrated efforts of community activists to put theory into practice in an African-American community in Newark, New Jersey, two years prior to the July 1967 uprising there. Troublemakers sets the stage for a pair of shorts programmed to mark this month's 50th anniversary of the May 1968 revolution in France: Cinetracts, a series of short agit-prop films made anonymously by Chris Marker, Jean-Luc Godard, and others, using still photography; and the recently-unearthed Actua 1, which catches the spirit of '68 through footage shot by Philippe Garrel and other young protesters on the barricades. American artist Bruce Baillie, in "one of the most beautiful films ever made" (Chuck Stephens, Cinema Scope), sings us out with an old song about a revolutionary hero.
Troublemakers | Norman Fruchter, Robert Machover/USA 1966. 54 min. 16mm
Actua 1 | Philippe Garrel/France 1968. 6 min. DCP
Cinetracts | France 1968. 20 min. DCP
Valentin de las Sierras | Bruce Baillie/USA 1968. 10 min. 16mm
Image: Still from Philippe Garrel, Actua 1, 1968.
This program of works from San Francisco experimental-film distributor Canyon Cinema, one of DIM's favourite partners, is curated by David Dinnell, visiting faculty at CalArts and former program director at the Ann Arbor Film Festival. Studies in Natural Magic features recent films by Saul Levine, Charlotte Pryce, and Christopher Harris; rarely screened films by Standish Lawder and Jean Sousa; sublimely shot and acutely perceived portraits of cities, seas, skies, and landscapes by Peter Hutton, Julie Murray, Gary Beydler, Robert Fulton, and Emily Richardson; an audacious, energetic, feminist punk city-symphony by Betzy Bromberg; Degrees of Limitation, one of Scott Stark's earliest films, a humorous 3-minute structuralist gem; and Portland, a mid-90s travelogue and playful Rashomon-like inquiry into the nature of truth by Greta Snider.
PLUS! Because we're celebrating Canyon's 50th, we'll also be showing July '71 in San Francisco, Living at Beach Street, Working at Canyon Cinema, Swimming in the Valley of the Moon, a diary film by Hutton.
Light Lick (Amen) |  Saul Levine 2017. 4 min.
Catfilm for Katy and Cynnie | Standish Lawder 1973. 3 min.
Ciao Bella or Fuck Me Dead | Betzy Bromberg 1978. 9 min.
28.IV.81 (Bedouin Spark) | Christopher Harris 2009. 3 min.
Redshift | Emily Richardson 2001. 4 min.
A Study in Natural Magic | Charlotte Pryce 2013. 3 min.
Starlight | Robert Fulton 1970. 5 min.
Swish | Jean Sousa 1982. 3 min.
Hand Held Day | Gary Beydler 1975. 6 min.
Portland | Greta Snider 1996. 12 min.
Degrees of Limitation | Scott Stark 3 min 1982
Shrimp Boat Log | David Gatten 2010. 6 min.
Boston Fire | Peter Hutton 1979. 8 min.
Orchard | Julie Murray 2004. 10 min.
July '71 in San Francisco, Living at Beach Street, Working at Canyon Cinema, Swimming in the Valley of the Moon | Peter Hutton 1971. 35 min.
Format: 16mm
Total running time: 114 min.
The Canyon Cinema 50 project is organized by the Canyon Cinema Foundation and supported in part by the George Lucas Family Foundation, the Andy Warhol Foundation for the Visual Arts, National Endowment for the Arts, Owsley Brown III Foundation, the Phyllis C. Wattis Foundation and The Fleishhacker Foundation.
Image: Still from Charlotte Pryce, A Study in Natural Magic, 2013
Pages