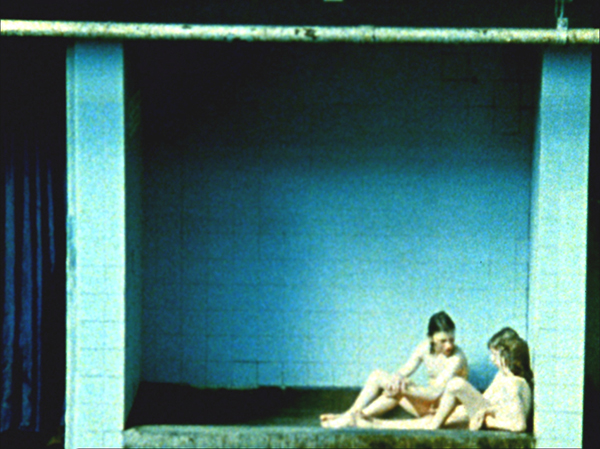 Programmed by Michèle Smith
FREE SCREENING DIM Cinema presents a free screening pairing two canonic works of Canadian experimental film: Michael Snow's single-take across a New York loft, perhaps "the most consequential zoom shot in the history of cinema" (Jonathan Rosenbaum, Monthly Film Bulletin), and Alberta-born, B.C.-based filmmaker Ellie Epp's 12-shot study of a soon-to-be-demolished public bath in London, which "maps another way out of structural film toward a cinema of delicate implication" (Bart Testa, Canadian Encyclopedia).
"If a room could speak about itself this would be the way it would go."
— Manny Farber on Wavelength
"In a lovely, non-dogmatic way, we are introduced again to the wonders of watching cinema, not just through an assertion of the beautiful image, but also through an exploration of the image's constituent elements."
— Chris Kennedy on Trapline
Wavelength | Michael Snow/1967. 45 min. 16mm
Trapline | Ellie Epp/1976. 18 min. 16mm
Image: Still from Trapline. Courtesy of Ellie Epp, CFMDC and the West Coast Film Archive.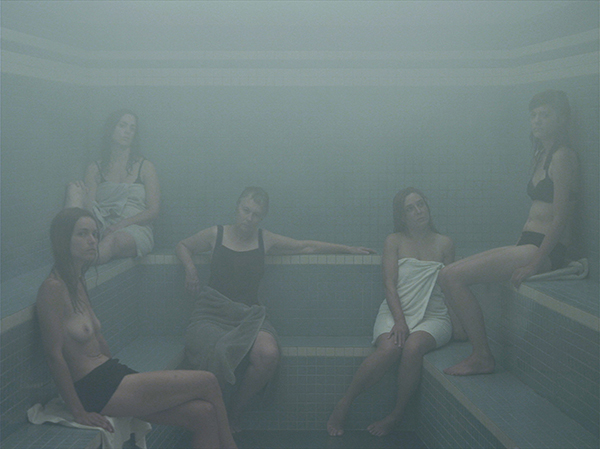 Programmed by Isabelle Lynch and Sophie Lynch

Olivia Boudreau's videos, films, and performance works inspire reflections on the experience of time and the act of perception. The Montreal-based artist carefully choreographs precise shots of long duration in works such as L'étuve (2011), where a group of women appear and disappear as dense vaporous clouds slowly fill a steam room. Her more recent works, including Femme allongée (2014), make use of narrative structure and editing. A woman draped in a white sheet lies immobile on a table. Like a body prepared for dissection in an anatomical theatre, she becomes the focal point for a sequence of activities. Through exchanged glances and small gestures, Boudreau's works invite us to rest in the intervals between stillness and movement.
L'étuve | 2011. 20 min.
Les petits | 2010. 13 min.
La Brèche | 2012, 3 min.
Le Bain | 2010, 23 min.
Femme allongée | 2014. 14 min.
- - - - - - - - - - - - - - - - - -
Olivia Boudreau's practice combines video and performance in works that explore perception, temporality, and the visible through the long take and, more recently, narrative structure and editing. Her work has been exhibited across North America and Europe, including at the Musée d'art contemporain de Montréal, Contemporary Art Gallery in Vancouver, and Le Fresnoy in France, and in 2014 was the subject of a major solo exhibition at the Leonard and Bina Ellen Gallery in Montreal. She is a three-time long-list nominee for the Sobey Art Award and received Montreal's Prix Pierre-Ayot in 2011.

IMAGE: Still from L'étuve, 2011. ⓒOlivia Boudreau. Courtesy of the artist.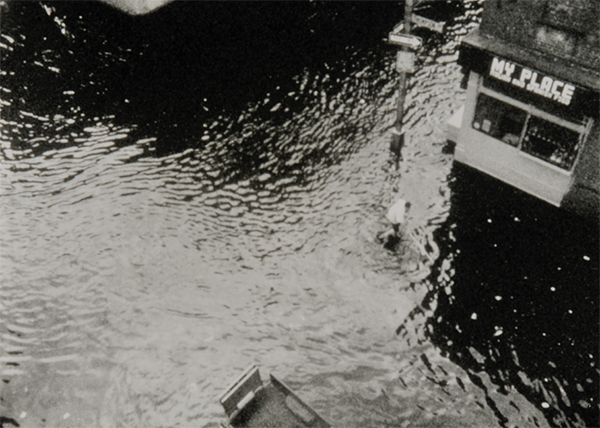 Programmed by Michèle Smith
DIM Cinema pays tribute to Peter Hutton, the influential American filmmaker and educator (Ken Burns and Kelly Reichardt were among his students) who died last June. Cahiers du cinéma described his body of work as radical and singular: "A sort of primitive documentary, silent, which celebrates the beauty of the world without forgetting to observe people, the conditions they live and work under."
Screening format: 16mm, silent.
APRIL 5: "Near"
"Hutton's black-and-white haikus are an exquisite distillation of the cinematic eye. The limitations imposed — no colour, no sound, no movement (except from a vehicle not directly propelled by the filmmaker), no direct cuts since the images are born and die in black — ironically entail an ultimate freedom of the imagination ... If pleasure can disturb, Hutton's ploys emerge in full focus. These materializing then evaporating images don't ignite, but conjure strains of fleeting panoramas of detached bemusement. More than mere photography, Hutton's contained-with-in-the-frame juxtapositions are filmic explorations of the benign and the tragic" (Warren Sonbert).
Boston Fire | 1979. 8 min.
New York Near Sleep for Saskia | 1972. 10 min.
New York Portrait, Chapter II | 1981. 16 min.
New York Portrait, Chapter III | 1990. 16 min.
Landscape (for Manon) | 1987. 12 min.
APRIL 26: "Far"
"Hit with a heavy case of wanderlust" as a young man, Hutton spent 15 years as a merchant marine, and from then on was rarely without his 16mm camera. His gorgeously textured depictions of cities and landscapes are, in his words, "diaristic without being autobiographical," using long takes and silence to encourage the mind to roam. Whether near to home or far away, "Hutton handled his camera like a curious outsider, lingering on the flow of water or the movement of clouds, taking in people in brief, penetrating but oddly distant portraits, not staying in any one place too long" (Max Nelson, Film Comment).
Florence | 1975. 7 min.
Images of Asian Music (A Diary from Life 1973-74 | 1974. 10 min.
Lødz Symphony | 1993. 20 min.
Skagafjordur | 2004. 33 min.
Image: still from New York Portrait, Chapter II, 1981.
Programmed by Michèle Smith
Filmed in the episodic style of a sci-fi miniseries, 
The Common Sense
revolves around the Patch, a "neurological entertainment device" that allows people to feel one another's embodied experience, physical sensations, and emotions. When the Patch's network suddenly breaks down and has to be rebooted, the world is changed, splitting into two parallel realities: one where wide-scale political disruptions have broken out; the other where life continues as it was before.
Melanie Gilligan is a Canadian artist based in London and New York who uses speculative and dystopian narratives to explore contemporary issues. We are delighted to premiere this new version of The Common Sense specially made for a cinema audience.
The Common Sense
| 
Great Britain
2014.
Dir: Melanie Gilligan. 90 min. DCP
Image: Copyright Melanie Gilligan. Courtesy of the artist and Max Mayer Gallery, Düsseldorf.
_______________
Melanie Gilligan is included in the exhibition To Refuse/To Wait/To Sleep at the Morris and Helen Belkin Gallery, UBC, January 13 - April 9.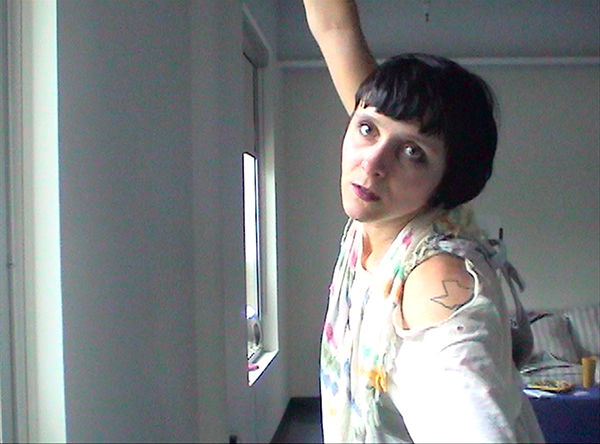 Programmed by Tobin Gibson and Kara Hansen
ARTIST K8 HARDY IN ATTENDANCE. 
"In 2001, I set out on the structuralist journey that has become my first feature film, Outfitumentary. I named the project at the outset, and considered it a document for posterity, an important record of the dress codes of a radical lesbian underground. The formal rules I imposed were simple: to roll my video camera and capture a shot of myself from head to toe with a turn to provide front and back. Ultimately, I played fast and loose with my own rules, but stayed true to my original intentions" (© K8 Hardy, NY, 2016).
Outfitmentary | USA 2016. Dir: K8 Hardy. 82 min. DCP
"In 2001, I set out on the structuralist journey that has become my first feature film, Outfitumentary. I named the project at the outset, and considered it a document for posterity, an important record of the dress codes of a radical lesbian underground. The formal rules I imposed were simple: to roll my video camera and capture a shot of myself from head to toe with a turn to provide front and back. Ultimately, I played fast and loose with my own rules, but stayed true to my original intentions" (© K8 Hardy, NY, 2016).
K8 Hardy (b. 1977, Fort Worth, Texas) is an artist and filmmaker based in New York. Her performances, photographs, self-distributed zines, videos (including music videos for Le Tigre, Lesbians on Ecstasy and Men) and films have been exhibited at venues including the Whitney Museum of American Art/Whitney Biennial 2012; MoMA PS1, NY; Dallas Contemporary, Dallas, Texas; The Tate Modern, London; Reena Spaulings Fine Art, NYC; Künstlerhaus, Halle für Kunst und Medien in Graz, Austria. 
Outfitumentary is her first feature film.
Presented in collaboration with the Contemporary Art Society Vancouver, Emily Carr University of Art + Design, Cineworks, and Queer Arts Festival.
K8 will speak about the film at an event the following evening, 26 January, starting at 7 PM at ECUAD. 
Image: © K8 Hardy; courtesy of the artist; Hardy Studio; Picture Palace Pictures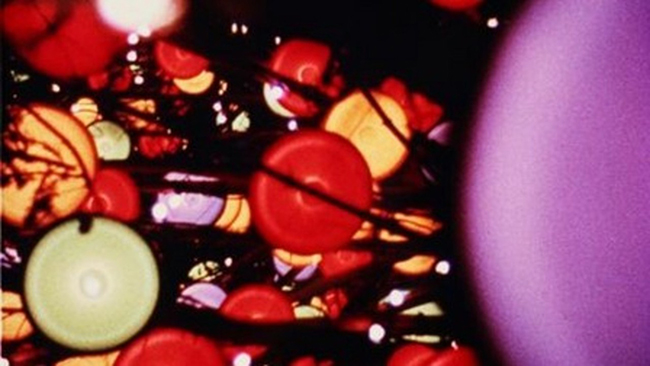 Programmed by Michèle Smith
"Marie it was who first of all of us discovered that hypnagogic envisioning need not only be done at night." STAN BRAKHAGE
The influence of Marie Menken on American experimental filmmaking cannot be overstated. Stan Brakhage, Jonas Mekas, Andy Warhol, Kenneth Anger — all these better known names owed much of their own development as filmmakers to her. Trained as a painter, she manipulated her Bolex camera like a set of brushes and palette knives. The films in this program, several of them tributes to other artists, are bold experiments with light and motion. Beyond the pyrotechnics of camerawork and editing, what inspires is the bodily connection to subject matter, clasped intimately like a partner in dance.
PROGRAM
Visual Variations on Noguchi | 1945. 4 min.
Mood Mondrian | 1961-62. Silent. 6 min. 
Eye Music in Red Major | 1961. Silent. 6 min. 
Glimpse of the Garden | 1957. 5 min. 
Bagatelle for Willard Maas | 1958-1961. 6 min. 
Hurry! Hurry! | 1957. 3 min. 
Go! Go! Go! | 1962-64. Silent. 12 min. 
Arabesque for Kenneth Anger | 1958-1961. 4 min. 
Andy Warhol | 1964-65. Silent. 20 min.
Screening format: 16mm 
Running time: approx. 66 min.
Image: still from Eye Music in Red Major, 1961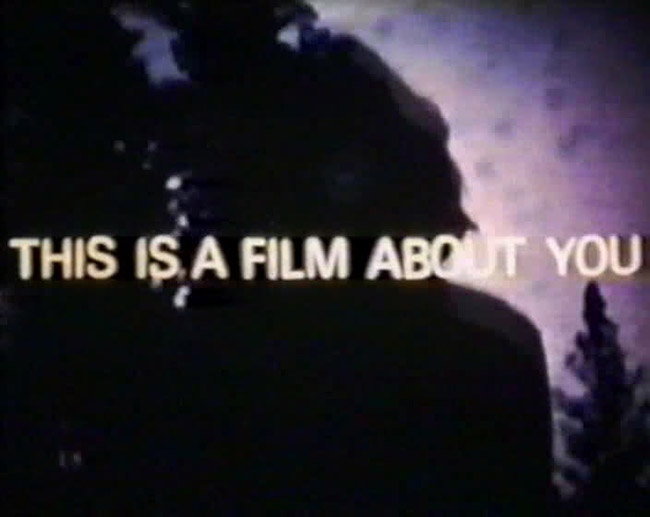 Programmed by Michèle Smith
Q: What is a 'structural film'?
A: That's easy, everybody knows what a structural film is. It's when engineers design an aeroplane, or a bridge, and they build a model to find out if it will soon fall apart. The film shows where all the stresses are.
This snippet, from a dialogue between two pandas in the evening's penultimate film, pretty much sums up the practice of one of the most original, irreverent, not to say eccentric, experimental filmmakers of the 1960s and '70s. Witty and inventive, parodying not just the languages of mass culture, but the sophistries of the avant-garde, the films of the American artist Owen Land (a near anagram of his given name, George Landow) are based in philosophical games, using wordplay and optical ambiguity to explore the materiality of film, the role of the spectator, and the illusionary nature of cinema itself.
PROGRAM
Fleming Faloon | 1963. 7 min.
Film in Which There Appear Edge Lettering, Sprocket Holes, Dirt Particles, Etc. | 1965-66. Silent. 4 min.
Institutional Quality | 1969. 5 min.
Remedial Reading Comprehension | 1970. 5 min.
Bardo Follies | 1967. Silent. 20 min.
On the Marriage Broker Joke as Cited by Sigmund Freud in Wit and its Relation to the Unconscious or Can the Avant-Garde Artist Be Wholed? | 1977-79. 18 min.
New Improved Institutional Quality: In the Environment of Liquids and Nasals a Parasitic Vowel Sometimes Develops | 1976. 10 min.
Screen format: 16mm 
Total running time: approx. 68 min.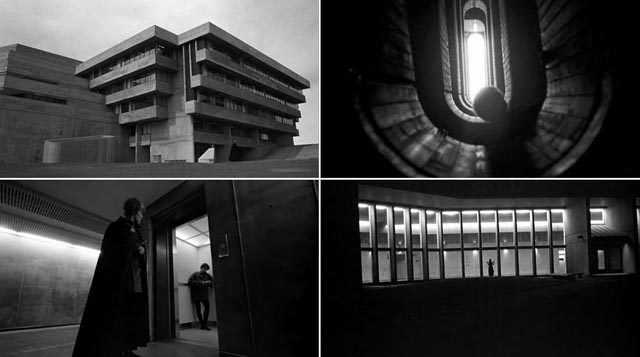 Programmed by Melanie O'Brian and Michèle Smith
The second program in relation to Andreas Bunte's Erosion considers architecture  as an experimental laboratory. 
Beginning as a campus tour and ending with a reenactment of Michael Asher's influential "Post-Studio" class, Redmond Entwistle's
Walk-Through
explores the site, design, and philosophy of the California Institute of the Arts in Los Angeles as a starting point for wider questions about pedagogical models and their relationship to emergent forms of social, political, and economic exchange since the 1970s. Raphael Bendahan's
Rochdale College
, shot inside an 18-storey tower in downtown Toronto, is a contemporary document of a failed experiment in free education and communal living. The University of Scarborough's Brutalist campus doubles as the "Canadian Academy of Erotic Inquiry" in David Cronenberg's slim first feature, Stereo. Filmed without synchronized sound, it follows seven volunteers in a parapsychology experiment whose telepathic abilities allow them to slip out of the control of their overseers.
PROGRAM II: Experiments in Education
Introduced by Aiofe MacNamara, 
Dean of the Faculty of Communication, Art and Technology at SFU
Walk-Through | Redmond Entwistle/Great Britain 2012. 18 min. DCP 
Rochdale College | Raphael Bendahan/Canada 1970. 21 min. 16mm 
Stereo | David Cronenberg/Canada 1969. 65 min. 35mm
- - - - - - - - - - - - 
Programmed by Melanie O'Brian and Michèle Smith
DIM CInema and SFU Galleries co-present a double program inspired by ideas raised in 
Erosion
, a new film by German artist Andreas Bunte that was shot on SFU's Burnaby campus this past January. Commissioned in partnership with Cineworks, Bunte's film will be shown at SFU Gallery from September 13 to November 18, 2016.
PROGRAM I: ALL THAT IS SOLID
The first selection of films considers architecture, its buildings and cities, as a geological formation, beginning with the birth of the quintessentially modernist city of Brasilia as reimagined by filmmaker Ana Vaz. Her
A Idade da Pedra
leads us into the Central Brazilian Plateau to witness the raising of a monumental structure from its geological foundations. Caspar Stracke's
No Damage
, assembled from fragments of scenes of New York City from 80 films made over as many years, reveals that architecture is not eternal but finite. Gordon Matta-Clark's
Substrait (Underground Dailies)
explores the city's hidden passages and spaces. The final film, by Canadian filmmaker Eva Kolcze, exploits the material and aesthetic connections between celluloid and concrete to interrogate the utopian visions that inspired Brutalism. Featuring iconic examples of institutional architecture in and around Toronto, including the University of Scarborough campus, where David Cronenberg shot Stereo,
All That is Solid
 serves also as a bridge to next month's screening 
on October 26.
A Idade da Pedra (The Age of Stone) | Ana Vaz/France-Brazil 2013. 29 min. HD Video
No Damage | Caspar Stracke/USA 2002. 13 min. HD Video
Substrait (Underground Dailies) | Gordon Matta-Clark/USA 1976. 30 min. 16mm transfer
All That is Solid | Eva Kolcze/Canada 2014. 16 min. 16mm transfer
Programmed by Amy Kazymerchyk and Arvo Leo
A double-bill program of solo and collaborative films by American-born filmmakers Gabriel Abrantes and Benjamin Crotty, who have worked together since 2008, expresses their interest in satirical and philosophical love stories reflecting the effects of colonialism, military occupation, and globalization, set in a breadth of political, social, and material contexts. Liberdade, shot in Angola, chronicles the relationship between an Angolan boy and a Chinese girl. 'Oρνιθες (Ornithes - Birds) documents a foreign theatre director's attempt to stage Aristophanes in Haiti. Visionary Iraq has the filmmakers playing all the roles within a Portuguese family whose children are about to ship out to Iraq. Receiving its Canadian premiere, Fort Buchanan, Crotty's debut feature, is a queer soap-opera chronicling the tragicomic plight of an army-husband stranded at a remote post while his husband is on mission in Djibouti.
Liberdade | G. Abrantes, B Crotty/Portugal-Angola 2011. 16 min. 
'Oρνιθες (Ornithes - Birds) | G. Abrantes/Portugal 2012. 17 min. 
Visionary Iraq | G. Abrantes, B. Crotty/Portugal 2008. 17 min.
Fort Buchanan | B. Crotty/France-Tunisia 2014. 65 min.
Image: Visionary Iraq, 2008. Courtesy of the artists.
Screening formats: DCP (from 16mm originals)
Pages