Wednesday, October 14, 2015 - 7:30 pm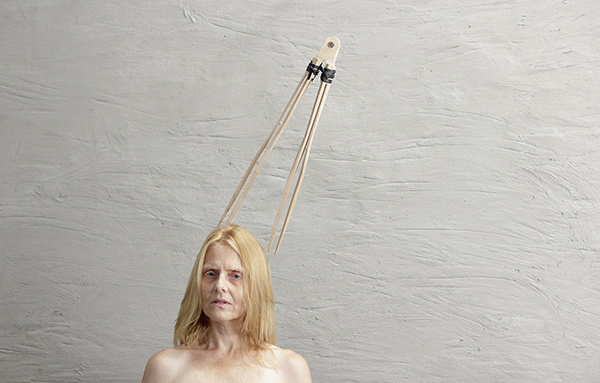 A screening of works by two Montreal-based artists who embed video in multi-media environments and situations. For her 2012 installation, Anomalies, Julie Favreau took as inspiration a Soviet-era novella about science gone awry, but then utterly transformed it into a series of sci-fi scenarios with enigmatic objects, to "suggest parables about the judicious use of knowledge and technology, and about personal discipline and mindfulness" (Saelan Twerdy, Canadian Art). Dominique Sirois's recently completed project, Alarm Songs, orchestrates the passage from modernity to the dystopian now using sampled warning sounds from a music database and texts by Freud, Stockhausen, and the Russian poet Alexei Gastev. The suite of four videos connects different epochs through quasi-allegorical figures and narratives to reveal the past function and latent memory of the locations they were filmed in, millenial pantomimes that track the development of militarism, industrialization, globalization, and leisure, as forms of social control.
PROGRAM

Anomalies | Julie Favreau/Canada 2012. 11 min. DCP

Color Boy | Dominique Sirois/Canada 2015. 7 min. DCP

Military Techno | Dominique Sirois/Canada 2015. 8 min. DCP

Victorian Sushi | Dominique Sirois/Canada 2015. 11 min. DCP

Leisure Machine | Dominique Sirois/Canada 2015. 20 min. DCP
Located at the crossroads of visual art and choreography,
Julie Favreau'
s practice is based on inventing gestures out of objects (sculptures) or, conversely, on inventing sculptures out of gestures. Her projects take on different forms, such as installation, video, sculpture, performance, and photography. Recent works induce a state of heightened sensory awareness in the viewer, inviting concentration, focus, and intimacy. Favreau has presented/performed her work in many contexts including exhibitions, festivals, and performances on stage. A participant in the MACM Quebec Triennial in 2011, and Sobey Art Prize nominee, she is currently working on a new creative cycle for stage and solo exhibitions at various sites: Gallery 44 (Toronto), Edinburgh Art Festival - Scottish National Gallery of Modern Art (Scotland), Battat Contemporary and Darling Foundry (Montreal).
Dominique Sirois
's practice takes the form of installations involving the interplay of sculpture, video, sound and prints. Her work deals with three fields of interest: value and surveillance; economy and affects; ruins and obsolescence. In a recent project, the Mimesis Trinity, she has been looking at the self-referential structures that exist in both finance and art, through the medium of a fictitious learned society. She has exhibited in galleries across Canada. Her work with a frequent collaborator, the artist Grégory Chatonsky, has travelled internationally. Alarm Songs was produced during a residency at Glasgow C.C.A. 
Programmed by Michèle Smith
Image: Julie Favreau, Anomalies - Femme compas, 2012. Inkjet on paper. Courtesy the artist and Battat Contemporary.