Tuesday, June 29, 2010 - 8:30 pm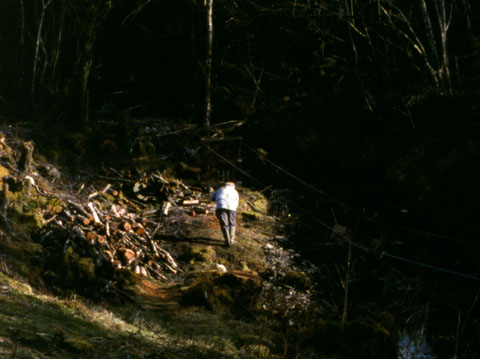 Programmed by Amy Kazymerchyk
Ben Rivers in attendance
Ben Rivers' films picture a young human world in the early morning of time. A world where the clamour of human invention echoes in the deep mountain passes of geological evolution. Rivers' recent films are portraits of people in the interstices of society and their relationship to insular, hermetic spaces. Curator and writer Mark Waugh observes that Rivers' films are, "a documentary series, a eulogy and evocation of a dream of the wilderness. The post apocalyptic hallucinogenic world beyond the noise of the market place." Waugh describes Rivers' ways of world making as a "psychic return to an elaborate universe made up of imaginary possibility…"

Through Rivers' cinematic time travels into the past and the future, temporality and perception collapse. The pandemonium of cosmic becoming rattles through auto scrap yards and tin can compost heaps. In these worlds, there is a seamless lineage between a lone horse tumbling in a snowy landscape and children driving race carts around a detritus strewn homestead. The imaginary possibility that has existed since the beginning of time is palpable in every natural and human invention and incidence of destruction.
Origin of the Species. 2008, 16mm, color, 15mins.
This is My Land. 2006, 16mm, b/w, sound (optical), 14mins.
Ah Liberty!. 2008, 16mm, b/w, scope, 19mins.
A World Rattled of Habit. 2008, 16mm, colour, sound (optical), 10mins.
Sordal. 2008, 16mm, colour, silent, 8mins.
I Know Where I'm Going. 2009, 16mm, color, scope, 30mins.
+
ARTIST TALK: WAYS OF WORLD MAKING
Wednesday June 30 2010 | Firemaking 7pm, Conversation 8pm
Spanish Banks Beach Google Map Directions (go a little further west to the blue line on this map)
Circuitous fireside chat touching on journeying, drifting,  art making, wonder and potentiality with filmmaker Ben Rivers, visual artist Michael Drebert, filmmaker Chris Welsby and writer Bob Kull.
At the very end of Spanish Banks beach before the road goes up the hill towards UBC and the beach turns into Towers Beach.  BYOB, food if you like, and dry wood if you can gather and transport it.
* Weather dependent. Please check this website on the 30th for confirmation or details of location change.
___
Ben Rivers: Much of my work concerns 'ways of world-making' – my own, the characters, and the viewers. In part, they are investigations into the real, the imagined, and the space between. This has inspired me to combine documentary and fictional methods. The films often begin with 'documentary' images, but they are not beholden to a set of facts. They are allowed to transform into something more slippery and elusive in the edit, where the work is really made. My work often evolves out of a response to places – actual places that I have found on travels, or constructed spaces such as model worlds or film sets. In recent years my interest in hermetic spaces has developed into an investigation of people and their relationship to specific, often sealed, surroundings and landscapes.

Michael Drebert's practice investigates quotidian actions and objects through subtle gestures of hope and sabotage. Potentiality figures strongly in his work: "An answer is not found before something is made. It isn't even found once something is supposedly finished. The answer to a situation is to begin. "I am interested... in the radical potential of performative gestures as an agent for cultural investigation and positive change… identifying unorthodox solutions to seemingly unsolvable issues, such as injustice, hopelessness and dismal democratic standards."

Chris Welsby: In my single screen films and single channel videos the mechanics of film and video interact with the landscape in such a way that elemental processes—such as changes in light, the rise and fall of the tide or changes in wind direction—are given the space and time to participate in the process of representation. The resulting sequences of images make it possible to envisage a relationship between technology and nature based on principles other than exploitation and domination."

Bob Kull:  In 2001 I traveled to a remote uninhabited island on the rainy, wind-swept coast of southern Chile. More than one hundred miles from other people, I built a shelter and lived alone for a year to explore the physical, emotional and spiritual effects of deep wilderness solitude. Here, through words, photographs, and videos, you can experience what it's like to live alone in the wilderness. Solitude is sometimes dark and difficult, but there is deep joy abiding in the flickering stillness. Moments when, as unexpected gift, boundaries and buffers dissolve and All is, as it always was, sacred and alive. Solitude can remind us there is no true spiritual freedom except through surrender to our own lives just as they are - here and now - in each moment.
Images: (top) I Know Where I'm Going, (middle) This is My Land, (nottom) Origin of the Species.