Wednesday, March 25, 2015 - 6:30 pm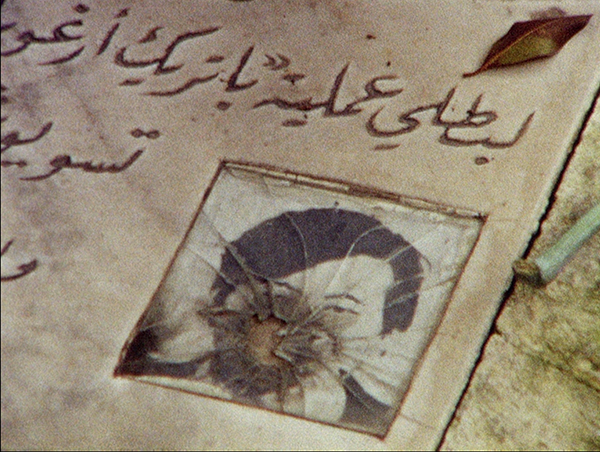 The scenario for a revolution must be written in the manner of a film script -- JRA manifesto, 1995.
While in Japan researching extreme leftist groups gone underground, the French artist Eric Baudelaire struck a deal with Masao Adachi, the renegade director/screenwriter who had abandoned filmmaking in the 1970s to join the Japanese Red Army in Lebanon and fight in the Palestinian cause. In return for his story, Adachi asked Baudelaire to shoot scenes for him in Beirut based on his cinematic theory of landscape, fukeiron. In return for this super-8 footage, Baudelaire asked Adachi to write a script, a semi-autobiographical fiction, to be made after the completion of The Anabasis, Baudelaire's dark and suspenseful documentary about the JRA. "Anabasis" is the name given, since Xenophon, to a soldier's journey into the unknown and the return home in a changed state. The new screenplay, about a group of former Palestinian militants haunted by their pasts, would be the protocol for constructing a film, The Ugly One, on memory, revolution, and cinema, seemingly written and rehearsed before our eyes.
The Anabasis of May and Fusako Shigenobu, Masao Adachi, and 27 Years Without Images (L'Anabase de May et Fusako Shigenobu, Masao Adachi et 27 années sans images) | Eric Baudelaire/Japan-Lebanon-France 2011. 66 min. DCP
The Ugly One | Eric Baudelaire/Lebanon-France 2013. 101 min. DCP
There will be a 10-minute intermission between the two films.
Programmed by Michèle Smith
Eric Baudelaire is a Paris-based filmmaker and visual artist whose
 research-based practice
 includes printmaking, photography and publications. These have been shown in 
installations alongside his films in solo exhibitions at the Fridericianum
, Berkeley Art Museum, Bétonsalon, Bergen Kunsthall, Beirut 
Art Center, Gasworks, La Synagogue de Delme and The Hammer 
Museum. His 
recent feature films 
were selected for the FIDMarseille, 
Locarno, Toronto, New York and Rotterdam film festivals. He
 has also participated in the Sharjah Biennal, Seoul 
Mediacity Biennal, Yokohama Triennal, the Taipei Biennial, Berlin 
Documentary Forum 2, La Triennale in Paris, and the Baltic Triennial of 
International Art. His films and installations are in the collections of 
Reina Sofia Museum, MACBA, Centre Pompidou 
and The Whitney Museum of American Art. 
Films courtesy of LUX
Image: The Anabasis of May and Fusako Shigenobu, Masao Adachi, and 27 Years Without Images, 2011.