Wednesday, October 26, 2016 - 7:30 pm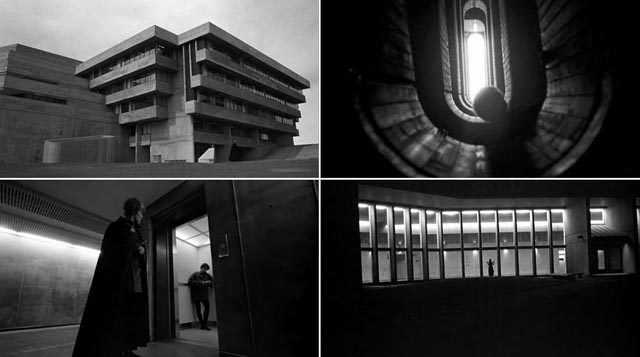 The second program in relation to Andreas Bunte's Erosion considers architecture  as an experimental laboratory. 
Beginning as a campus tour and ending with a reenactment of Michael Asher's influential "Post-Studio" class, Redmond Entwistle's
Walk-Through
explores the site, design, and philosophy of the California Institute of the Arts in Los Angeles as a starting point for wider questions about pedagogical models and their relationship to emergent forms of social, political, and economic exchange since the 1970s. Raphael Bendahan's
Rochdale College
, shot inside an 18-storey tower in downtown Toronto, is a contemporary document of a failed experiment in free education and communal living. The University of Scarborough's Brutalist campus doubles as the "Canadian Academy of Erotic Inquiry" in David Cronenberg's slim first feature, Stereo. Filmed without synchronized sound, it follows seven volunteers in a parapsychology experiment whose telepathic abilities allow them to slip out of the control of their overseers.
PROGRAM II: Experiments in Education
Introduced by Aiofe MacNamara, 
Dean of the Faculty of Communication, Art and Technology at SFU
Walk-Through | Redmond Entwistle/Great Britain 2012. 18 min. DCP 
Rochdale College | Raphael Bendahan/Canada 1970. 21 min. 16mm 
Stereo | David Cronenberg/Canada 1969. 65 min. 35mm
Programmed by Michèle Smith with Melanie O'Brian
Images: stills from David Cronenberg, Stereo, 1969, courtesy of CFMDC