Monday, July 16, 2012 - 8:30 pm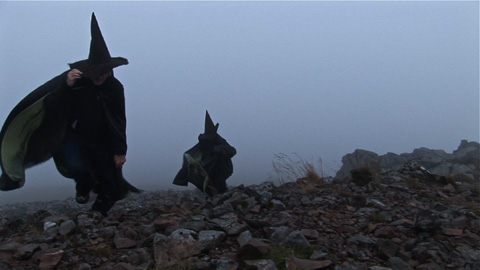 Programmed by Heidi Nagtegaal
MASH//UP is a look at the last 15 years of video art produced by FASTWURMS, the trademark and shared authorship of Canadian artists Dai Skuse and Kim Kozzi. Since 1979, the multidisciplinary artists have worked with media, social, and material art forms in a practice that melds high and popular cultures, bent identity politics, social exchange, and do-it-yourself sensibility.
FASTWURMS practice looks closely at the things we cannot see — or refuse to see. FASTWURMS creates a panoply of camp performance, costumes, ceremony, Wiccan ritual, collage, installation, cats, dance music, and cheap video production to make visible commonly held taboos around sexuality, desire, cosmology, nature, power, and the occult.
FASTWURMS uses video to create art as well as document their lives as activist-artist-witch-educators. They extend authentic ardour and radical generosity to working class, queer, unschooled, de-schooled, and over-schooled communities. They have dedicated over 25 years to co-authored, activist art making — an example of life as practice.
Dai Skuse and Kim Kozzi, aka FASTWURMS, also teach in the sculpture department at the School of Fine Art and Music at the University of Guelph. Recent exhibitions include solo shows at the Contemporary Art Gallery, Vancouver, Plug In ICA, Winnipeg; and the Art Gallery of York University, Toronto. Group shows include Anthem: Perspectives on Home and Native Land, MSVU Art Gallery, Halifax, and The Banff Centre Walter Phillips Gallery, Banff; São Paulo Biennial, Brazil; and Sequences Festival, Reykjavik, Iceland.
PROGRAM
Vulcano!. 1987, 16mm, 9mins. 

Push It Good (Part 1). 2003, DV, 3mins.
Denim Pox. 2002, DV, 5mins. 

Telepathacats. 2003, DV, 12mins.
Push It Good (Part 2). 2003, DV, 3mins.

Into Trees. 2003, DV, 2mins. 

Pussy Necropolis. 2004, DV, 19:30mins.
Push It Good (Part 3). 2003, DV, 3mins. 

Blood Clock. 2005, DV, 12mins.
W.A.D.D. 2003, DV, 2mins.