Monday, December 12, 2011 - 7:30 pm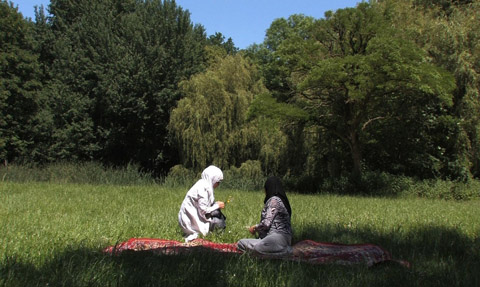 Programmed by Pascale Cassagnau (in attendance)
The works in "L'Histoire, toutes les histoires" exemplify interactions between contemporary art and documentary practices that are particularly fecund. These artists employ working processes with empirical data (documents) and marks of historicity (archives) that are both critical and ambiguous. In Les Gardiens, Florence Lazar employs the simple discursive act of transplanting a private object—a domestic rug—to a public space—a garden in the Paris suburbs. This symbolic act of "making visible" extends to the conversation between two veiled women, sitting face to face on the rug, about civic concerns. Lazar displays an astute concern for aesthetic formulas within painting and for the gaze of the viewer within pictorial and cinematic histories.
Expectations of universality and wholeness have been irrelevant in contemporary works of art and cinema for a long time. They gave way to subjective and inter-subjective appropriations of history and storytelling. Within the conditions of this new historicity, documenting could be defined as a practice of both re-claiming and dissolving the relationship of one's own biography within micro- and meta-narratives. This re-claiming is evidenced in Anya, the second part of Bouchra Khalili's ongoing series "Straight Stories." Anya explores the story of an Iraqi refugee who, since 1996, has been waiting at the Straight of Istanbul—a temporary stop for migrants in transit—for a visa to Australia. By fragmenting diaristic, confessional, and surveillance strategies, Khalili makes physical and psychic geography indistinguishable.
PROGRAM
Valérie Jouve, Grand littoral. 2003, 35mm, 20mins, France.
Bouchra Khalili, Anya, Straight Stories Part 2. 2008, DV, 12mins, France-Turkey.
Florence Lazar, Les Gardiens. 2009, 16mins, France.
Marylène Négro, X+. 2010, DV, 68mins, France.
Pascale Cassagnau has a PhD in Art History and works as an art critic. She is in charge of audiovisual and new media content at France's Centre National des Arts Plastiques (CNAP), the public institution responsible for contemporary art under the French Ministry of Culture and Communications (www.cnap.fr). She is a frequent contributor to Art Press. Her research focuses on new practices in cinema, especially the ways they interact with contemporary artistic creation.
This program is generously supported by the Consulate General of France in Vancouver, Institut Français, and Centre National des Arts Plastiques — French National Centre for the Visual Arts (CNAP)
Image: Les Gardiens, Florence Lazar 2009