Wednesday, January 27, 2016 - 7:30 pm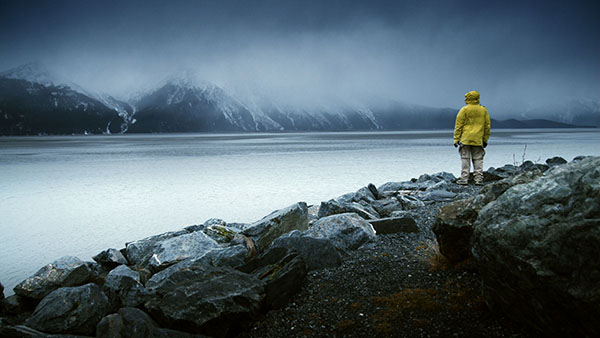 DIM Cinema opens its 2016 season with Ghanaian-born British artist-filmmaker John Akomfrah's epic film about the African diaspora to postwar Britain. Conceived as a gallery piece based on Homer's Odyssey, this retelling of Telemachus's search for his lost father, Odysseus, grew into a feature-length cinematic work structured as a song cycle, with each musical chapter named after one of the nine muses.  Intermixing archival footage with original scenes shot in Alaska, and scripted from sound clips of established works of the (mainly) Western canon, the film summons up "a mood, rather than a story, that reflects on the immigrant experience and the violence of displacement with a majestic grace" (Jason Solomons, The Observer). "Striking ... Extends, complicates, and enriches the definition of documentary. Though lofty, The Nine Muses is never grandiose, taking as its subject the primal notion of what constitutes home" (Melissa Anderson, Artforum).
The Nine Muses | Great Britain 2011. Dir: John Akomfrah. 94 min. HDCAM
"[A] beautiful and beguiling film."
"A handsome, restful, thought-provoking film."
John Akomfrah, born to activist parents in Accra, Ghana, in 1957, has lived in London since the age of four. His films and installations focus on the African diaspora to Europe and North America, exploring themes of temporality, memory, history and identity. Akomfrah's multilayered visual style was forged as a founding member of the seminal Black Audio Film Collective, which he and long-term collaborators David Lawson and Lina Gopaul started in London in 1982 to address issues of race politics in Britain. Their second film, Handsworth Songs, about the 1985 riots in London and Birmingham, won the Grierson Prize for Best Documentary in 1987. His collaborative and solo works have been shown in museums and galleries including the Venice Biennale and the Liverpool Biennial; Documenta 11, Kassel; the De Balie, Amsterdam; Centre Pompidou, Paris; the Serpentine Gallery, Tate Britain/Modern and Whitechapel Art Gallery, London; and MoMA, New York. His films have been screened in international film festivals such as Cannes, Toronto, Sundance, amongst others.
Programmed by Michèle Smith
Image: Courtesy of Icarus Films