Wednesday, May 3, 2017 - 7:30 pm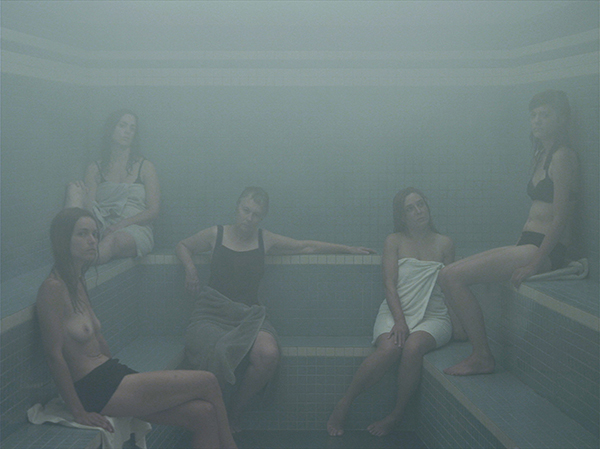 Programmed by Isabelle Lynch and Sophie Lynch

Olivia Boudreau's videos, films, and performance works inspire reflections on the experience of time and the act of perception. The Montreal-based artist carefully choreographs precise shots of long duration in works such as L'étuve (2011), where a group of women appear and disappear as dense vaporous clouds slowly fill a steam room. Her more recent works, including Femme allongée (2014), make use of narrative structure and editing. A woman draped in a white sheet lies immobile on a table. Like a body prepared for dissection in an anatomical theatre, she becomes the focal point for a sequence of activities. Through exchanged glances and small gestures, Boudreau's works invite us to rest in the intervals between stillness and movement.
L'étuve | 2011. 20 min.
Les petits | 2010. 13 min.
La Brèche | 2012, 3 min.
Le Bain | 2010, 23 min.
Femme allongée | 2014. 14 min.
- - - - - - - - - - - - - - - - - -
Olivia Boudreau's practice combines video and performance in works that explore perception, temporality, and the visible through the long take and, more recently, narrative structure and editing. Her work has been exhibited across North America and Europe, including at the Musée d'art contemporain de Montréal, Contemporary Art Gallery in Vancouver, and Le Fresnoy in France, and in 2014 was the subject of a major solo exhibition at the Leonard and Bina Ellen Gallery in Montreal. She is a three-time long-list nominee for the Sobey Art Award and received Montreal's Prix Pierre-Ayot in 2011.

Image: Still from L'étuve, 2011, copyright Olivia Boudreau