Monday, May 16, 2016 - 7:30 pm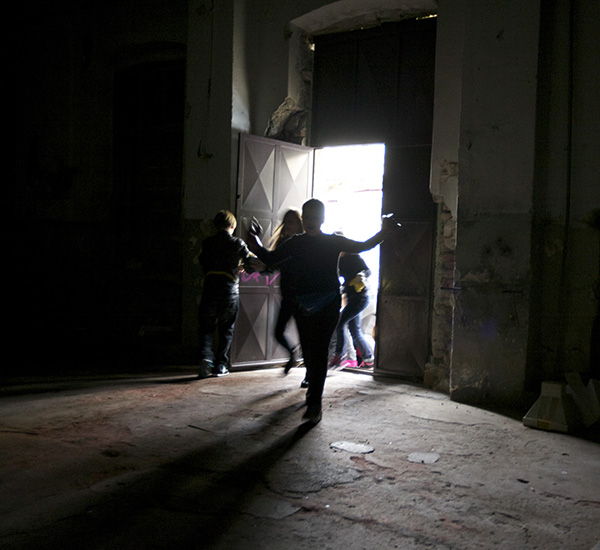 Shot in Rijeka, Croatia, with a cast of local children, this experimental documentary by Vancouver-based artist Althea Thauberger draws upon collective labour and the perspective of youth to tell the story of a defunct worker-managed factory at a time when the future of the building, and the city itself, is in question. By weaving together improvisation with material collected during a six-week occupation of the factory by performers and crew, the film re-imagines the site's politics, history, and future while simultaneously exploring the relationship between work, art, and play. Followed by a panel and Q & A.
Preuzmimo Benčić | Canada 2014. Dir: Althea Thauberger. 57 min. DCP
Please join us afterwards for a reception in the lobby to celebrate the launch of the monograph of the film, published by Musagetes.
Althea Thauberger's internationally produced and exhibited work typically involves research and critical reflections of the social histories of her production sites and an extended collaborative process with the communities and individuals represented. The resulting photography, video and performance projects often invoke provocative reflections of social, political, institutional, and aesthetic power relations of the local contexts of their production. Her work has recently been presented at the Audain Gallery, SFU, Vancouver; The Power Plant, Toronto; and the 7th Liverpool Biennial.
Nermin Gogalic is a Vancouver-based writer with a special interest in the political and architectural history of Rijeka, Croatia.
Amy Kazymerchyk initiated DIM Cinema in 2008 and is now curator of Audain Gallery, SFU.
Bojana Videkanic teaches in the Visual Culture program at the University of Waterloo in Ontario, Canada. Her research explores connections between art, various modes of visual representation, and politics. She is currently writing a book examining Yugoslav non-aligned socialist modernism.
"Both compelling in its visual draw and intellectually challenging in its multi-layered contexts."
Co-presented with