Tuesday, March 1, 2016 - 7:30 pm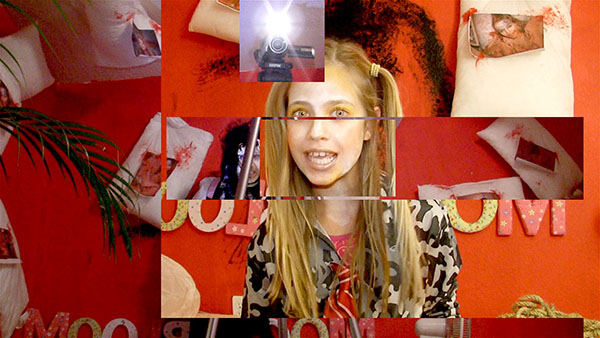 Two rarely seen videos highlight the impact of language, translation, and silence in the work of American artists Mike Kelley and Ryan Trecartin. Kelley's silent, two-fold video Test Room… and A Dance… jumps between protocols of scientific animal study and modernist choreography in a surreal laboratory environment. A unique version of Trecartin's The Re'Search (Re'Search Wait'S) made for a 2014 exhibition at the Ullens Center for Contemporary Art in Beijing premieres here for the first time outside China. The "movie" — a term deliberately used by the artist to describe his films — adopted Mandarin subtitles for that exhibition, further complicating Trecartin's repurposing and layering of language.
Test Room Containing Multiple Stimuli Known to Elicit Curiosity and Manipulatory Responses and A Dance Incorporating Movements Derived from Experiments by Harry F. Harlow and Choreographed in the Manner of Martha Graham | Mike Kelley/USA 1999. SD video; 60 min.
The Re'Search (Re'Search Wait'S) | Ryan Trecartin/USA 2009-10. HD video; 40 min. Translation by 尤伦斯当代艺术中心 Ullens Center for Contemporary Art.
Programmed by Tobin Gibson
Mike Kelley (1954, Wayne, Michigan – 2012, South Pasadena, California) is considered one of the most influential artists of our time. He worked in an array of genres and styles, including performance, 
installation, drawing, painting, video, photography, sound works, text and sculpture. Recent solo exhibitions include Mike Kelley, Hauser & Wirth, New York (2015); Gagosian Gallery, London and New York (2011, 2005); WIELS Centre d'Art Contemporain, Brussels (2008); and Musée du Louvre, Paris (2006); and the touring retrospective Mike Kelley, which traveled to the Stedelijk Museum, Amsterdam; MoMA P.S.1, Long Island City, New York; Centre Georges Pompidou, Paris; and MOCA, Los Angeles (2012–14).
Ryan Trecartin (1981, Webster, Texas) came to prominence nearly a decade ago, and is known for his video and sculptural work. Posing radical challenges both aesthetically and linguistically, his prescient work has become synonymous with the seismic shifts in culture that have defined our post-millennial moment. His solo and collaborative projects with Lizzie Fitch have been the subject of numerous exhibitions including Ryan Trecartin/Lizzie Fitch, Musée d'art Moderne de la Ville de Paris (2011–12); Ryan Trecartin: Any Ever, which in various iterations traveled to MoMA P.S. 1, New York; the Museum of Contemporary Art, North Miami; Istanbul Modern; the Fabric Workshop and Museum, Philadelphia; Museum of Contemporary Art, Los Angeles; and The Power Plant, Toronto (2009–11).
- - - - - - - - - - - - 
Presented in conjunction with the exhibition
My House: Mike Kelley and Ryan Trecartin
at Presentation House Gallery, December 19, 2015 - March 3, 2016, curated by Tobin Gibson.
presentationhousegallery.org
Image: © Ryan Trecartin. Courtesy Regen Projects, Los Angeles, and Andrea Rosen Gallery, New York.