Thursday, August 6, 2009 - 9:00 pm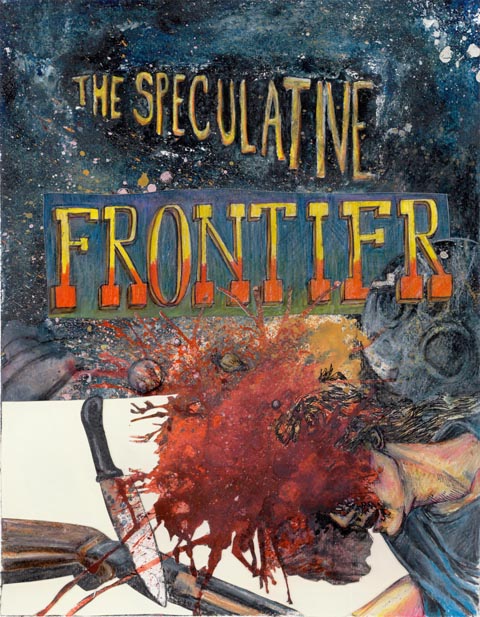 Programmed by Brel Froebe and Benjamin Schultz-Figueroa from Light Industry NYC (In attendance), with Amy Kazymerchyk
Performances by  Jeffrey Allport + Empress
Little Mountain Studios 195 e. 26th. at Main St. Vancouver BC
Inspired by Stan Brakhage's The Stars Are Beautiful (1974), a sound film that cycles through mythological explanations for the cosmos in dozens of permutations, the curators of tonight's event devised an exploratory text that drew from science fiction, structural anthropology, and deep-space physics. They then approached artists from a wide range of disciplines to create new work in response to this cue, resulting in a series of projects--performances, music, lectures, films, and videos--that navigate across the Speculative Frontier, the boundary between the known and the unknown.
Expect to see and hear: transmissions from Apollo 8, unidentified objects,black metal, alchemy, ghosts, gods, cartoons.
Selections from  Stan Brakhage's The Stars Are Beautiful (1974)
3) It's a great roof studded with sequins. The movement of the stars is in relationship to the movement of the sun, giving the impression that the stars are moving across the sky.
4) The stars are optical nerve endings of the eye which the universe is.
9) The fact is, the earth is falling into a well. The sun is the top of the well, the blue sky the walls. The stars are reflections of the real stars behind the sun.  
10) It is a furry animal. The stars are silver hairs.
12) The sky is all together, not composed in such great distances as we suppose. In truth, it is an old fire. The stars are small sparks, the sun a burning coal. The black of the sky at night is ashes, the moon a bubbling drop of water. This is the same with us, i.e.: as the universe burns, so do we. Our heads contain water very much like the sky holds moons. The burning in us keeps the water in our heads boiling and sputtering.
13) The sky is the dead decaying body of God; the stars are glittering maggots.
20) The stars are trembling silver stings to everyone's brains. The sun and moon are the eyes of the great puppeteer…Once a month he smiles and winks: He has control of our fates.
21) The day-sky is a pool of al our tears: the world is getting smaller and smaller. The night –sky is a blotter to all our black thoughts: there is very little space left. 
30) The sun, moon, and stars are the footprints of God (we are his head) as he walks currently in a circle.
 PROGRAM 
Apollo 8 Radio Address, Frank Borman
Chiller and B-Flat's, Jesse Malmed
Aurora Borealis, Bradley Eros
Circa, Katherine Bauer
They Knew About Star Wars MIXTAPE, CHEMTRAILZ
Object 2, Andres Laracuente
Compendium_PP_321, Zak Kitnick
Scaffolding for a Social Transformation Process, Brel Froebe
Intimaci, Micaela Durand & Maximiliano Ferro
I Just Called…, Chris Jolly
Where Few Men Have Gone Before, Harry Crofton
(Dis)continuity,  Benjamin Schultz-Figueroa
Solar Moon, Zumi Rosow, music by Dallas Acid
Tranquility New York, Ted King & Jordan Stone
In Operation, Pete Deevakul
Transmission, Grey Gersten