Monday, April 18, 2011 - 8:30 pm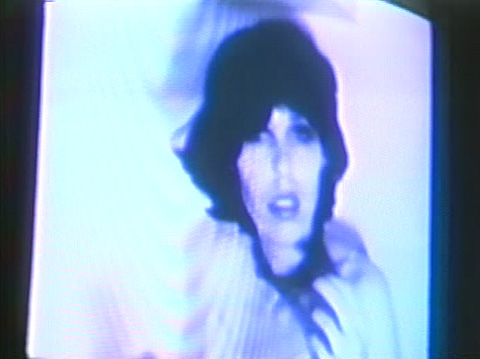 Programmed by Allison Collins
A communiqué from the past, performed as sex, love, loss, mystery, and technology. The work of Susan Britton, one of the original artists and founders of Toronto-based Vtape (a leading Canadian distributor of independent, artist-driven video art), has been out of distribution — and thus out of the public eye - for almost 15 years. Recently restored, this body of work reveals an important early voice from the past life of video art in Canada. Campy sci-fi concerns mixed with synth beats accompany her inquests into the future. Offering sceptical inquiry into ideology and the feminine subject, her short works act as vignettes, bringing us subject positions and rhetoric from our recent past. Britton's longer narratives play with their own formal nature, with deft use of apparatus and technology to help the story along and then pull it apart. This screening experiments with loose ends, as befits Britton's proto-punk personae. Offering a sample of work from her sprawling, ambitious body of video art, it is accompanied by a catalogue—fully illustrated, with a full videography.
PROGRAM
Why I Hate Communism No.1. 1976, Video, 3 mins.
Freeze Frame. 1983, Video, 2 mins.
1984. 1983, Video, 4 mins. — Previously unreleased
Casting Call. 1979, Video, 36 mins.
Up Down Strange. 1981, Video, 55 mins.
____
This programme originated at Vtape January 2011.  It was entitled "Suspicious Futures: Select Works by Susan Britton" and programmed by Allison Collins.

Operating as a distributor, a mediatheque and a resource centre with an emphasis on the contemporary media arts, Vtape's mandate is to serve both artists and audiences by assisting and encouraging the appreciation, pedagogy, preservation, restoration and exhibition of media works by artists and independents.   www.vtape.org

The original Vtape programme included an alternate selection of work by Susan Britton, including Tutti Quanti (1978), Standard Format No. 1 Da-Da Go-Go (1980), and Rent Due (1983).

The Curatorial Incubator has offered support to emerging curators with a focus on video art since 2002.  Mentoring includes professional development workshops and editing assistance for published curatorial essays and monographs, as well as exhibition support, artists' fees, promotion and publication.