Monday, May 26, 2014 - 8:30 pm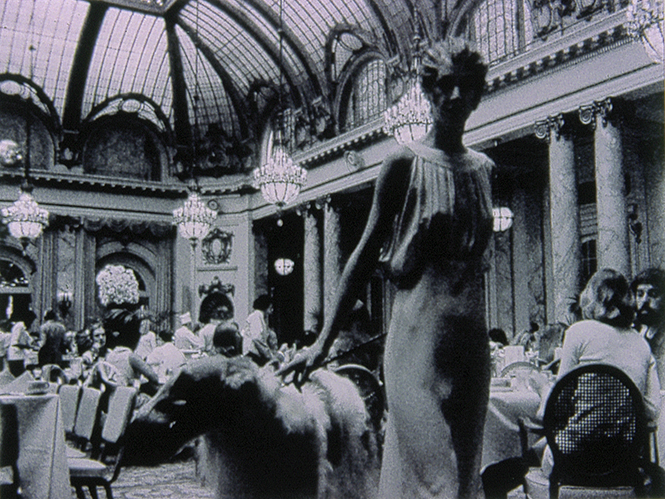 Programmed by Michèle Smith 
"Probably not since Andy Warhol's The Chelsea Girls had its first showing at the Cinematheque… almost a year and a half ago, has an 'underground' film event caused as much curiosity and interest in N.Y.'s non-underground world as did four days of showings of the complete films of Warren Sonbert at the Cinematheque's new location on Wooster St." (Roger Greenspun, film critic)
This announcement in the trade journal Variety in 1968 marked the arrival of a key innovator in experimental filmmaking. Inspired equally by Hitchcock and Sirk as by Markopoulos and Warhol, Warren Sonbert (1947-1995) had his first career retrospective before his 21st birthday. By the time of his death from HIV/AIDS, he had made eighteen films, the last completed posthumously according to his instructions. DIM Cinema presents a quartet of dazzling films by this seminal figure of the American avant-garde, beginning with a tradition-flouting student film from the mid-1960s, starring two superstars of Warhol's Factory, and followed by three powerful examples of his mature non-narrative style of "polyvalent montage"— an exuberant rapid-fire editing technique that considers the directional pulls of heterogeneous shots, and combines them along "potentially many dimensions", to create a distinctive form of lyric cinema.
PROGRAM
Hall of Mirrors | USA 1966, 16mm, colour/b&w, 7 min. 
Rude Awakening | USA 1976, 16mm, colour/b&w, silent, 36 min.
The Cup and the Lip | USA 1986, 16mm, colour, silent, 20 min.
Friendly Witness | USA 1989, 16 mm, colour/b&w, 22 min.
Image: Friendly Witness, 1989. Courtesy of Light Cone.