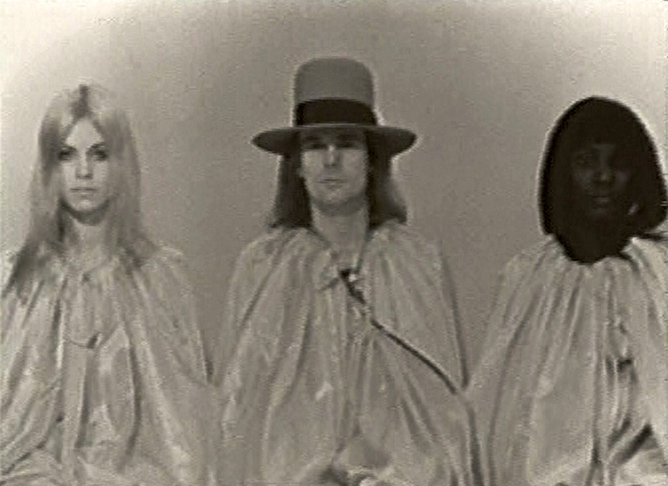 Programmed by Michèle Smith
"Could you offer us a question that you feel is pertinent in regards to your own evolution of knowledge?" asks the voice at the end of the line. It's James Lee Byars calling, the American performance and installation artist "whose idiosyncratic, Zen-influenced blendings of Minimal and Conceptual art stressed questions over answers, absence over presence, and a lush momentary experience of beauty over permanence" (Roberta Smith, New York Times). Byars's initial idea was to lock 100 brilliant minds together behind closed doors and invite them to ask each other the questions they were asking themselves. It evolved into The World Question Center, a live broadcast on Belgian TV, during which the artist, supported by a panel of guests (including Marcel Broodthaers) and a ring of university students (the entire cast dressed in pink robes, but, alas, filmed in B&W) telephoned thinkers, scientists, and artists with his question. Filmmaker Jef Cornelis documented the proceedings: "That the network even broadcast this adventure, let alone at 10 o'clock on a Friday evening, is still a puzzle to me." 
PROGRAM
James Lee Byars, Antwerpen 18 April — 7 Mei 1969 | Jef Cornelis/Belgium 1969. 32 min. DCP.
The World Question Center | Jef Cornelis/Belgium 1969. 63 min. DCP
Image: The World Question Center, 1969. Courtesy of Argos Centre for Art and Media
REVIEW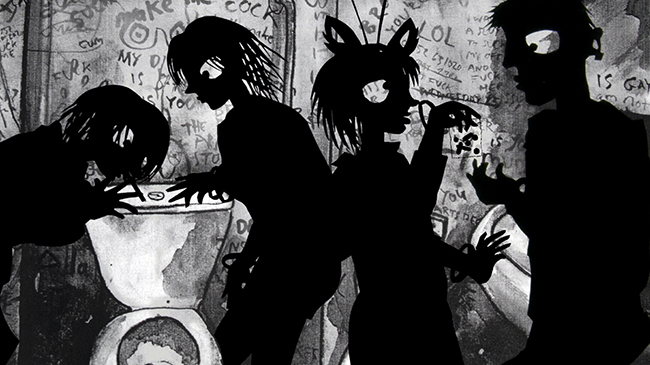 Programmed by Michèle Smith
British artist Phil Collins giddily mixes genres — documentary and musical, silhouette animation and late-night television — in this love letter to the city of Glasgow. At the heart of the film is a song cycle by Cate Le Bon interpreted by non-professionals filmed in their everyday environments to the accompaniment of the Royal Scottish Orchestra. The musical sequences are punctuated by public-access broadcasts from a disused 1960s TV studio, its doors re-opened by Collins to people from every walk of life, and by a series of short animations by Matthew Robins, soundtracked by Mogwai's Barry Burns, which follows a group of characters on a night out. From children to pensioners, from poets to prisoners, Collins's Glaswegians talk, sing, and dance us deep into the soul of their city and beyond, exploring the need for human interaction amid the alienating information overload of the digital age. 
Great Britain 2014. Dir: Phil Collins. 82 min. DCP
Image: Courtesy of Shady Lane Productions.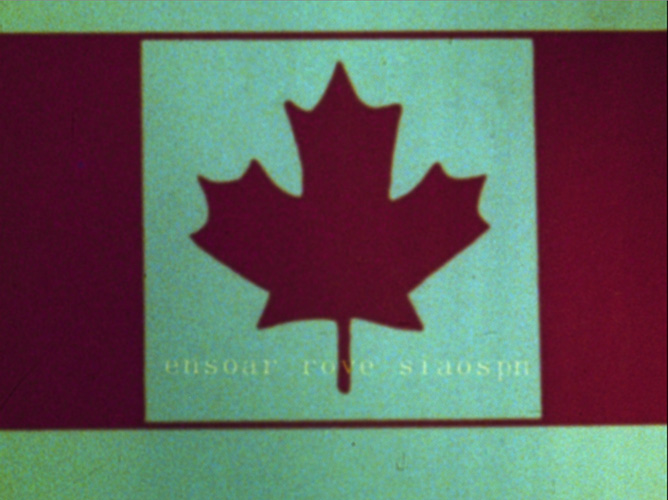 Programmed by Michèle Smith
"I thought I was Leni Riefenstahl. It was due perhaps to editing Trudeau. Would he be a good leader? Or just a politician? Irony came wandering in, in the porn of applause for his statement 'Reason over passion, that is the theme of all my writing.' It should be reason and passion in a person." JOYCE WIELAND
Two Pierres are the keystones in these twin portraits of a nation at a historical turning point, playfully interlocking the main themes of Joyce Wieland's art.
Reason Over Passion
explores Canada's landscape, symbolism, and bilingualism, while taking issue with the famous "reason over passion" statement by Pierre Trudeau, whose every gesture is anatomized in footage Wieland shot during the 1968 Liberal leadership convention, when his election signalled the possibility of change.
Pierre Vallières
incorporates reel changes and camera breakdowns as it attempts a tightly-framed unbroken shot of the lips of Vallières, the FLQ's intellectual leader, as he holds forth, with reason and passion, on labour issues, Quebec independence, and women's liberation. Ironically, the balance of qualities lacking in Trudeau can be heard in the voice of a revolutionary whose 
sovereigntist 
politics threaten the national harmony Wieland sought through her work.
Reason Over Passion / La raison avant la passion | Joyce Wieland/Canada 1968. 84 min. 16mm 
Pierre Vallières | Joyce Wieland/Canada 1972. 32 min. 16mm
Image: Reason over Passion, 1968. Courtesy of CFMDC
Richard Tuohy in attendance
Active in film since the late 1980s, Richard Tuohy has spent the past decade immersed in the materialist tradition of experimental filmmaking — work that tests the absolute limits of the medium itself. Drawing primarily on natural forms and environments as subject matter for his celluloid manipulations — an array of classic and novel in-camera, darkroom, printing, and editing techniques — Tuohy "abstracts out the fleshiness of the particular" to create dynamic studies of form, structure, time, and pattern, an approach he describes as "cine-cubism." The filmmaker will present a series of 16mm films, culminating in a live performance using two projectors.
Co-presented with Cineworks and Iris Film Collective
+
On November 15 & 16, Iris Film Collective and Cineworks present a two-day workshop with Richard Tuohy on his Chromaflex technique. For more information and to register: 
www.irisfilmcollective.com
Image:

Flyscreen, 2010. Courtesy of the artist.
Programmed by Michèle Smith
"Huyghe's strength lies in his understanding . . . [that] images have become masks for universal media ventriloquism." (Jean Baudrillard)
DIM Cinema is delighted to present the Vancouver premiere of Pierre Huyghe's The Host and the Cloud, a feature-length film by the acclaimed French artist (a major Huyghe retrospective was recently presented at the
Pompidou
in Paris and is coming soon to
LACMA
in Los Angeles). Combining staged and improvised action, this live film project, shot in a building that once housed the French National Museum of Art and Popular Traditions, follows a group of actors through a series of fragmented narratives, fantastical visions, and dreamlike rituals as they freely interpret three public holidays — Halloween, Valentine's Day, and May Day. "The film might be Huyghe's most elaborate, intriguing and, quite possibly, weirdest offering to date" (Naomi Fry, Frieze). 
France,  
2009.
Dir: Pierre Huyghe. 121 min. DCP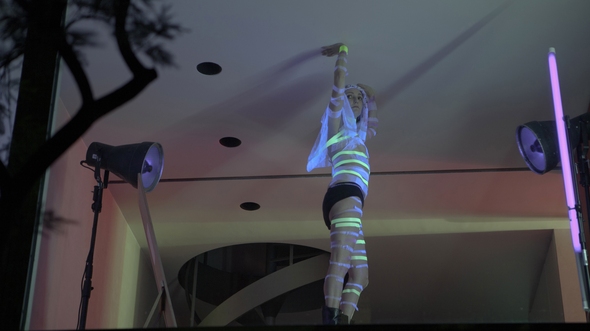 Programmed by Michèle Smith
The third feature from writer-director Joanna Hogg (
Unrelated, Archipelago
) "reaffirms Hogg's status as a distinctive, singular, and challenging voice of British cinema" (Mark Kermode, The Guardian). Doyenne of punk Viv Albertine and Turner-nominated artist Liam Gillick play a married couple who decide to move house, a midlife upheaval that awakens dreams, memories, and fears that have imprinted themselves on the home they have shared, as artists and lovers, for two decades. Shot chronologically, with dialogue improvised by the actors, in a modernist house that confounds distinctions between interior and exterior, the film plays with the idea of the house as psyche or unconscious, an arena for encounter and emotion, and tests how private space is created within a relationship, and within a house that is very hard to keep secrets in. 
Great Britain , 2013. Dir: Joanna Hogg. 104 min. Blu-ray Disc
Programmed by Michèle Smith
For his 1982 travelogue 66 Scenes from America, Jørgen Leth recorded a more-or-less random cross-section of the country's people and places in postcard-like tableaux — most famously a four-minute homage to Andy Warhol's screen tests, in which the pop artist wordlessly eats a Whopper. The Stars-and-Stripes fluttering across these archetypal images evoke The Americans, Robert Frank's iconic mid-century photo essay. Frank's own C'est Vrai/One Hour, his nearly unknown late masterpiece, is a perverse buddy movie shot in a single take and a single hour on July 26, 1990, during which the camera moves from Frank's Manhattan studio onto the street and into the back of a minivan that careens around the neighbourhood, now and then stopping to jump out and capture a bit of action: candid, staged, improvised — it can be hard to tell. "C'est Vrai is a one-of-a-kind stunt, both street theatre and an urban road movie" (J. Hoberman). "How much this is a tossed-off home movie about Frank's neighbourhood and how much it's a contrived board game spread out over several city blocks ultimately becomes a metaphysical question" (Jonathan Rosenbaum).
PROGRAM
66 Scenes from America (66 scener fra Amerika) | Jørgen Leth/Denmark 1982. 42 min.
C'est Vrai/One Hour | Robert Frank/France 1990. 60 min.
Image: Andy Warhol in Jørgen Leth's 66 Scenes from America. 1982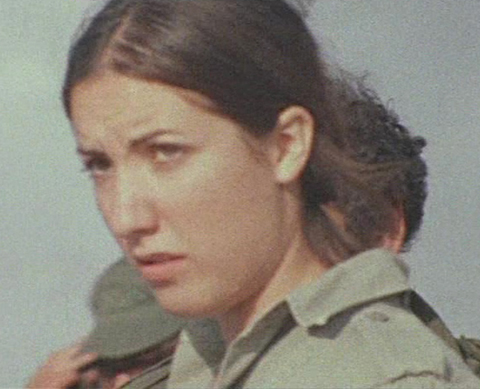 Programmed by Amy Kazymerchyk and Sarah Todd
Famed writer and critic Susan Sontag's third film and only documentary obliquely witnesses the final days of the 1973 Yom Kippur War in Israel. The film is a collage of observational fragments showing that something happened, but not why it happened, a strategy illustrating her conviction that "to interpret is to impoverish, to deplete the world." Sontag resisted the label documentary, instead suggesting literary analogues such as "the poem, the essay and the lamentation" to describe the film's dialectical structure. Roberto Rossellini said she uses "the Arab-Israel War as a metaphor for the human condition." Sontag continued to explore the metaphor of suffering in her writing (Illness as Metaphor, Regarding the Pain of Others). France 1974. Dir: Susan Sontag. 87 min. 16mm
Programmed by Amy Kazymerchyk
Further unfolding the cinematic grammar of her films Gonda (2012) and Medea (2013), which are exhibited in Not a curse, nor a bargain, but a hymn at Audain Gallery, this program presents five of Ursula Mayer's films produced between 2005-2010. Like a house of mirrors, Mayer's films employ cyclical pictorial structures. Within these fractured, looping, reflected circuits, she transposes figures, architectures, and aesthetic eras over each other. Influenced by the work of Alain Robbe-Grillet, Maya Deren, and Andrei Tarkovsky, Mayer composes multifaceted images that refract temporalities and subjectivities. From within their house of mirrors, the figures in Mayer's films gaze outward from the corridors of history.
PROGRAM
Trilogy: Portland Place 33 (2005), Keeling House (2006), Villa Mairea (2006), SD Digital File, 18:40min, BW/Colour 
Interiors, 2006, 16mm, 4min, BW/Colour/Sound
The Crystal Gaze, 2007, 16mm, 8min, BW/Colour/Sound
The Lunch in Fur/ Le Dejeuner en Fourrure, 2008, 16mm, 8min, Colour/Sound
Last Hours of Ancient Sunlight, 2010, SD Digital File (dual image), 7min, Colour/Sound
Christine Evans will introduce the House of Mirrors screening. Evans is a sessional instructor in Film Studies at the University of British Columbia. Her research focuses on the intersections between love, universality, Lacanian psychoanalysis and film theory.
Image: The Crystal Gaze (2007)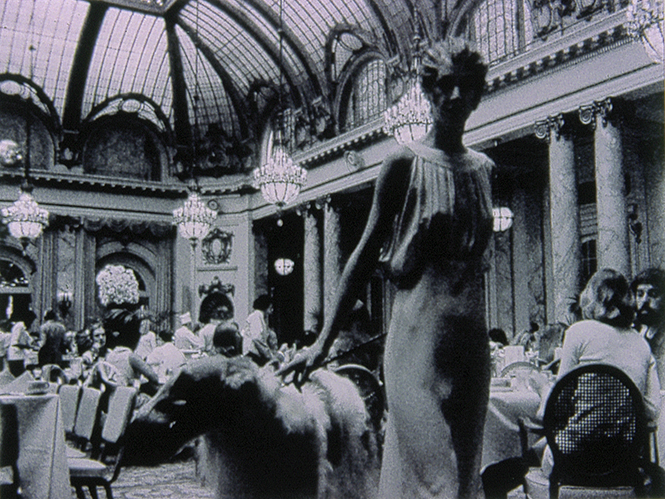 Programmed by Michèle Smith 
"Probably not since Andy Warhol's The Chelsea Girls had its first showing at the Cinematheque… almost a year and a half ago, has an 'underground' film event caused as much curiosity and interest in N.Y.'s non-underground world as did four days of showings of the complete films of Warren Sonbert at the Cinematheque's new location on Wooster St." (Roger Greenspun, film critic)
This announcement in the trade journal Variety in 1968 marked the arrival of a key innovator in experimental filmmaking. Inspired equally by Hitchcock and Sirk as by Markopoulos and Warhol, Warren Sonbert (1947-1995) had his first career retrospective before his 21st birthday. By the time of his death from HIV/AIDS, he had made eighteen films, the last completed posthumously according to his instructions. DIM Cinema presents a quartet of dazzling films by this seminal figure of the American avant-garde, beginning with a tradition-flouting student film from the mid-1960s, starring two superstars of Warhol's Factory, and followed by three powerful examples of his mature non-narrative style of "polyvalent montage"— an exuberant rapid-fire editing technique that considers the directional pulls of heterogeneous shots, and combines them along "potentially many dimensions", to create a distinctive form of lyric cinema.
PROGRAM
Hall of Mirrors | USA 1966, 16mm, colour/b&w, 7 min. 
Rude Awakening | USA 1976, 16mm, colour/b&w, silent, 36 min.
The Cup and the Lip | USA 1986, 16mm, colour, silent, 20 min.
Friendly Witness | USA 1989, 16 mm, colour/b&w, 22 min.
Image: Friendly Witness, 1989. Courtesy of Light Cone.
Pages