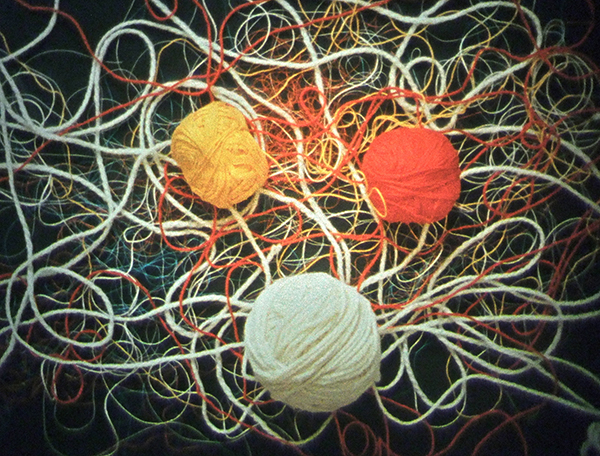 Programmed by Michèle Smith
Ute Aurand's trilogy of films Toying with String I-III (Fadenspiele I-III) was made in a spirit of artistic spontaneity and improvisation with her sister, the painter Detel Aurand, between 1999 and 2013. Filmed inside the artist's studio and outdoors in forests, fields, and mountains, they feature various natural and manmade materials invisibly manipulated to create images in a constant state of metamorphosis. This aspect of the sisters' films serves as a bridge to the work of local artists Julia Feyrer and Tamara Henderson, who will show a selection of 16mm films from their collaborative and separate practices.
PROGRAM
Fadenspiele. Germany/Ute and Detel Aurand, 1999. 8 min, 16mm, silent. 
Fadenspiele II. Germany/Ute and Detel Aurand, 2003. 8 min, 16mm, optical sound.
Fadenspiele III. Germany/Ute and Detel Aurand, 2013. 9 min, 16mm, optical sound. 
The Artist's Studio. Canada/Julia Feyrer, 2010. 5 min 5, 16mm, silent.
Neon Figure. Canada/Tamara Henderson, 2013. 2 min 55, 16mm, optical sound.
Spirit of Garfield. Canada/Tamara Henderson, 2012. 2 min 55, 16mm, optical sound.
Escape Scenes. Canada/Julia Feyrer, 2013. 4 min 37, 16mm, silent.
Gliding in on a Shrimp Sandwich. Canada/Tamara Henderson with Jeannine Han and Dan Riley, 2014. 2 min 55, 16mm, optical sound.
Accent Grave on Ananas. Canada/Tamara Henderson, 2013. 2 min 55, 16mm, optical sound.
Bottles Under the Influence. Canada/Julia Feyrer and Tamara Henderson, 2012. 9 min 43, 16mm, optical sound.
. . . . . . . . . . . . . . . .
Ute Aurand
has been making experimental films in the lineage of Jonas Mekas, Marie Menken, and Margaret Tait since graduating from the Deutsche Film- und Fernsehakademie Berlin in 1985.  
Detel Aurand
is a visual artist based in Berlin who works with painting, collage, and installation. 
Julia Feyrer
works with film, sculpture, sound, and historical photographic techniques to address themes of the corporeal and the temporal.
Tamara Henderson
translates her experiences of unconscious states, such as dreaming and hypnosis, into sculpture, furniture, and film scenarios. Feyrer and Henderson began working together in 2009 while studying at Frankfurt's Städelschule, and have exhibited their installations at Walter Phillips Gallery, Banff, and the ICA, Philadelphia.
Image: Ute and Detel Aurand, Fadenspiele I, 1999.
Programmed by Michèle Smith
Ute Aurand's diary films, film portraits, and travelogues belong to the lineage of Jonas Mekas, Marie Menken and Margaret Tait. A key figure in Berlin's film scene since the 1980s, Aurand records life's small, ephemeral details on a handheld Bolex camera, later reworking them in a style that is at once energetic, rhythmic, playful and — unusually for experimental cinema — tender. She has described her approach as "a brief touch" — "like a swing, to go away and come back and go away and come back again." Her films explore the lives of friends and strangers, the atmosphere of local and foreign places, and "the absolutely singular, exquisite textures of daily life around her" (Michael Sicinski).  
PROGRAM 
Im Park/
A Walk/
Zuoz. Germany, 2008. 6 min, 4.5 min, 7.5 min. 16mm. Silent.
Kopfüber im Geäst (Hanging Upside Down in the Branches). Germany, 2009. 15 min. 16mm. Silent.
To Be Here. Germany, 2013. 38 min. 16mm. Sound.
Zu Hause (At Home). Germany, 1998. 2.5 min. 16mm. Silent.
Please note: Due to unforeseen circumstances, Terzen (Thirds), will no longer screen. In its place, a collection of silent works by Aurand will accompany her latest film, To Be Here.
Ute Aurand is a filmmaker, curator and educator who has been making experimental films since graduating from the Deutsche Film- und Fernsehakademie Berlin in 1985. During the 1990s, she presented the series "Filmarbeiterinnen-Abend" at the Arsenal Cinema, which featured films, mostly experimental, made by women; she also co-founded "FilmSamstag" (Film Saturday), a monthly film programme at Kino Filmkunsthaus Babylon Mitte that ran until 2007. In 1991, she co-authored, with filmmaker Maria Lang, "Frauen machen Geschichte – 25 Jahre Studentinnen an der dffb" (Women make History-25 Years of Women Students at the dffb). Her films, which have toured internationally, were the subject of a recent retrospective at Tate Modern.
Image: Im Park, 2008. Courtesy of the artist
Programmed by Michèle Smith
Using abstraction, animation, and re-enactments, Toronto-based artist Jean-Paul Kelly — the 2014 recipient of the Kazuko Trust Award for "artistic excellence in the moving image" at the New York Film Festival — has created a powerful series of short videos that examine the attractors and repulsors of various forms of media representation. Details from documentaries, press cuttings, publications, and online media streams are isolated, superimposed, composited, and otherwise reconfigured into new meanings — often in disturbing pairings of pleasure and pain, desire and trauma. The centrepiece of the program, Service of the goods, is a shot-by-shot reproduction of scenes from Frederick Wiseman documentaries, stripped of their naturalistic signifiers to bring underlying ideologies into sharper focus. "This film is not only a bang-on piece of filmic analysis; it also poses fundamental questions about the representation of social institutions, and those stuck inside of them" (Michael Sicinski, Keyframe Magazine).
PROGRAM
(Glissement) The Sense of an Ending | Canada 2010. 4 min.
A Minimal Difference | Canada 2012. 5 min.
Service of the goods | Canada 2013. 29 min.
Figure-ground | Canada 2013. 5 min.
The Innocents | Canada 2014. 13 min.
Movement in Squares | Canada 2013. 13 min.
Screening format: DCP
Jean-Paul Kelly is a Canadian artist who uses video, drawing, and photography to explore the relationship between materiality and perception, interrogating the limits of representation by examining complex associations between found documentary and photojournalistic reference materials. Hi
s work 
has been exhibited and screened across Canada and internationally.
From 2009 to 2012, Kelly was programming director and curator of Trinity Square Video (Toronto).
Image: Service of the goods, 2013. Courtesy of the artist.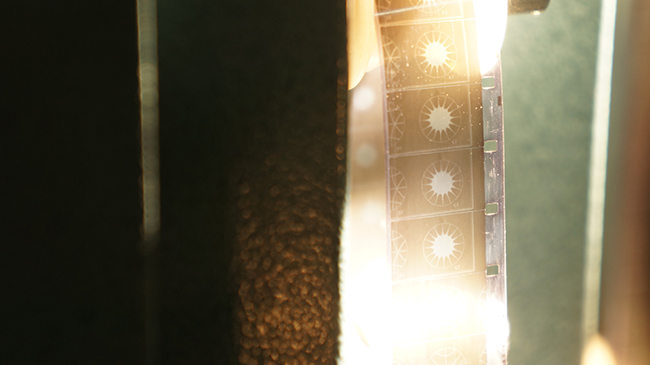 Programmed by Michèle Smith
(Near) extinct technologies make sound visible in this program of shorts delving into ideas of knowledge, memory, and communication. On a Chladni Plate, a device that marked the birth of acoustics, grains of sand, moving like Busby Berkeley dancers, form intricate patterns in response to changing sound frequencies, their shapes recalling the utopian quest for a "pure," onomatopoeic alphabet. Wax cylinder recordings combine with modern scientific instruments to animate a text by Rainer Maria Rilke on the possibility of hearing the dead by playing their skulls with a gramophone needle. A histrionic voice-over, translated into a wave of small flames on a Ruben's Tube, provokes unexpected associations, from the biblical burning bush to various acts of ventriloquism in pop culture. Hand-drawn compositions by electronic music pioneer Daphne Oram are run through her radical invention, the Oramics Machine. Kaleidoscopic effects in the lamphouse of a 35mm-film printer honour Natalie Kalmus, colour consultant on masterpieces of the Technicolor era. The eyes of the George Eastman family and early Hollywood stars reveal chromatic distortions in some early colour film tests. And in a dramatic finale, Satz and experimental filmmaker Lis Rhodes encode their voices as abstract light patterns on 16mm mono and 35mm stereo filmstrips in a collaborative exploration of sound-image synchronicity.
PROGRAM
Onomatopoeic Alphabet | Great Britain 2010.  DCP. 5:35 mins.
Sound Seam | Great Britain 2010. DCP. 14:47 mins.
Vocal Flame | Great Britain 2012. DCP. 9:29mins
Oramics: Atlantis Anew | Great Britain 2011. DCP. 7:27 mins.
Doorway for Natalie Kalmus | Great Britain 2013. DCP. 8:45 mins
Chromatic Aberration | Great Britain 2014. DCP. 9 mins
In and Out of Synch | Great Britain 2012. 16mm. 20mins.
Aura Satz is a London-based artist whose practice encompasses film, sound, performance and sculpture. 
She was nominated for the Film London Jarman Award in 2012. 
Recent solo exhibitions include Colour Opponent Process at Paradise Row, Impulsive Synchronisation at the Hayward Gallery, London (both 2013), Chromatic Aberration, Tyneside Cinema, Newcastle (2014), and E
yelids Leaking Light, 
at George Eastman House, New York (2015)
. This past year her work was included in the group exhibitions Mirror City: London Artists on Fiction and Reality, Hayward Gallery, and They Used to Call it the Moon, Baltic, Newcastle. 
Image: Universal Language, 2010. Courtesy of the artist.
LIVE SHOW!
Experimental filmmaker Roger Beebe's 2015 touring program of multiple-projector performances and single-channel HD video includes the premiere of his latest multi-projector mayhem, Sound Film. These works take on a range of topics, from the forbidden pleasures of men crying and the secret logic of the book of Genesis to Las Vegas suicides and companies jockeying to be at the start of the phone book. "Beebe's films are both erudite and punk, lo-fi yet high-brow shorts that wrestle with a disfigured, contemporary American landscape" (Wyatt Williams, Creative Loafing).
Co-presented with Iris Film Collective
- - - - - - - - - - - - - - - - -
RELATED EVENT! Co-presenter Iris Film Collective hosts a talk by filmmaker Roger Beebe at 7:30 pm on Thursday, April 2 at Falaise Park Fieldhouse (3434 Falaise Avenue) in Vancouver.
www.irisfilmcollective.com
REVIEWS
Roger Beebe is an associate professor in the Department of Art at Ohio State University. He has screened his films around the globe at such unlikely venues as the CBS Jumbotron in Times Square and McMurdo Station in Antarctica (and in more likely ones like Sundance and MoMA). Recent solo shows of his work include the Laboratorio Arte Alameda (Mexico City), the Wexner Center for the Arts, and Anthology Film Archives. Beebe is also a film programmer: he ran Flicker, a festival of small-gauge film in Chapel Hill, NC, from 1997-2000 and was the founder and artistic director of FLEX, the Florida Experimental Film Festival from 2004-2014.
Image: Money Changes Everything, 2011.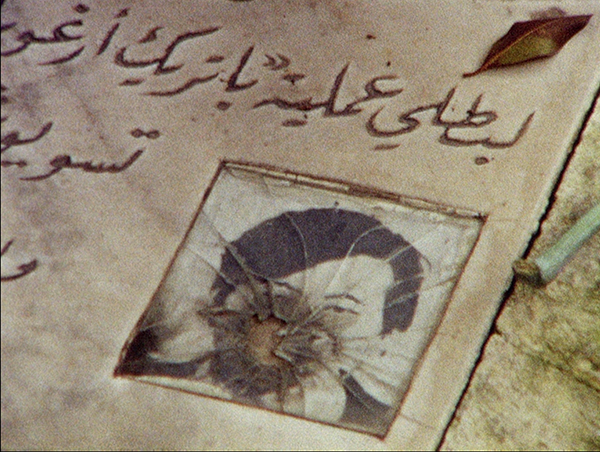 Programmed by Michèle Smith
The scenario for a revolution must be written in the manner of a film script -- JRA manifesto, 1995.
While in Japan researching extreme leftist groups gone underground, the French artist Eric Baudelaire struck a deal with Masao Adachi, the renegade director/screenwriter who had abandoned filmmaking in the 1970s to join the Japanese Red Army in Lebanon and fight in the Palestinian cause. In return for his story, Adachi asked Baudelaire to shoot scenes for him in Beirut based on his cinematic theory of landscape, fukeiron. In return for this super-8 footage, Baudelaire asked Adachi to write a script, a semi-autobiographical fiction, to be made after the completion of The Anabasis, Baudelaire's dark and suspenseful documentary about the JRA. "Anabasis" is the name given, since Xenophon, to a soldier's journey into the unknown and the return home in a changed state. The new screenplay, about a group of former Palestinian militants haunted by their pasts, would be the protocol for constructing a film, The Ugly One, on memory, revolution, and cinema, seemingly written and rehearsed before our eyes.
PROGRAM
The Anabasis of May and Fusako Shigenobu, Masao Adachi, and 27 Years Without Images (L'Anabase de May et Fusako Shigenobu, Masao Adachi et 27 années sans images) | Eric Baudelaire/Japan-Lebanon-France 2011. 66 min. DCP
The Ugly One | Eric Baudelaire/Lebanon-France 2013. 101 min. DCP
There will be a 10-minute intermission between the two films.
Eric Baudelaire is a Paris-based filmmaker and visual artist whose
 research-based practice
 includes printmaking, photography and publications. These have been shown in 
installations alongside his films in solo exhibitions at the Fridericianum
, Berkeley Art Museum, Bétonsalon, Bergen Kunsthall, Beirut 
Art Center, Gasworks, La Synagogue de Delme and The Hammer 
Museum. His 
recent feature films 
were selected for the FIDMarseille, 
Locarno, Toronto, New York and Rotterdam film festivals. He
 has also participated in the Sharjah Biennal, Seoul 
Mediacity Biennal, Yokohama Triennal, the Taipei Biennial, Berlin 
Documentary Forum 2, La Triennale in Paris, and the Baltic Triennial of 
International Art. His films and installations are in the collections of 
Reina Sofia Museum, MACBA, Centre Pompidou 
and The Whitney Museum of American Art. 
Films courtesy of LUX
Image: The Anabasis of May and Fusako Shigenobu, Masao Adachi, and 27 Years Without Images, 2011.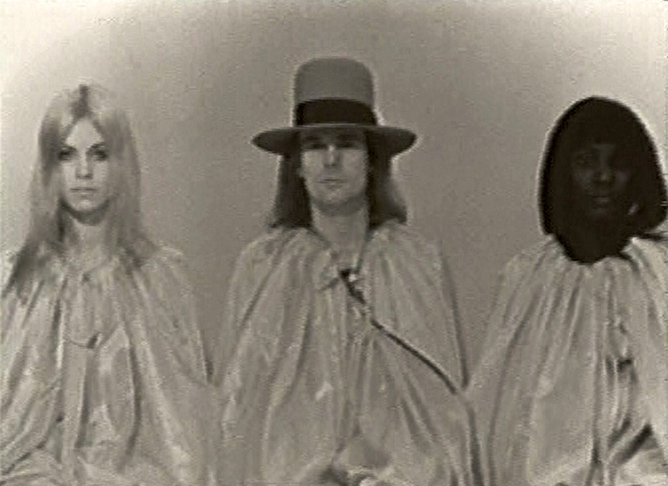 Programmed by Michèle Smith
"Could you offer us a question that you feel is pertinent in regards to your own evolution of knowledge?" asks the voice at the end of the line. It's James Lee Byars calling, the American performance and installation artist "whose idiosyncratic, Zen-influenced blendings of Minimal and Conceptual art stressed questions over answers, absence over presence, and a lush momentary experience of beauty over permanence" (Roberta Smith, New York Times). Byars's initial idea was to lock 100 brilliant minds together behind closed doors and invite them to ask each other the questions they were asking themselves. It evolved into The World Question Center, a live broadcast on Belgian TV, during which the artist, supported by a panel of guests (including Marcel Broodthaers) and a ring of university students (the entire cast dressed in pink robes, but, alas, filmed in B&W) telephoned thinkers, scientists, and artists with his question. Filmmaker Jef Cornelis documented the proceedings: "That the network even broadcast this adventure, let alone at 10 o'clock on a Friday evening, is still a puzzle to me." 
PROGRAM
James Lee Byars, Antwerpen 18 April — 7 Mei 1969 | Jef Cornelis/Belgium 1969. 32 min. DCP.
The World Question Center | Jef Cornelis/Belgium 1969. 63 min. DCP
Image: The World Question Center, 1969. Courtesy of Argos Centre for Art and Media
REVIEW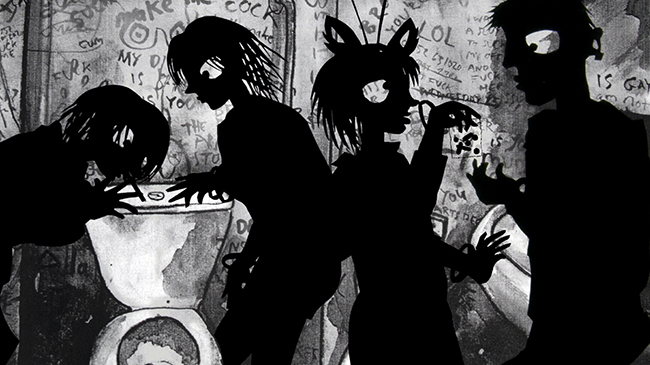 Programmed by Michèle Smith
British artist Phil Collins giddily mixes genres — documentary and musical, silhouette animation and late-night television — in this love letter to the city of Glasgow. At the heart of the film is a song cycle by Cate Le Bon interpreted by non-professionals filmed in their everyday environments to the accompaniment of the Royal Scottish Orchestra. The musical sequences are punctuated by public-access broadcasts from a disused 1960s TV studio, its doors re-opened by Collins to people from every walk of life, and by a series of short animations by Matthew Robins, soundtracked by Mogwai's Barry Burns, which follows a group of characters on a night out. From children to pensioners, from poets to prisoners, Collins's Glaswegians talk, sing, and dance us deep into the soul of their city and beyond, exploring the need for human interaction amid the alienating information overload of the digital age. 
Great Britain 2014. Dir: Phil Collins. 82 min. DCP
Image: Courtesy of Shady Lane Productions.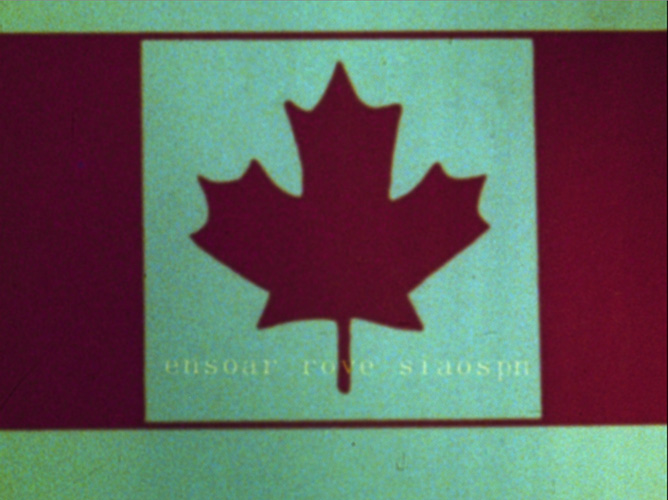 Programmed by Michèle Smith
"I thought I was Leni Riefenstahl. It was due perhaps to editing Trudeau. Would he be a good leader? Or just a politician? Irony came wandering in, in the porn of applause for his statement 'Reason over passion, that is the theme of all my writing.' It should be reason and passion in a person." JOYCE WIELAND
Two Pierres are the keystones in these twin portraits of a nation at a historical turning point, playfully interlocking the main themes of Joyce Wieland's art.
Reason Over Passion
explores Canada's landscape, symbolism, and bilingualism, while taking issue with the famous "reason over passion" statement by Pierre Trudeau, whose every gesture is anatomized in footage Wieland shot during the 1968 Liberal leadership convention, when his election signalled the possibility of change.
Pierre Vallières
incorporates reel changes and camera breakdowns as it attempts a tightly-framed unbroken shot of the lips of Vallières, the FLQ's intellectual leader, as he holds forth, with reason and passion, on labour issues, Quebec independence, and women's liberation. Ironically, the balance of qualities lacking in Trudeau can be heard in the voice of a revolutionary whose 
sovereigntist 
politics threaten the national harmony Wieland sought through her work.
Reason Over Passion / La raison avant la passion | Joyce Wieland/Canada 1968. 84 min. 16mm 
Pierre Vallières | Joyce Wieland/Canada 1972. 32 min. 16mm
Image: Reason over Passion, 1968. Courtesy of CFMDC
Richard Tuohy in attendance
Active in film since the late 1980s, Richard Tuohy has spent the past decade immersed in the materialist tradition of experimental filmmaking — work that tests the absolute limits of the medium itself. Drawing primarily on natural forms and environments as subject matter for his celluloid manipulations — an array of classic and novel in-camera, darkroom, printing, and editing techniques — Tuohy "abstracts out the fleshiness of the particular" to create dynamic studies of form, structure, time, and pattern, an approach he describes as "cine-cubism." The filmmaker will present a series of 16mm films, culminating in a live performance using two projectors.
Co-presented with Cineworks and Iris Film Collective
+
On November 15 & 16, Iris Film Collective and Cineworks present a two-day workshop with Richard Tuohy on his Chromaflex technique. For more information and to register: 
www.irisfilmcollective.com
Image:

Flyscreen, 2010. Courtesy of the artist.
Pages