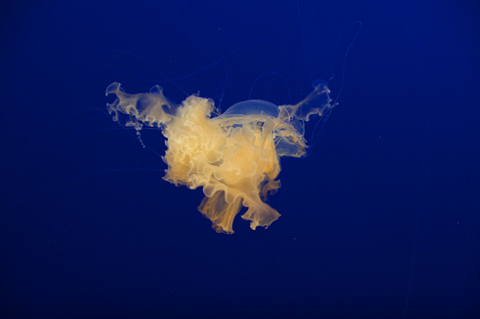 Programmed by Michèle Smith,
Aurelian Froment in attendance
To launch its 2014 season, DIM Cinema is hosting an evening of videos by the acclaimed French artist Aurélien Froment, in advance of his first Canadian solo exhibition. Froment often uses theatrical devices and the format of instructional films to draw the audience in as participants in these cleverly-crafted investigations into the transmission of ideas. Some of the videos take a specific object or practice as subject matter — a jellyfish, a boating knot, a yoga pose — and examine it through language, revealing the elusive relationship between images and words. Others follow the shifts in perspective witnessed by forgotten historical objects as their uses and meanings change over time from those envisioned by their designers. And still others are concerned with the mental processes involved in the construction of narrative and memory.
PROGRAM
Opening Speech | 2011. HD video, colour, sound. 5 mins. 
Fondation | 2002. HD video, colour, sound. 2 mins. 
The Apse, the Bell and the Antelope | 2005. HD video, colour, sound. 27 mins.
Pulmo Marina | 2010. HD video, colour, sound. 5 mins. 
Fourdrinier Machine Interlude | 2010. HD video, colour, sound. 7 mins.
Théâtre de poche | 2007. HD video, colour, sound. 12 mins.
Camillo's Idea | 2012. HD video, colour, sound. 25 mins.
Aurélien Froment (b. 1976 in Angers, France) is a visual artist based in Dublin. After graduating from École Régionale des Beaux Arts, Nantes, he worked as a part-time projectionist at MK2 Parnasse in Paris. The cinema continues to be an important space for his practice. His work has been shown internationally in solo and group exhibitions and screenings, most recently at the ICA in London, Centre Pompidou in Paris, and at the 55th Venice Biennale.
Image: Pulmo Marina (still), 2007.
Programmed by Amy Kazymerchyk

The Kidnapper's Opera is a video-artwork based on a true story: On December 21, 1990, several young men, some of them teenagers, kidnapped the daughter of Canadian billionaire Jimmy Pattison in Vancouver. After receiving a $200,000 first payment on their ransom demands, the kidnappers decided to go on a shopping spree in a rented limousine; they were caught later that day conspicuously spending large amounts of cash at local shopping malls. Inspired by a quotation from Bertolt Brecht's The Threepenny Opera – "What is the robbery of a bank compared to the founding of a bank?" – the film considers how inequality is psychologically experienced in our society. The explanation for the behaviour of the teenagers focuses on the false desires of fortune and personal grandeur created by advertising, the media, and a sense of lack perpetuated by globalization. Structured like a play, each scene of The Kidnapper's Opera is set and shot uniquely. Dan Starling, 2013, Colour, HDCAM, 90mins, Canada.

Dan Starling is a visual artist from Vancouver who works in a variety of mediums (drawing, painting, sculpture, photography, performance). Starling studied at Emily Carr University in Vancouver and Städelschule in Frankfurt and teaches at Emily Carr University.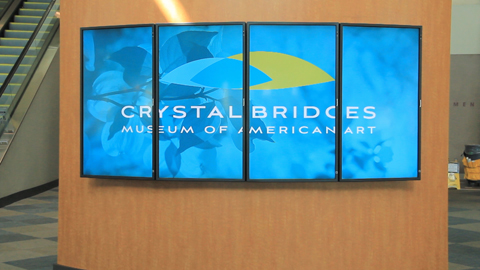 Programmed by Aaron Peck
In
My Language is an Unpaved Road (Crystal Bridges)
, the collaborative duo of Henning Fehr and Philipp Rühr documents the eponymous art museum – the Crystal Bridges Museum of American Art – opened in 2005 in Bentonville, Arkansas, by Alice Walton, heiress of the Walmart fortune. Funded by the world's largest department-store chain, Crystal Bridges exemplifies a shift in the function of museums from educational to entertainment models. The film explores not only the museum's collection, which ranges from early American colonial to contemporary art, but also the individuals around it. Co-director Fehr acts the part of the museum's director, Don Bacigalupi, while the rest of the cast are actual interviewees, including local donors and high-school teachers. As German critic Noemi Smolik writes in Frieze d/e, "The film comes across as both touchingly naïve and cunning – naïve in its direct voicing of the protagonists' stories; cunning, because of the parodic effect given to these stories by the film's imagery."
Henning Fehr, andPhilipp Rühr. 2013, 
Colour, HDCAM, 92mins, 
Germany.
Henning Fehr was born in Erlangen, Germany, in 1985. Philipp Rühr was born in Brühl, Germany, in 1986. Both currently live and work in Düsseldorf, Germany. They are represented by Galerie Max Mayer.
Programmed by Michèle Smith
A falcon equipped with a tiny camera hovers over the desert like a living drone. Auguries are taken from the flight of starlings above the roofs of the Vatican. At ground level, a magician-mime uses conjuring tricks to interpret abstract art, shepherds watch over Glenn Gould practising a Chopin étude, and a prisoner secretly records his daily life on a smuggled phone in exchange for short video clips of the world outside. This month we're mapping the conceptual terrain crossed by French artists in the past decade, from art and aesthetics to politics, philosophy, race, and citizenship. An irresistible cinematic amuse-bouche and digéstif will be served by Laure Prouvost, whose recent video installation Wantee, about the artistic friendship between her late (entirely fictional) grandfather and the Dadaist Kurt Schwitters, earned her a nomination for this year's Turner Prize — winner to be announced in early December (Go Laure!).
PROGRAM
Owt | Laure Prouvost/Great Britain 2007. 3 mins. 
Abstract Telling | Olivier Dollinger/France 2010. 16 mins. 
Le Berger | Benoît Maire/France 2011. 15 mins. 
Temps Mort | Mohamed Bourouissa/ France 2009. 18 mins. 
Pruitt Igoe Falls | Cyprien Gaillard/France 2009. 7 mins.
Les Oiseaux | Laurent Grasso/ France 2008. 9 mins. 
A Study of the Nature of Things | Laurent Montaron/France 2011. 12 mins. 
On Air | Laurent Grasso/ France 2009. 9 mins. 
Wantee | Laure Prouvost/Great Britain 2013. 15 mins. 
 
Image: On Air (still), 2009. Courtesy Galerie Valentin, Paris, and Sean Kelly Gallery, New York © Laurent Grasso / ADAGP, Paris, 2013.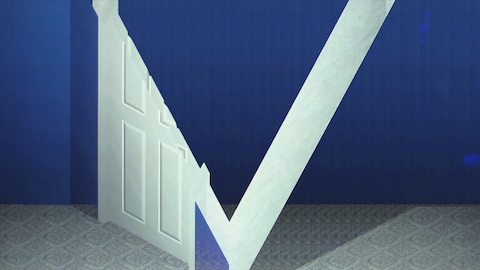 Programmed by Sylvain Sailly and Sarah Todd 
"Calculated Movements" presents a broad range of short films and videos that trace the development of computer graphics within moving images. Presented parallel to "Continuum Model," Sylvain Sailly's solo exhibition at the Western Front, this program brings together advertising, historical film, internet art, and single channel video, offering an intuitive account of digital sensibilities and cinema. "Calculated Movements" takes Larry Cuba's 1985 abstract animated video of the same name as a point of departure, positioning the of act calculation as an essential and elemental process inherent to the production of computer graphics. Here artists, filmmakers, and designers are implicated in the unrelenting needs of technology as innovators, technicians, and often reluctant and sceptical participants in the processes of industrial research and development. From Tony Conrad'sCycles of 3s and 7s (1976), which he describes as "a story: about numbers, the kind machines should like to hear and tell, if they liked," to Sara Ludy's laptop-based online dérives in Rooms (2012), "Calculated Movements" is concerned with investigating the craft of digital image-making across industrial and independent modes of production in an effort to better understand the conditions of our contemporary digital environment.
PROGRAM
Loie Fuller - Danse serpentine | Lumiere Brothers/France 1896. 3 mins. (excerpt) 

Cycles of 3s and 7s | Tony Conrad/USA 1976. 12 mins.

Vinyl Silk | Abel & Associates/USA 1976. 1 min.

Symphonie Diagonale | Viking Eggeling/Sweden 1924. 7 mins. 

Form Phases II | Robert Breer/USA 1953. 4 mins. 

Not Fiction | Elizabeth Vander Zaag/Canada 1975. 4 mins.

Calculated Movements | Larry Cuba/USA 1985. 6 mins.

1-2-3-4 | Steina Vasulka/USA 1974. 8 mins. 

Rooms | Sara Ludy/Canada 2012. 4 mins.

Le chant du styrène | Alain Resnais/France 1958. 13 mins. 

Mechanical Principles | Ralph Steiner/USA 1930. 5 mins. (excerpt) 

Digit Porn | Elizabeth Vander Zaag/Canada 1977. 2 mins. 

Green Giant | Abel & Associates/USA 1979. 1 mins. 

Spheres | Norman McLaren, René Jodoin/Canada 1969. 3 mins. 

MATRIX III | John Whitney/USA 1972. 11 mins.
Sylvain Sailly is a French artist currently residing in Vancouver. He has been exhibiting his animations, drawings, and installations recently at Mains d'Œuvres, Paris; Today Art Museum, Beijing; the Jakarta Biennale XIII; Contemporary Art Gallery, Vancouver; and the Charles H. Scott Gallery, Vancouver. Sailly's practice poetically explores contemporary information systems through the intersection of technology and sculpture. His work investigates industrial modes of production, bringing form to otherwise intangible socio-economic realities.
Programmed by Michèle Smith
"Erth and Other Landscapes" presents a series of musings on nature, technology, perception, and time by two generations of renowned artists and filmmakers. The program commences with a journey from the origin of the cosmos to the appearance of a "brilliant streptococcus organism for which no antidote exists"; and concludes with a year-long study of a forest, enacted by following the continually shifting movement of colour, light, and shadow across natural forms, articulating then obliterating them into pure abstraction. Between these parentheses, Peter Hutton discovers the sublime landscapes of the Hudson River School in a mound of burning tires; Patrick Keiller recapitulates the natural history of the universe in the capricious ontogeny of his narrator; and, like postmodern Brueghels, Rachel Reupke's tiny human dramas get lost in the flow of traffic through a panoramic landscape. These closely observed encounters pose questions about our relationship with non-human matter and forces, and draw out some of the complex links between the objective visible world and our inner hidden worlds.
PROGRAM
John Latham, Erth. 1971, Colour, 16mm, sound, 25mins, Great Britain.
Peter Hutton, In Titan's Goblet. 1991, B&W, 16mm, silent, 10mins, USA. 
Patrick Keiller, The Clouds. 1989, B&W, 16mm, sound, 19mins, Great Britain.
Rachel Reupke, Infrastructure. 2002, B&W, video, sound, 14mins, Great Britain.
Nathaniel Dorsky, Compline.2009, Colour, 16mm, silent, 18mins, USA.
Emily Richardson, Aspect. 2004, Colour, 16mm sound, 9mins, Great Britain.
image: The Clouds, Patrick Keiller (1989)
"His work is unashamedly polemical, but the polemic is in favour of the proposition that the same discontinuities, paradoxes and breakdowns in communication that are at issue in cinema are also at work in our mediated lives" - Will Bradley
Programmed by Amy Kazymerchyk
Luke Fowler was introduced to Scottish psychiatrist, R.D. Laing's Kingsley Hall experiment (1965-1970) while he was working on his own series of social and psychological experiments called The Social Engineer (1999). Fowler's interest in Laing's practice, and the documentation of Kingsley Hall, evolved into the film What You See Is Where You're At (2001). Laing's hypotheses on the "double bind", the family nexus, and ontological security in books such as The Divided Self (1960) and The Politics of Experience (1967) shaped Fowler's own concerns with family, community, and collaborative formation; self and social representation and perception; and truth and authority. Fowler takes formal influence on these matters from structuralist film, the Situationists, the Free Cinema Movement, and free improvisation. All of these elements fold into Fowler's poly-rhythmic compositions of sound and images — formal experiments, in tune with divided selves.
The Way Out profiles Xentos "Fray Bentos" Jones, one of the founding members of the post-punk band The Homosexuals. Pilgrimage from Scattered Points reflects on the English composer Cornelius Cardew (1936-1981) and The Scratch Orchestra (1968-73). Bogman Palmjaguar is a portrait of man who takes refuge in Scotland's remote bog lands, as his only asylum against medical incarceration. All Divided Selves is an expanded collage of R.D. Laing's life and practice.
PROGRAM
6:30pm
The Way Out. 2003, Colour, video, 33 mins.  Co-director: Kosten Koper.
Pilgrimage from Scattered Points. 2006, Colour, video, 45mins.
Bogman Palmjaguar. 2007, Colour, video, 30mins.
8:30pm
All Divided Selves. 2011, Colour, video, 90mins.
Luke Fowler (b. 1978) is an artist, filmmaker, and musician based in Glasgow. He has performed with experimental groups Lied Music and Rude Pravo, and runs the independent label SHADAZZ. Fowler was awarded the inaugural Derek Jarman Award in 2008.. In 2012, he was shortlisted for the Turner Prize for his solo exhibition at Inverleith House in Edinburgh, which showcased All Divided Selves (2011).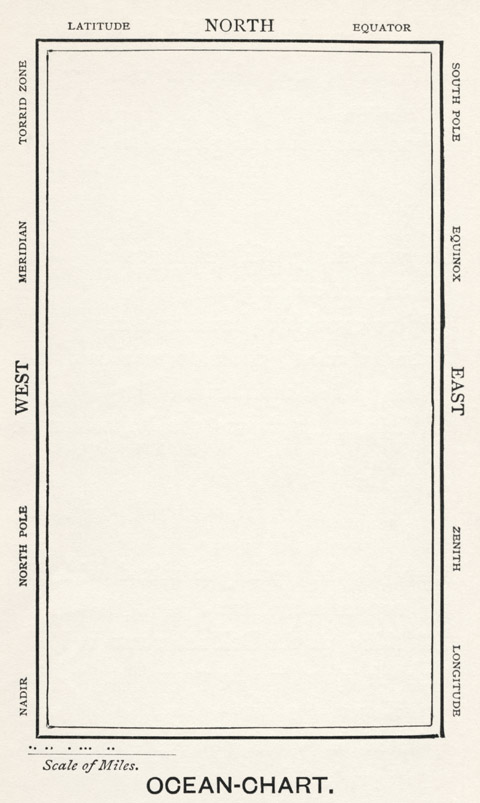 Programmed by Yann Chateigné Tytelman
The Mirage of History presents a series of artists' practices that share a documentary approach to explorations of the spatio-temporal unknown. The point of departure is a visionary film made by Nancy Holt and Robert Smithson in 1968, in which Smithson walks with Michael Heizer through the captivating scenery of Mono Lake in California, reading excerpts from geological textbooks as invocations of an "archaeology of the future." In a similar way, Armando Andrade Tudela films the Marcahuasi plateau in Peru: his gaze lingers on this landscape, a place resounding with manifold stories and representations, as though it holds traces of a "cosmic antiquity". In their attempt to locate the "islands of history" (Marshall Sahlins), these artists seek out spaces of reinvention and permanent revolution that contravene the conditions of possibility for history itself. Joachim Koester documents the remains of Aleister Crowley's Thélèma Abbey, where filmmaker Kenneth Anger and the sexologist Alfred C. Kinsey once met. Michael Stevenson retells the story of Manfred Gnädinger, alias Man—a modern Robinson Crusoe whose life was destroyed by the ecological disaster of the Prestige oil tanker spill in 2002. And Mariana Castillo Deball recounts the story of a female scientist from CERN in Geneva, interspersed with images of gems from the collection of the French writer Roger Callois.
PROGRAM
Armando Andrade Tudela, Marcahuasi. 2009, 11mins, Peru/Germany.
Mariana Castillo Deball, Entropology. 2009, 8mins, Mexico.
Dominique Gonzalez-Foerster, Atomic Park. 2003, 8mins. France.
Daniel Gustav Cramer, Orrery. 2012, 20mins, Germany.
Nancy Holt, Robert Smithson, Mono Lake. 1968-2004, 20mins, USA.
Joachim Koester, Morning of the Magicians. 2005,  5mins, Denmark.
Uriel Orlow, Holy Precursor. 2011, 14mins, Switzerland-Great Britain.
Michael Stevenson, On How Things Behave. 2010, 16mins, New Zealand-Germany.
Yann Chateigné Tytelman (b. 1977) is a critic and curator. He currently serves as Dean of the Visual Arts Department at Geneva University of Art and Design in Switzerland. He was previously the Chief Curator at CAPC Museum of Contemporary Art in Bordeaux. His recent projects include Seismology (Palais de Tokyo, Paris, 2012), The Curtain of Dreams: Hypnagogic Visions (IAC Villeurbanne, 2011-12), and Explorations in French Psychedelia (CAPC Museum of Contemporary Art, Bordeaux, 2008-09).
Presented in collaboration with Geneva University of Art and Design, and the Western Front.
+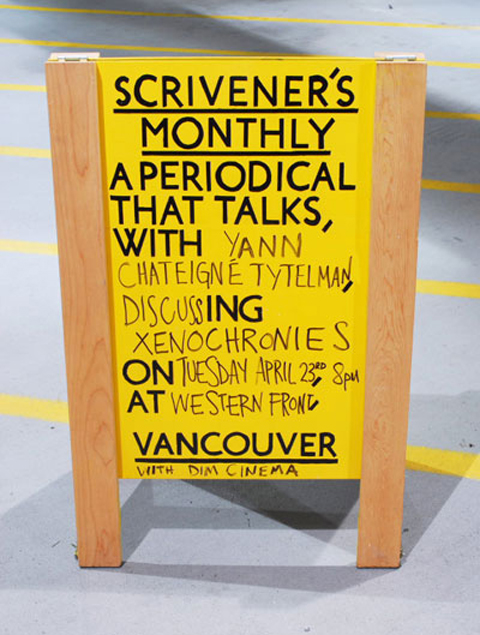 Scrivener's Monthly is pleased to present Yann Chateigné Tytelman discussing Xenochronies on Tuesday April 23rd at 8pm in the Grand Luxe Hall at the Western Front.

Xenochrony, a word that derives from the Greek xenos, strange or alien, and chronos, time, is a studio-based musical technique developed in the early 1960s by composer Frank Zappa. Xenochrony is executed by extracting a guitar solo or other musical part from its original context and placing it into a completely different song. "The musical result", says Zappa, "is the one of two musicians, who were never in the same room at the same time, playing at two different rates in two different moods for two different purposes, when blended together, yielding a third result which is musical and synchronizes in a strange way". Starting from here, we will explore a series of artists works who, luminously, use similar techniques of montage and adventurous dislocation to produce a specific form of knowledge. To be evoked: the writing of history "in between science and fiction", fables, "adventurous coherences" and documentary fictions, dust breeding, fictocriticism and "the dispersed science".

Scrivener's Monthly is a series of public presentations that explore the space between material practices and spoken words: a periodical that talks. Set alongside the exhibitions program at Western Front, this experiment in "not publishing" involves readings, performances, and other articulations.
Programmed by Eli Bornowsky
There is an operation in certain works of art where the hierarchy of the composition is unclear, offering the viewer the agency to compose her interpretation of the work experientially. We could call this operation something like subjective-manoeuvring. Ultimately it is the experience of freedom. I first experienced this through listening to music; however, because the operation is formal and perceptual, it is not medium specific. It also operates in great films, from Tarkovsky to Tati. It also informs my practice as a painter.
With this in mind, Clamour and Toll contrasts the austerity of James Benning's Twenty Cigarettes with the cacophony of Michael Snow's New York Eye and Ear Control. It may seem unusual to contrast free jazz bohemianism in New York with straight prairie portraits, but the contrast in content and context illustrates one strategy to facilitate subjective-manoeuvring that I prize: discord.
I admire these two artists and these rigorous films because they present a challenge: they are difficult to watch. But this difficulty only presents a challenge to how we think about looking. For if we really look, the freedom we experience far surpasses the discomfort.
PROGRAM
James Benning, Twenty Cigarettes. 2011, HD, 99mins, USA.
Michael Snow, New York Eye and Ear Control. 1964, 16mm, 34mins, Canada.
---
Clamour and Toll is an ongoing series of performance, sound art, and moving images curated by the painter Eli Bornowsky for the Or Gallery. Each event explores the relation between sensation and intellection of contrasting artistic mediums and experimental practices. www.orgallery.org.
Clamour and Toll is generously funded by the Canada Council for the Arts.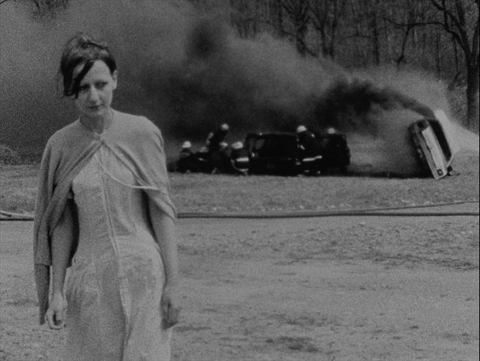 Programmed by Amy Kazymerchyk
7:30pm
You Are Not I. USA 1981. Director: Sara Driver
Cast: Suzanne Fletcher, Melody Schneider, Luc Sante, Nan Goldin

"One of the most impressive works to emerge from New York's post-punk downtown scene" (Film Society of Lincoln Center), Sara Driver's "lost" debut film, co-written and shot by Jim Jarmusch, is based on a 1948 short story of the same name by Paul Bowles (published in his Collected Stories 1939-1976). It is a haunting tale caught in the moment between waking and dreaming, told by Ethel, who escapes from an asylum in the aftermath of a train wreck. Ethel proclaims to an emergency responder that her sister is one of the dead; as she is transported to her sister's home, time fractures and the narrative "I" disassociates. Did the train wreck precipitate Ethel's commitment to the asylum or her escape? Did Ethel's sister die in the wreck, or is it a symbolic killing of the sister who committed her? Jarmusch and camera assistant Tom DiCillo soon after collaborated on Stranger Than Paradise, another black-and-white NY indie touchstone. Driver's film was touted by Cahiers du cinéma as one of the best films of the decade, but its negative was destroyed in a fire shortly its release and film was unseen for 30 years. In 2008, a print was discovered in Tangiers amongst Bowles's belongings, and the film was restored. B&W, 16mm transferred to HD. 50 mins.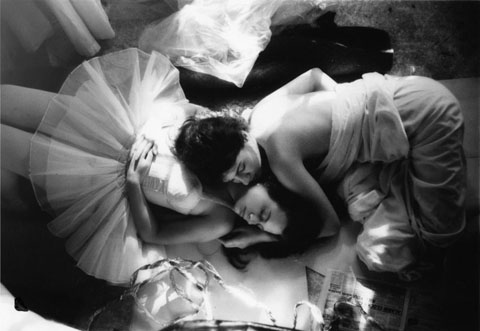 8:45pm
Cat Swallows Parakeet and Speaks! Canada 1996. Director: Ileana Pietrobruno
Cast: Tara Frederick, Rebecca Godin, Alex Ferguson, Christine Taylor, Rachel Cronin

Vancouver filmmaker Ileana Pietrobruno's Cat Swallows Parakeet follows the progress of Scheherazade and Kore, two hospitalized young women who take up storytelling as a means of survival. Inspired by headlines in tabloid magazines, the young women enact an endless narrative, reminiscent of One Thousand and One Nights (aka Arabian Nights), to fend off death: for Scheherazade, at the hands of the doctor's knife, and for Kore, the self-annihilation of an eating disorder. Pietrobruno depended heavily on the art direction of Bo Myers and Athena Wong to bring this visually-stunning film — about life in death and death in life— to life in the abandoned Riverview Hospital in Coquitlam. The film, says Pietrobruno, is "about celebrating entropy, decay and death, and gaining strength through problems and ugliness." "One of the most drop-dead gorgeous movies ever made in Vancouver ... A dizzyingly ambitious experimental drama ... The apocalyptic production design is breathtaking ... Pietrobruno is a talented filmmaker of decidedly distinctive vision" (Jim Sinclair, The Cinematheque). Colour and B&W, 16mm. 75 mins.
Pages