Programmed by cheyanne turions, Alicia Monro and Amy Kazymerchyk
 
The "projection performances" of New York-based artist and architect Bruce McClure are immersive cinematic [or proto-cinematic] happenings. Lightning surges of luminescence and thunderclaps of sine waves create visceral experiences on the screen and in the body. McClure's illuminations are time-based: they are essentially ephemeral and singular, existing outside the bounds of simulation and reproduction. His alchemical, hallucinatory experiments with light, darkness and sound will employ two projectors running simultaneously. As beams of light converge with optically generated sound, the audience is enveloped in interactive play with apparatus.
McClure will conduct  four unique performances using two projectors: You Know My Methods (2003), Christmas Tree Stand - Part 1 (2004), Evertwo Circumflicksrent Page 298 (2007), and Cong In Our Gregational Pompoms (2009).
+
Working the Room
12 + 13 December 2009, 10am-5pm
Cineworks Studio [1131 Howe, back lane entrance]
Cost is $75 for Cineworks members / $125 for non-members

Led by Bruce McClure, this workshop will examine how the variously dimensioned spaces in the trajectory between the spectator and projected image, via lamplight, can be reconfigured as boundaries where cinematic work can be made.  
+
Deliberate Obstructions + Calculated Aimlessness
10 December 2009, 7pm
Cineworks Studio [1131 Howe, back lane entrance]
Free

This conversation with Bruce McClure will explore the potential of the 16mm projector as a liberated instrument of the projection of pictures and an optical soundtrack. Local expanded-cinema artist, curator and writer, Alex MacKenzie, will moderate the discussion.

Co-Presented with Cineworks Independent Filmmakers Society
 Unfortunately low batteries in the recorder cut off the last section of Brad's answers. 
 Amy Lynn Kazymerchyk introduces DIM and Brad. Brad's intro to the films starts 3mins into the clip.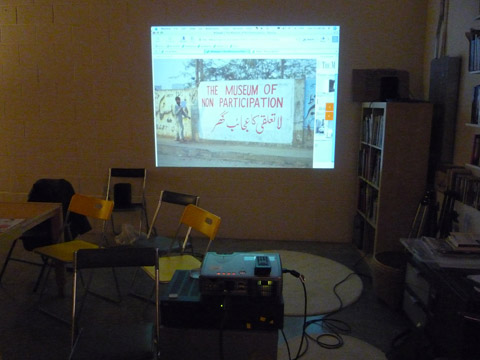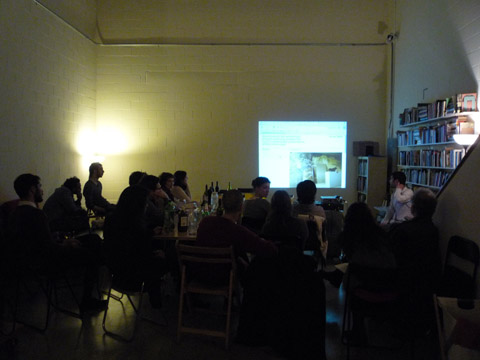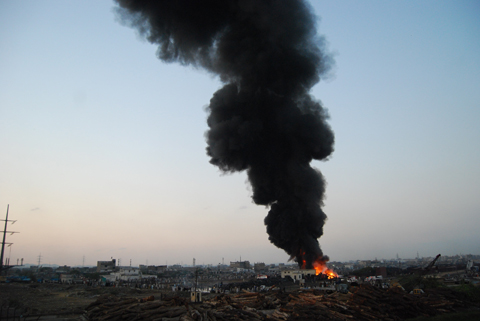 Programmed by Amy Kazymerchyk
Brad Butler in attendance
UK artists Karen Mirza and Brad Butler's artistic practice challenges and interrogates participation, collaboration, the social turn, and the traditional roles of the artist as producer and the audience as recipient. This investigation currently manifests in The Museum of Non Participation, a cross-cultural artistic intervention and appraisal of standard forms of representing and experiencing the everyday in Karachi and London. The project was conceived in 2007 when Mirza and Butler witnessed the Pakistani Lawyers movement protests and subsequent state violence from a window in The National Art Gallery in Islamabad. 
The Exception and the Rule is Mirza and Butler's most recent film from this ongoing series. Conscious of their outside perceptions of the city and its geo-political weight, they investigate the everyday patterns of Karachi's inhabitants and social architecture. In a city with almost no museums, the city itself becomes the museum. Non-participation becomes a form of resistance that critiques agency and consequence of participation/implication, action/inaction, and resistance/pacifism within the constraints of our global economic and political systems.
Their earlier work, Non Places, The Space Between, and The Autonomous Object? provide history and context to Mirza and Butler's commitment to questioning the objectivity of the cinematic frame and its implications in anthropology, ethnography, and architecture.
+
Sunday November 22, 5-10pm
Outside the Museum of Non-Participation: Artist Talk and Dinner
Conversation with Brad Butler
$10 for a hot dinner, BYOB
Address given out upon RSVP
UK Filmmaker and Programmer of the no.w.here media arts centre in London will present an artist talk on his curatorial, pedagogical and social filmmaking practices. At its core, Butler's practice challenges and interrogates participation, collaboration, the social turn, and the traditional roles of the artist as producer, and the audience as recipient. Over dinner and wine, we hope to introduce Butler to the arts, media, writing and programming community in Vancouver and spark conversation about collaborating with UK and European artists, centres, and projects. 
+
Saturday November 21, 12-6pm
Experimental Ethnography
Facilitated by Brad Butler, Filmmaker, Social Practices Artist and Programmer of the no.w.here Media Arts Centre in London UK.
C
ineworks, 1131 Howe St. Back Lane Entrance
Anthropologist Anna Grimshaw said, "Films are not about what you see, but how you see". This cross-media practice based workshop refers to the history of filmmaking to explore the construction of anthropological truth. Drawing on the genre of Experimental Ethnography, participants will consider the ambiguous relationship between image, narration, sound, and text and explore ways of re-contextualizing or disrupting visual evidence through the creative use multiple audio and visual voices.
Please bring materials that reflect your practice, or a new practice you would like to experiment with: pen and paper, laptop, camera, video camera, film camera, audio recording. 
___
Brad Butler graduated from the Royal College of Art with an MA in Documentary Filmmaking. He also has a 1st class degree in Anthropology. In September 2000 he was the winner of BBC2' Documentary talent 2000 competition, as well as winning the National Student Television Award in 1998. Since 1998 he has been creating a body of work in collaboration with Karen Mirza that has moved between the documentary form and artists film. This ongoing dialogue about practice has manifested itself in artistic work presented in exhibitions, events and the cinema as well as the creation of the unique space www.no-w-here.org.uk. Brads most recent work is a return to issues raised in Anthropology having spent 10 years as an active participant in the ideas of experimental film. Brad's new solo work In Search of Structure is the first of a new body of work that brings together his experience in both fields.
Co-Presented by Cineworks Independent Filmmakers Society + VIVO Media Arts Centre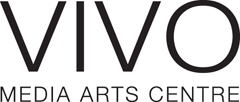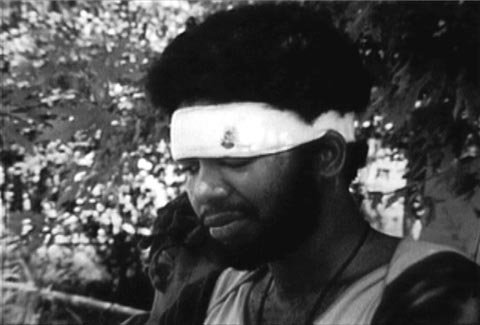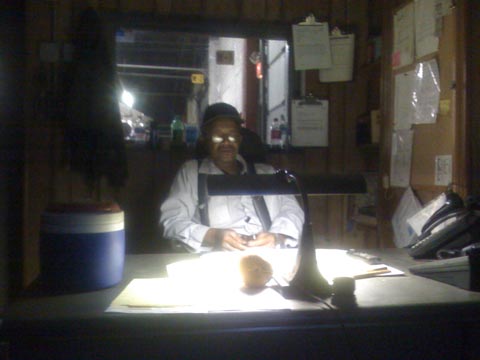 Programmed by Amy Kazymerchyk
* Kevin Jerome Everson will be taking questions and comments after the screening by skype.
Kevin Jerome Everson's prolific body of film work engages with and responds to the history and culture of working class Black Americans and people of African decent. His short gestural films confuse simplistic expectations of ethnographic documentary, poetic narrative, or theatrical drama. He stitches archival footage, scripted sequences, verite documents, and abstract aural and visual minutiae into textured portraits of people, places, economics, politics, and ephemera. Films such as Company Linefocus on details of physical and speech gestures, the mechanics and materials of labour, and employment architecture to explore the lives of city workers in Mansfield Ohio; and hint at bigger questions about freedom and prosperity for Black Americans. The Reverend E. Randall T. Osborn, First Cousin is one of Everson's signature archival films that reveal the construction of performance and portrayal in a minimally edited interview with Martin Luther King's first cousin about police brutality during race riots in Cleveland Ohio. According to… is an example of Everson's astute and seamless montage of fiction and non-fiction that aims to question authority, authenticity and the representation and preservation of African American history.
Kevin Jerome Everson (b.1965) is a filmmaker, originally from Mansfield Ohio, living and working in Charlottesville Virginia. Everson's three feature films and over 50 short films and videos have been exhibited at the Centre Pompidou in Paris; Redcat in Los Angeles, the Museum of Modern Art in New York; the Whitney Museum of American Art, the Cleveland Museum of Art, the Studio Museum in Harlem; the Armand Hammer Museum in Los Angeles; Whitechapel Gallery in London many other venues worldwide. He is the recipient of a Guggenheim Fellowship, a NEA Fellowship, two NEH Fellowships, two Ohio Arts Council Fellowships, and an American Academy Rome Prize. 
PROGRAM
Company Line. 2009, 30:00min, DV/16mm.
FifeVille, 2005. 15:00mins, 16mm.
The Picnic. 2007, 2:30mins, 16mm.
Something Else. 2007, 2:00mins, 16mm.
Ring. 2008, 1:30mins, 16mm.
Second and Lee. 2007, 3:00mins, 16mm.
The Reverend E. Randall T. Osborn, First Cousin. 2007, 3:00mins, 16mm.
753 McPherson Street. 2009, 2:00mins, 16mm.
Broad Day. 2008, 1:00mins, 16mm.
Playing Dead. 2008, 1:30mins, 16mm.
The Wilbur. 2008, 1:30mins, 16mm.
According to… . 2007, 8:30mins, 16mm.
Images: (top) Playing Dead, 2008 (bottom) Company Line, 2009
+

THOUGHT ON FILM XXI: MONTHLY READING + DISCUSSION GROUP
EXPLORING CINEMA + CINEMATIC PRACTICE THROUGH WRITTEN WORDS

A monthly reading + discussion group, Thought on Film aims to promote critical thought around film product and practice through community-based discussion. Open to the public, Thought on Film fosters the close reading of texts confronting issues in contemporary, cutting-edge cinematic practice and philosophy.
Provoked by the presentation of Kevin Jerome Everson's work as part of DIM Cinema, October's meeting will feature an audio recording of Richard Pryor's 'Hank's Place' and a selection from Lorraine Hansberry's 'A Raisin in the Sun.'
26 October 2009, 6pm | Cineworks [1131 Howe, back lane entrance] | Free
\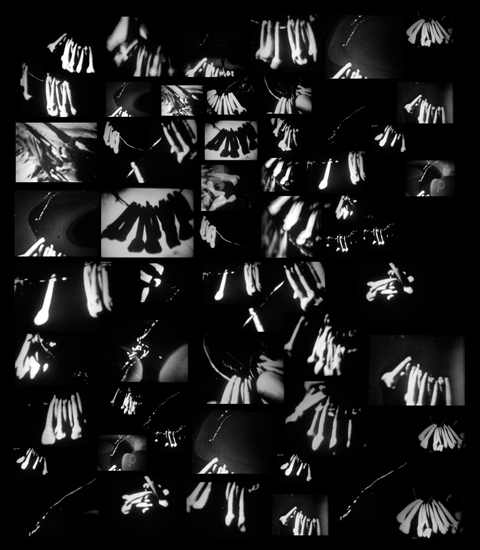 Programmed by Amy Kazymerchyk and double negative collective
" We find ourselves in the role of alchemist: we promote accidents, discoveries, failures; processes that lead into unknown landscapes; the fleeting tangibility of mystical and transformative forces; the begetting of delicate, precious objects in the dark. "             double negative collective manifesto
Since its inception in 2004, the double negative collective has become a major presence in montreal's experimental cinema scene. their unique philosophy and methodology has had an undeniable impact on the shifting landscape of moving-image art and artist collectives. the double negative collective has succeeded to operate self-financed for over five years. they have maintained their own studio of analogue filmmaking equipment and have organized experimental film screenings, performances and artist talks that continue to inspire audiences at home and abroad. this programme demonstrates the breadth and depth of the collective's conceptual and aesthetic approaches to cinema.
PROGRAM
Daïchi Saïto, All That Rises. 2007, 7:00mins, 16mm.
Christopher Becks, Parallax. 2007, 5:00mins, 16mm.
Amber Goodwyn, Paper Nautilus. 2005, 4:30mins, 16mm.
Eduardo Menz, Fracas. 2007, 5:00mins, Digital 8.
Lucia Fezzuoglio, Untitled. 2007, 3:00mins, Super-8 to DV.
Julien Idrac, The Nervous Loops. 2005, 5:00mins, DV.
Steven Ladouceur, Artifacts. 2008, 3:00mins, DV.
Malena Szlam, The Garden of Forking Paths (El Jardin de Senderos que se Bifurican). 2008, 4:00mins, 35mm to HD.
Karl Lemieux, Western Sunburn. 2007, 10:00mins, 16mm to DV.
Mike Rollo, Lola. 2008, 2:45mins, 16mm.
Lindsay McIntyre, Though She Never Spoke, This Is Where Her Voice Would Have Been. 2008, 4:40mins, 16mm.
Christopher Becks, Pan of the Landscape. 2005, 11:00mins, 16mm.
Daïchi Saïto, Trees of Syntax, Leaves of Axis. 2009, 10:00mins, 35mm.
Mike Rollo, Ghosts and Gravel Roads. 2008, 16:00mins, S16mm to HD.
Image: Lindsay McIntyre, Though She Never Spoke, This is Where Her Voice Would Have Been, 2008 
Programmed by Amy Kazymerchyk
Maggots and Men is an experimental historical narrative set in a mythologized, post-revolutionary Russia. The film dramatizes the events of the 1921 Kronstadt uprising and pays tribute to the Kronstadt sailors' earnest pursuit of communist ideals. With a subtext of gender anarchy, Maggots and Men positions the struggle for gender equality within a larger struggle for peace and justice. Cast with female-to-male transgender actors, the film documents a rapidly evolving transgender community and illuminates the contemporary gender revolution.  Painting the brief success of Kronstadt's communal society as a fanciful utopia, Maggots and Men transports us to a realm where we can dream of alternatives to capitalist society.
Derek Jarman, Imagining October. 1984. 27mins, 16mm, UK.
A dreamlike meditation on art and politics in the final years of the Cold War; shot in the streets of Moscow on Super-8 film during the final moments of pre-Perestroika Russia.
Kenneth Anger, Fireworks. 1947, 15mins, 16mm, USA.
One of the earliest wet dreams about the power and physique of Navy Marines, conjured at the mercy of a sailor's loaded masochism.
OFFSITE at Vancity Theatre Vancouver International Film Centre 1181 Seymour * VQFF ticket & membership prices apply to this screening
______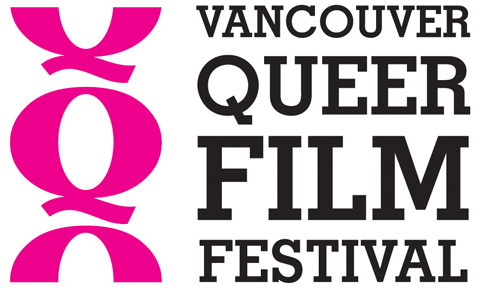 The 21st Annual Vancouver Queer Film Festival runs August 13-23, 2009
Celebrating the best in independent queer cinema, the Vancouver Queer Film Festival is Vancouver's second largest film festival and the largest queer arts event in Western Canada. The Festival hosts a variety of performances, workshops, panels, parties and more, facilitating a unique community space for 11 days each August.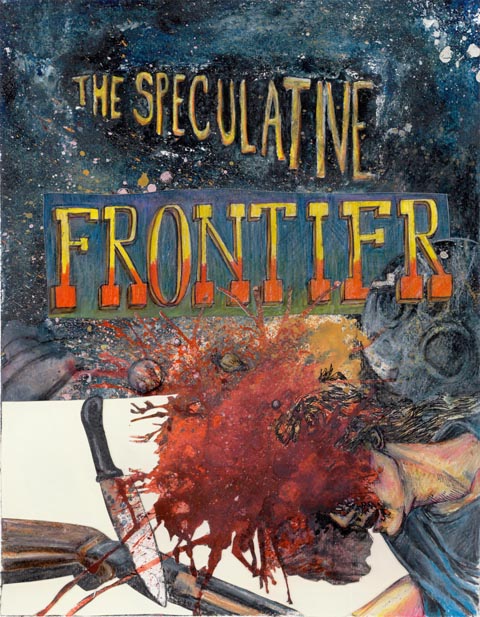 Programmed by Brel Froebe and Benjamin Schultz-Figueroa from Light Industry NYC (In attendance), with Amy Kazymerchyk
Performances by  Jeffrey Allport + Empress
Little Mountain Studios 195 e. 26th. at Main St. Vancouver BC
Inspired by Stan Brakhage's The Stars Are Beautiful (1974), a sound film that cycles through mythological explanations for the cosmos in dozens of permutations, the curators of tonight's event devised an exploratory text that drew from science fiction, structural anthropology, and deep-space physics. They then approached artists from a wide range of disciplines to create new work in response to this cue, resulting in a series of projects--performances, music, lectures, films, and videos--that navigate across the Speculative Frontier, the boundary between the known and the unknown.
Expect to see and hear: transmissions from Apollo 8, unidentified objects,black metal, alchemy, ghosts, gods, cartoons.
Selections from  Stan Brakhage's The Stars Are Beautiful (1974)
3) It's a great roof studded with sequins. The movement of the stars is in relationship to the movement of the sun, giving the impression that the stars are moving across the sky.
4) The stars are optical nerve endings of the eye which the universe is.
9) The fact is, the earth is falling into a well. The sun is the top of the well, the blue sky the walls. The stars are reflections of the real stars behind the sun.  
10) It is a furry animal. The stars are silver hairs.
12) The sky is all together, not composed in such great distances as we suppose. In truth, it is an old fire. The stars are small sparks, the sun a burning coal. The black of the sky at night is ashes, the moon a bubbling drop of water. This is the same with us, i.e.: as the universe burns, so do we. Our heads contain water very much like the sky holds moons. The burning in us keeps the water in our heads boiling and sputtering.
13) The sky is the dead decaying body of God; the stars are glittering maggots.
20) The stars are trembling silver stings to everyone's brains. The sun and moon are the eyes of the great puppeteer…Once a month he smiles and winks: He has control of our fates.
21) The day-sky is a pool of al our tears: the world is getting smaller and smaller. The night –sky is a blotter to all our black thoughts: there is very little space left. 
30) The sun, moon, and stars are the footprints of God (we are his head) as he walks currently in a circle.
 PROGRAM 
Apollo 8 Radio Address, Frank Borman
Chiller and B-Flat's, Jesse Malmed
Aurora Borealis, Bradley Eros
Circa, Katherine Bauer
They Knew About Star Wars MIXTAPE, CHEMTRAILZ
Object 2, Andres Laracuente
Compendium_PP_321, Zak Kitnick
Scaffolding for a Social Transformation Process, Brel Froebe
Intimaci, Micaela Durand & Maximiliano Ferro
I Just Called…, Chris Jolly
Where Few Men Have Gone Before, Harry Crofton
(Dis)continuity,  Benjamin Schultz-Figueroa
Solar Moon, Zumi Rosow, music by Dallas Acid
Tranquility New York, Ted King & Jordan Stone
In Operation, Pete Deevakul
Transmission, Grey Gersten
Pages