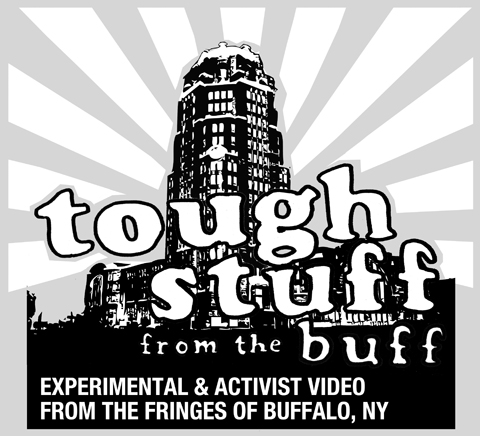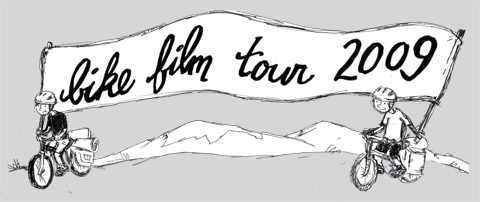 Programmed by Marc Moscato, Julie Perini and David Gracon
Marc Moscato and David Gracon in person
Filmmakers Marc Moscato and David Gracon team up to hit the road by bicycle to present Tough Stuff from the Buff, a collection of underground and defiantly independent videos about their hometown of Buffalo, NY. The 12-stop tour will screen at theaters, all ages venues and non-traditional spaces throughout the Pacific Northwest this July-August.
Out of the post-industrial ghost-lands of Buffalo, a media scene has emerged with an urgency, tradition and aesthetic all its own. With roots in early media activism of the 1970s, and supported by a network of artist-run initiatives, the city has only recently started to become recognized for its lo-fi, experimental and, above all, uncompromising body of film and video. This collection acknowledges the origins of this tradition, while focusing on contemporary examples of those persevering against the odds of creating media in a dying rustbelt town.
Buffalo We're Looking Good!, WKBW. 1980s, 1mins, video.
Oscular Pets, Tony Conrad. 2003, 7mins, video.
Main Attraction, Paris Henderson. 2006, 5mins, video.
Fork, Chris Ernst. 2007, 3.5 mins, video/ 16mm.
Oh, Buffalo!, Marc Moscato. 2005, 3mins, video.
Transient Views of WNY, Terry Cuddy. 2004, 5mins, video.
Lenox, Esther Johnson. 2004, 20mins, video/ 16mm.
Evidence, Critical Art Ensemble. 2004, 5mins, video.
Poor White Trash Girl: Class Consciousness, Kelly Spivey. 2002, 5mins, super 8.
Watch me break it down, Julie Perini. 2006, 1mins, video.
I Luved This City, Stephanie Gray. 2000, 4mins, super 8.
Choose Your Own Adventure, Real Dream Cabaret. 2005, variable length, video/ super 8.
Walk, Meg Knowles. 2006, 3mins, super 8/ video.
Vacancy, Gabriella Citriniti. 2006, 5mins, video.
The 12th Man, David Gracon. 2009, 3mins, video.
+
Tuesday July 21 2009 7:00pm
Spartacus Books 684 E. Hastings St. (FREE)
Everything I've Ever Done: D.I.Y, Municipal Policy, and Community Change
AV Lecture by Marc Moscato

Marc Moscato presents a slide lecture on working from both the margins of radical Do-It-Yourself culture and from within city policy affecting community change. Covering his involvement in anti-globalization organizing, directing a DIY center and working for Portland's premier arts and cultural institutions, he will also speak about how place and social history continues to inform his work.
Marc Moscato is an artist, curator and activist living in Portland, OR. He has more than 10 years experience working in marketing and communications, and has worked for Museum of Contemporary Craft, City Club of Portland, Microcosm Publishing, Peripheral Produce and Squeaky Wheel, in addition to directing multi-arts center My House in Eugene OR, 2001-2003.
Programmed by Amy Kazymerchyk
Beyond the Sublime presents Welsby's seminal 16mm films in their entirety.
Streamline, 1976, colour sound, 16mm, 8mins, UK.
This film was made on Mount Kinderscout in Derbyshire, England. It is a continuous, "real time" tracking shot of a stream bed. The camera was suspended in a motorized carriage running on steel cables three feet above the water surface. The camera pointed vertically downwards recording the contours of the stream bed and the flow of water along its course. 
Windmill III, 1974, colour silent, 16mm, 10mins, UK.
The camera films a park landscape through the flat mirror blades of a small windmill. The rhythm and pacing was determined by the speed and direction of the wind.
Wind Vane, 1972, colour sound, 16mm dual projection, 8mins, UK.
The location for this film is the western end of Hampstead Heath in London. Two cameras mounted on tripods with wind vane attachments were positioned about 50 feet apart along an axis of 45 degrees to the direction of the wind. Both cameras were free to pan through 360 degrees in the horizontal plane. The movements of the two cameras, which were filming simultaneously, were controlled by the wind strength and direction. 
Seven Days, 1974, colour sound, 16mm, 20mins, UK.
The location for this film was by a small stream on the northern slopes of Mount Carningly in southwest Wales. The seven days were shot consecutively and appear in that order. Each day starts at the time of local sunrise and ends at the time of local sunset. One frame was taken every ten seconds throughout the hours of daylight. The camera was mounted on an equatorial stand which is a piece of equipment used by astronomers to track the stars. In order to remain stationary in relation to the star field, the mounting is aligned with the Earth's axis and rotates about its own axis at approximately once every 24 hours. Rotating at the same speed as the Earth, the camera is always pointing at the either its own shadow or the sun. 
Drift, 1994, colour sound, 16mm, 17mins, CAN.
The overall feel of Drift is sombre and mysterious; a study of winter light falling on the surface of water, metal and cloud. There is little land in this film and very few landmarks from which to navigate from one space to the next. The picture plane is in continuous motion like the ocean which, on the surface at least, is the subject of Drift.
River Yar, with William Raben, 1971-72, colour sound, 16mm dual projection, 35mins, UK.
Shot through an upstairs window in a water mill on the Isle of Wight, overlooking a tidal estuary. A camera recorded one frame every minute (day and night) for two separate three-week periods in autumn and spring. 
Image: The making of Wind Vane, 1972, colour sound, 16mm dual projection, 8mins, UK
Programmed by Amy Kazymerchyk
The emergence of Chris Welsby's landscape and weather films in the late 1960's coincides with the emergence of Systems theory, a science that looks at process and change in response to input from the environment and sees living systems and social systems in terms of the dynamic relation between the parts and the whole, the publication of Rachel Carson's Silent Spring, and UK structural filmmakers rejection of the expressionistic or transcendental elements still evident in the films of their American colleagues, in favor of a more politicized model rooted in the Kino Eye Manifesto of the early Soviet filmmakers. In this climate, ¬Welsby's films developed a deep concern for the interconnectedness of these systems, where landscape was not secondary to filmmaking process or filmmaking process to landscape, but process and structure, as revealed in both, could carry information and communicate ideas. In all his films and installations he uses the simple structuring capabilities of moving image technologies, such as variable-frame rate, in-camera editing and multiple projection, in combination with natural phenomena such as wind and tides and the rotation of the planet, to produce works in which mind, technology, time, and nature are not seen as separate things divided along Cartesian lines, but as interconnected parts of one larger dynamic system.
A pioneer of moving images in the gallery, Welsby's expanded cinema works and installations from the 70's and 80's are now gaining renewed attention. Since 1993, Welsby has been making digital media installations, collections of which were featured in his 2005 solo exhibition Liquid Light at the Plug In ICA, Canada, and his 2007 solo exhibition at the Letherby Gallery, UK. His recent new media collaborations with Brady Marks have been well received in Toronto, at the 2006 Images Festival, and in South Korea at the 2006 Gwangju Biennial. Welsby was a founding member of the London Filmmakers Co-op and co-founder of the New Media Department at the Slade School of Fine Art, University of London. Currently, he is a professor of Film and Video at Simon Fraser University, Vancouver and participates in the University of British Columbia's Institute for Computing, Information, and Cognitive Systems (ICICS), an interdisciplinary research institute fostering a human-centered paradigm shift in emerging information technologies. 
For A Systems View of Nature Welsby will reflect on excerpts and documentation from his films, expanded cinema works, and digital media installations within a discussion of his philosophical, technical, and critical framework. The following works will be referenced and represented in excerpt or still image.
Seven Days, 1974, 16mm, colour sound, 20mins (dv 2min clip), UK.
Colour Separation, 1974-76, 16mm, colour silent, 2:30mins, (dv 2:30mins) UK.
Shore Line I, 1975, 16mm, colour silent, six projector installation, (still), UK.
Shore Line II, 1979, 16mm, colour silent, six projector installation, (dv clip 2min), UK.
Sky Light, 1986, 16mm, colour silent, six projector installation, 26mins (dv clip 2min), UK.
Lost Lake, 1998, colour sound, video wall installation, (still), CAN.
At Sea, 2003, 4 screen digital video installation sound, (still), CAN.
Waterfall, 2004, colour sound, single channel dv installation, (still), CAN.
Lost Lake II, 2005, color sound, interactive digital media installation, (dv clip 2min), CAN.
Trees in Winter, 2006, colour sound, weather driven digital media installation, (5min clip), CAN.
Tree Studies, 2006, colour sound, global weather driven digital media Installation, (10min documentary), CAN.
Taking Time, 2008, colour silent, new media web based/photographic sculpture public artwork, (still), CAN.
Heavens Breath, 2009, colour sound, weather driven digital media installation, (5min clip), CAN.
Images: (top) Seven Days, 1974, 16mm, colour sound, 20mins (dv 2min clip), UK (bottom) Shore Line I, 1975, 16mm, colour silent, six projector installation, (still), UK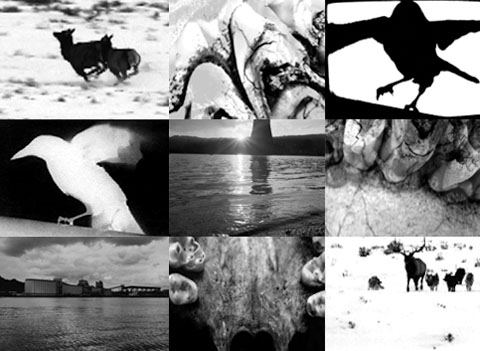 Programmed by Amy Kazymerchyk and Gabriel Saloman
Following the screening of Hope and Prey, their 3 channel video projection and live sound performance project at VIVO Media Arts Centre and the Signal + Noise Festival, Portland artists Vanessa Renwick and Daniel Menche present an intimate artist talk and screening of works that contextualize their collaboration. Vanessa's interest in place, relationships between bodies and landscapes, and all sorts of borders collides with Daniel's dedication to music that expresses the undisciplined purity of emotion that strives for one goal: vehement beauty.
Vanessa Renwick, Food is a Weapon. 1998, 4:00mins, Super8/DV, USA.
Vanessa Renwick, Olympia. 1984/1998,  11:00mins, Super8/DV, USA.
Vanessa Renwick, 9 is a Secret. 2002, 6:00mins, film/video, USA.
Vanessa Renwick, Portrait #1: Cascadia Terminal. 2005, 6:00mins, 16mm, USA.
Vanessa Renwick, Portrait#2: Trojan. 2006, 5:00mins, 35mm/DV, USA.
Vanessa Renwick, Portrait #3: House of Sound. 2008,  9:00mins,| 35mm/DV, USA.                                                                                  
Vanessa Renwick and Daniel Menche, Heavy Weight Boxing Championship of the Year 1940. 2003, Nitrate 35mm/DV with live sound performance, USA. 
Vanessa Renwick and Daniel Menche, Rub a Dub Dub. 2004, 16mm, 8:00mins, dual DV and live sound performance (documentation), USA.         
Daniel Menche, Fulmination. 2008, 20:00mins, Digital Images and Live Sound Performance, USA.
---
Thursday April 23 | 6:30-8:00pm | VIVO Media Arts Centre
Animal Mirror
Shana Moulton, Whispering Pines #5. 2005, 6:32mins, DV, USA.        
Shana Moulton, Whispering Pines #4. 2007, 10:53mins, DV, USA.
Shana Moulton, Feeling Free with 3D Magic. 2004, 8:13mins, DV, USA.
Fastwurms, Telepathicats. 2003, 3:30mins, DV, Canada.
Takeshi Murata, Monster Movie. 2005, 3:55mins, BetaSP, USA.
Geoffrey Pugen, Utopics. 2008, 24:33mins, BetaSP, Canada.
Vanessa Renwick and Daniel Menche, Hope and Prey. 2006, 23:00mins, 3 channel video projection and live sound performance, USA.
---
Vanessa Renwick (born 1961 in Chicago, Illinois) is founder and janitor of the Oregon Department of Kick Ass. She is a film / video / installation artist and lives in Portland, Oregon. A filmmaker by nature, not by stress of research. She puts scholars to rout by solving through Nature's teaching problems that have fretted their trained minds. Her iconoclastic work reflects an interest in place, relationships between bodies and landscapes, and all sorts of borders. Working in experimental and poetic documentary forms, she produces films, videos and installations that explore the possibility of hope in contemporary society. She is a naturalist, born, not made: a true barefoot, cinematic rabblerouser, of grand physique, calm pulse and a magnetism that demands the most profound attention.
Daniel Menche (born 1969) is a proud native Oregonian. Since the late 80s he has established himself as a musician with a sense of focus and determination uncharacteristic in a genre known for its randomness and chaotic structure. Rather than creating "noise," he strives for order and cohesiveness. His presentation of sonic structures is similar to the way a writer depicts a story, an allegory seems to arise, which uses confusion as a symbol for the imaginative process of total sound purity; aural intensity is not a representation of confusion or the chaotic, but a concerted effort to provoke and stimulate the listeners imagination by generating intensely powerful sounds and music.
www.esophagus.com/htdb/mench | danielmenche.blogspot.com 
Co-Sponsored by VIVO Media Arts Centre and Signal + Noise Media Art Festival www.signalandnoise.ca | www.vivomediaarts.com  
Programmed by Amy Kazymerchyk and Michael Lithgow
Decadent Resistance takes its name from an essay written by Michael Lithgow for Alex Mackenzie and Oliver Hockenhull's publication DAMP: Contemporary Vancouver Media Arts. In his essay Michael explores a dynamic between aesthetics and activism evidenced in West Coast video practice, a tension that defines to some extent one of the compelling qualities of West Coast video art over the past four decades and why it has attracted national and international attention. Decadent Resistance is community-curated media art program that invites programmers and directors of historical and contemporary media arts centres, organizations, and projects to submit video works that exemplify a perspective- an approach- an aesthetic- a position that touches on the tension between aesthetics and politics. Video artwork will be introduced and contextualized by their curator. A panel discussion between all representative will follow the screening. 
Introduction to SVES by Crista Dahl
Metro Media Introduction. 1973, 4mins, VHS, SVES.
Miles Mogulescu and the American Indian Movement,
Why Wounded Knee?
.
 1974, 28mins (9min excerpt), Beta SP, USA, SVES.
Andy Harvey, Uranium Question. 1978, 45:00 (5min excerpt), Beta SP, SVES.
Introduction to Metro Media and Isis Women in Film by Moira Simpson
Moira Simpson and Elizabeth Walker,
Can you hear me?
.
 1976, 1min, 16mm/BetaSP, 
Just a Minute Series NFB.
Moira Simpson, Elizabeth Walker, Emigrante. 1979, 13mins (7.5min excerpt), 16mm and VHS.
Introduction to Stan Douglas Television Spots and VIVO Media Arts by Crista Dahl
Stan Douglas,
 Television Spot 1.
 1988, 30sec, VHS.
Paul Wong, Jeanette Reinhardt, Gina Daniels, Gary Bourgeoise,
Confused Sexual Views
 (Compilation Edit). 
1984, 29mins (8min excerpt), VHS, Video Out.
Stan Douglas, Television Spot 2. 1988, 30sec, VHS.
Lorna Boschman & Persimmon Blackridge, Doing Time. 1991, 26mins (4:30min excerpt), VHS, Video Out.
Stan Douglas, Television Spot 3. 1988, 30sec, VHS.
Introduction to Working TV, ICTV, and Fearless City TV by Sid Chow Tan
Episode 37 "Searching for Gordon". March 07 1996, 1 hour TV Spot (4.5min excerpt), DV, Working TV.
EarthSeen: Trouble Makers??. Producer: Sid Chow Tan, 2000, 4:20mins, DV, ICTV.
Our Story: Chinese Head Tax Mash Up. Producer: Sid Chow Tan, 2008, 4:33mins, DV, ICTC.
Introduction to AMES and CITIZENShift by Moira Simpson
James Diamond, Man From Venus. 1999, 3:40mins, Super 8/VHS, AMES.
Aaron Chan and Lulu Gurney, Leaving My Mark. 2008, 5mins, Web Source, CITIZENShift/ Youth Co. Aids Society.
Moira Simpson and Carmen Pollard, With Love and Grief, 2005, 4:09mins, Web Source, CITIZENShift.
Introduction to desmedia by Ali Lohan
desmedia collective, desmedia 2. 2003, 57mins (8min excerpt), DV. 
Introduction to Projections by Justine Goulet and Alanna Maclennan
Projections Team, Wish List, 2005, 5:12mins, DVD.
Image: Moira Simpson and Elizabeth Walker travelling around with a video portapack in their little red wagon. Image from Michael Goldberg's - of Video Inn - Accessible Portapack guide. 1976
Programmed by Ben Donoghue
Daniel Young, Christian Giroux, Adrian Blackwell and Ben Donoghue in person
This Vancouver premiere screening of Adrian Blackwell's Night Equals Day and Daniel Young and Christian Giroux's Every Building, Or Site, That a Building Permit Has Been Issued for a New Building in Toronto in 2006 bring two recent structural approaches to development in Toronto to the West. These two new silent 35mm architectural films form the initial parts of the Liaison of Independent Filmmakers of Toronto (LIFT)'s "Cinema and Disjunction" commissioning and production support project for critical architectural film works. Drawing inspiration from art historical precedents and contemporary critiques of the urban form, the initial projects presented under this framework defamiliarize and interrupt Toronto's visual narratives with new questions and alternative possibilities. To express our intent in Bernard Tschumi's terms, these films "reinscribe the movement of bodies in space, together with the actions and events that take place within the social and political realm of architecture."
Blackwell's Night Equals Day employs complex camera control to record a day at a single point of Regent Park's (Canada's oldest public housing development and now the site of significant condominium development) Sackville and Oak streets intersection, compressing a twelve-hour equinox day to thirty minutes of film time, one frame per second, and one three-hundred-and-sixty degree camera rotation per hour. In Young and Giroux's Every Building, one experiences a comparatively accelerated city represented by one hundred and thirty odd buildings or building sites captured in short static shots. These highly aestheticized images, shot all over Toronto's boundaries, develop a time-based response to photo-conceptualism's language of architectural photography, reframing Ruscha  within contemporary practice. – Ben Donoghue
Adrian Blackwell is an artist and urbanist whose work focuses on spaces of uneven development in the postfordist city. Daniel Young and Christian Giroux have been collaborating on sculpturally concerned projects since 2003. They are represented in Toronto by Diaz Contemporary.
__
Feb 11 09 | Emily Carr University | 7pm | Free | ecuad.ca
Film does not equal Sculpture: Two Toronto sculpture practices experiment with film. 
Young, Giroux, and Blackwell will briefly introduce excerpts of their recent film projects, followed by two short talks investigating the relationship between these moving images and their ongoing investigations of physical space. 
Emily Carr University Lecture room, South Building #301. Presented by Emily Carr University 2009 Lecture Series.
__
Feb 24 09 | Cineworks | 6pm | Free | cineworks.ca 
Thought on Film: The Condition of Post-modernity
An excerpt from David Harvey's The Condition of Post-modernity will be presented for group reading and discussion. Harvey's answer to Fred Jameson's Cultural Logic of Late Capitalism, and Jean-François Lyotard's The Postmodern Condition is a significant influence on Young, Giroux and Blackwell's work because of Harvey's rigorous basis of his analysis of cultural and social change in the economic and his special emphasis on social geography and the production of space.
________
Co-presented by The Pacific Cinematheque, Presentation House Gallery, VIVO Media Arts Centre, Cineworks Independent Filmmakers Society and Emily Carr University.  
vivomediaarts.com | cineworks.ca | presentationhousegall.com | ecuad.ca
Programmed by Amy Kazymerchyk & Alex Rogalski (in person)
ONE ROLL. NO SPLICES. SHOOT AND SHOW. This is the mantra of the One Take Super 8 Event. Now in its eighth season, One Take Super 8 has inspired the production of over 400 Super 8 films that were shot on one roll of film and screened without preview or editing, in Regina, Winnipeg, Ft. Lauderdale FL, Montreal, Ottawa, Oberlin OH, and Syracuse NY. Toronto based filmmaker Alex Rogalski, the event's producer, will perform the projection of 18 selections from the event's archives. Like other DIY Super 8 Projects, such as Vancouver's Project8, the One Take Super 8 Event is a celebration of accessible filmmaking, empowered storytelling, and chance genius. 
Vancouver Program: Arlea Ashcroft & Andrea von Wichert Dead Mothers + Kitchen Floors;  Deco Dawson Metro's Birth; David Lopan F$%k'n Wild!; Shawn Fulton Lowlife; Kyle Ketchemonia Confidential; Alex Larose ARTIFICES; Terryll Loffler A Day Like Any Other; Tricia Martin Get off the Road; Terry Mialkowky & Shannon Jardine Belt Buckle/ Quonset Hut; Mike Maryniuk Fish Arms; Solomon Nagler Preliminary Notes on Gesture; Diane Ouellete La Moo; robert.daniel.pytlyk. STILL LIFE; Alex Rogalski Rielvolution; Daichi Saito Green Fuse; Vanda Schmockel Fred; Katherine Skelton Kanmon Kaikyo; Cam Woykin The Bourgeios Walk.
Programmed by Hooliganship: Peter Burr and Christopher Doulgeris (in Person)
The multimedia dance duo Hooliganship (Peter Burr and Christopher Doulgeris) have been touring the United States since September presenting the freshest incarnation of "Cartune Xprez", a program of short animated videos that celebrates the wilderness of imagination through motion pictures.  Takeshi Murata, Adrian Freeman, Blu, Bruce Bickford, Martha Colburn, Paper Rad, Shana Moulton, Timo Katz, Emanuele Bortoluzi, Eric Dyer, Jeff Kricshun, E*Rock, Mumbleboy, Corey Lunn, Ola Vasiljeva, Jim Trainor, Josh Mannis, Lief Hall, Taras Hrabowsky, Shayne Ehman, and Seth Scriver! Alongside this cartoon theater Hooliganship will be performing their most recent piece entitled "Realer" in which audiences strap on a pair of 3D glasses to bear witness to a televised parade gone awry. Come down and party with the cartoon spirits. www.cartunexprez.com
Vancouver Program:  Adventure Land Fun Baaloon by Crystalbeard; Untitled (Pink Dot) by Takeshi Murata; Shame Fellow by Adrian Freeman; Muto by Blu; The Comic that Frenches your Mind by Bruce Bickford; Michael Jackson Teaches Birds to Sing by Ola Vasiljeva; Booty by Paper Rad; Heads Fall Silently by Emanuelle Kabu; Alien Ice Miami by Philippe Blanchard; Sing Song by Jeff Kricshun; Asphalt Watches by Shayne Ehman and Seth Scriver.
Programmed by Amy Kazymerchyk
Peggy Anne Berton and Marc St. Aubin in person
ScareCity is a cinematic performance that fuses personally archived film and video with live improvised storytelling and music. Berton's first-person recount of her return home to rural Southwestern Ontario to care for her aging parents meshes with an emotionally charged personal archive of childhood films, a time lapse of subdivision development around her home, country landscapes, and portraits of economic castaways at the local drinking hole. Her poignant reflections on aging and memory transform into metaphors on the dwindling fuel economy, agriculture's increasingly violent use of antibiotics and pesticides, and the pandemic loss of wild and rural land to urban sprawl. St. Aubin's original live music score adds lyricism and punctuation to Berton's memories, often sustaining their emotional reverberations long after their words are uttered.
The Legend of Buck Kelly tracks Berton's obsession with the late Jeff Buckley across the terrain of her own love life; from New York where she first met him, to her home town of Dawson City where she imagines he went after faking his death. She illustrates the serendipity that linked her to Buckley- from the wilderness to the big city to boy friends with the names Buck and Kelly. www.peggyanneberton.com
7:30pm | The Legend of Buck Kelly by Peggy Anne Berton & Marc St. Aubin, Super 8, 72mins, Canada.
9:00pm | Scarecity: Performative Cinema by Peggy Anne Berton & Marc St. Aubin. Super 8 & DV, Live Music & Storytelling, 60mins, Canada.
Pages