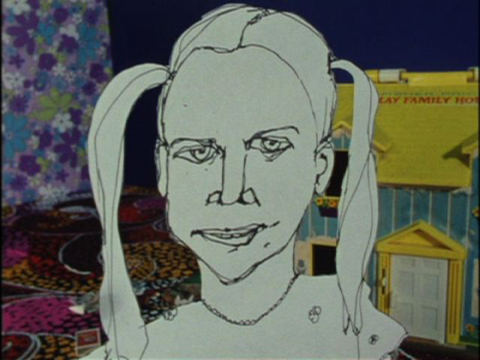 July 14 2009 | Georgia Straight | By Craig Takeuchi
If your eyes glaze over at the mention of the words experimental film, consider this list of names: Quentin Tarantino, Darren Aronofsky, David Lynch, Todd Haynes, and Gus Van Sant.
"You wouldn't have a lot of the most amazing Hollywood films if you didn't have an experimental-film community," says Amy Lynn Kazymerchyk, programmer of DIM, a monthly evening of experimental film at the Pacific Cinémathèque (1131 Howe Street). Over tea on Broadway, she discusses how experimental-film techniques penetrate mainstream movies more than most people realize. "I think, oftentimes, it's subtle. It's there but simply in the way filmmakers will develop their dialogue…or how people will play with time-space continuums in a film."
As a teenager, Kazymerchyk used to watch obscure underground films at the Edison Electric Gallery of Moving Images run by media artist Alex MacKenzie on Commercial Drive, and later at his Blinding Light!! Cinema in Gastown, which closed in 2003. Kazymerchyk noted the impact of its absence.
"I think that there was a real gap left in the city, both in terms of the experimental- and avant-garde film culture that he was representing but also just as a physical space," she says. "Because it [the Blinding Light!!] wasn't a formally artist-run centre or a formal institution with boards and programmers…he had a certain autonomy over what happened."
When an Emily Carr University instructor who is also a Cinémathèque board member asked Kazymerchyk what might make the theatre more accessible to a younger audience, she recalled how the Art Institute of Chicago ran a weekly series called Conversations on the Edge at the Gene Siskel Film Center. When she proposed a similar program, the Cinémathèque was receptive and gave her "carte blanche".
Over the past year, the program has included screenings of structuralist cinema, works by Jean Genet and Sid Chow Tan, Super 8 films shot in one take without editing, and even multimedia performances.
"One of the things that I was interested in doing was creating a space that wasn't just for experimental film," she says. "As I'm doing it, I'm finding actually what I think is more interesting and finding is an even harder discipline to find space for: people who are doing more performative cinema."
Kazymerchyk clarifies that the city's space problem isn't one of lack, but continuity. "The space issue in the city is not necessarily that there's not enough space—because there actually are a lot of spaces, I think—it's just that there's no security in it. Things are constantly disappearing."
Attendance at DIM has generally varied from about eight to 45 audience members. Nonetheless, DIM is now celebrating its first anniversary on July 20 (7:30 p.m.) with Tough Stuff from the BUFF, a program of 15 experimental and activist videos from Buffalo, New York. It'll be followed up on July 21 with a free slide lecture by Portland artist, curator, and activist Marc Moscato about DIY culture and city policy at 7 p.m. at Spartacus Books (684 East Hastings).
Happy birthday, DIM, and, hopefully, many more.
Photo Credit: Kelly Spivey, Poor White Trash Girl: Class Consciousness, 2002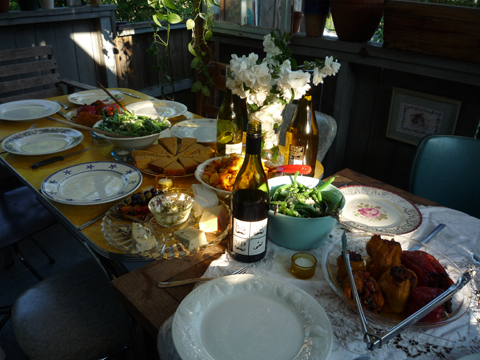 One year ago, DIM was inaugurated into the Pacific Cinematheque's programming calendar with a double bill of Jean Genet's Un Chant d'Amour and Frederic Moffett's Jean Genet in Chicago.
Since that balmy summer evening I have been blessed with the company of out of town filmmakers, back porch dinner parties, sailing trips, veggie oil reconaissance missions, mural paintings, outdoor projections, and late nights at La Bodega. It has been precious and memorable.
People often ask me why the evening is called DIM. Dim is the quality of light in Vancouver, the secret magic and wonder that we experience with the obscure and abstract, the texture of the theatre, and the quiet that is inspired by the dimming of lights. Today I was flipping through James Broughton's 'Making Light of It', which I was given almost exactly 11 years ago for my birthday, and I came across this quote to deepen the phenomenon: Movie images are dim reflections of the beauty and ferocity in mankind.  
How's that for an anniversary present! What more could I want.
Thank you so much to all of the filmmakers, distributors, curators, Pacific Cinematheque staff and volunteers, press, and co-presenters that have supported DIM. I will do my best to list everyone below. 
I would like extend my warmest affection to Gabriel Saloman, Kika Thorne and Cheyanne Turions for their enduring enthusiasm, support and collaboration, and to Scott Nelson for developing this website with me.
And my highest regard goes to The Pacific Cinematheque's Director of Programming Jim Sinclair for having faith in experimental cinema and giving me this special opportunity. 
You are truly amazing.
xo amylynn
ARTISTS || Frederic Moffett, Jean Genet, Hannah Miami, Daniel Barrow, Cam Matamoros, Shana Moulton, Benny Nemerofsky Ramsay, Goody B. Wiseman, Kevin Hegge, Leah Glushien, Maiko Tanaka, Emily Vey Duke, Cooper Battersby, Bill Daniel, Shauna McGarry, Tammy Rae Carland, Naomi Uman, Dulcie Clarkson, Eileen Maxson, C.Ryder Cooley, Zoey Kroll, Sativa Peterson, Vanessa Renwick, Sarah Hanssen, Peggy Anne Berton, Marc St. Aubin, Hooliganship, Crystalbeard, Takeshi Murata, Adrian Freeman, Blu, Bruce Bickford, Ola Vasiljeva, Paper Rad, Emanuelle Kabu, Philippe Blanchard, Jeff Kricshun, Shayne Ehman, Setch Scriver, Arlea Ashcroft, Andrea von Wichert, Deco Dawson, David Lopan, Shawn Fulton, Kyle Ketchemonia, Alex Larose, Terryll Loffler, Tricia Martin, Terry Mialkowky, Shannon Jardine, Mike Maryniuk, Solomon Nagler, Diane Ouellete, robert.daniel.pytlyk., Alex Rogalski, Daichi Saito, Vanda Schmockel, Katherine Skelton, Cam Woykin, Adrian Blackwell, Christian Giroux, Daniel Young, Miles Mogulescu, Andy Harvey, Moira Simpson, Elizabeth Walker, Stan Douglas, Paul Wong, Jeanette Reinhardt, Gina Daniels, Gary Bourgeoise, Lorna Boschman, Persimmon Blackridge, Sid Chow Tan, James Diamond, Aaron Chan, Lulu Gurney, Carmen Pollard, desmedia collective, WorkingTV, Projections, Vanessa Renwick, Daniel Menche, Chris Welsby, William Raban, WKBW, Tony Conrad, Paris Henderson, Chris Ernst, Marc Moscato, Terry Cuddy, Esther Johnson, Critical Art Ensemble, Kelly Spivey, Julie Perini, Staphanie Gray, Real Dream Cabaret, Meg Knowles, Gabriella Citriniti, David Gracon.
CURATORS || Hooliganship, Alex Rogalski, Ben Donoghue, Micahel Lithgow, Gabriel Saloman, Marc Moscato, Julie Perini, David Gracon, Shauna McGarry, Miranda July, 
CO-PRESENTERS || WACK! Art and The Feminist Revolution 1967-1980, Vancouver Art Gallery, VIVO Media Arts Centre, Cineworks Independent Filmmakers Society, Thought on Film, Presentation House Gallery, Emily Carr University, Signal + Noise Media Arts Festival, Spartacus Books
DISTRIBUTORS || Canadian Filmmakers Distribution Centre, VTAPE, Video Out, Canyon Cinema, LUX, Video Data Bank
PACIFIC CINEMATHEQUE STAFF || Steve Chow, Amber Orchard, Jim Sinclair, Jessica Parsons, Jack Vermee, Matt Law, Jason Barker, Sue Cormier, Donna
SPECIAL INFLUENCES || Alex Mackenzie, Cinema Project, Pablo de Ocampo
Georgia Straight Article: DIM Experimental Film Series Celebrates It's First Year
* Photo Credit: Chris Welsby's dinner on my back porch. June 14th 2009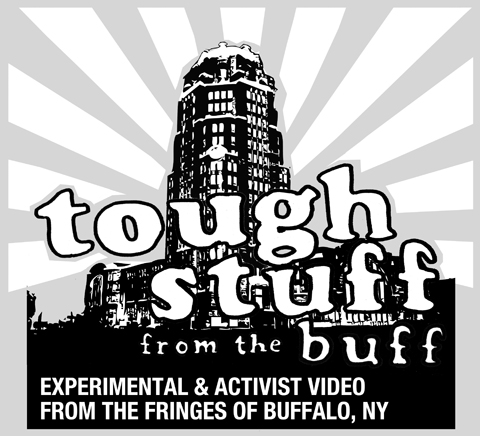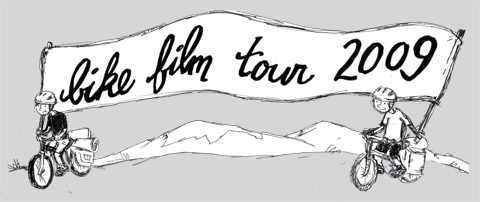 Programmed by Amy Kazymerchyk
The emergence of Chris Welsby's landscape and weather films in the late 1960's coincides with the emergence of Systems theory, a science that looks at process and change in response to input from the environment and sees living systems and social systems in terms of the dynamic relation between the parts and the whole, the publication of Rachel Carson's Silent Spring, and UK structural filmmakers rejection of the expressionistic or transcendental elements still evident in the films of their American colleagues, in favor of a more politicized model rooted in the Kino Eye Manifesto of the early Soviet filmmakers. In this climate, ¬Welsby's films developed a deep concern for the interconnectedness of these systems, where landscape was not secondary to filmmaking process or filmmaking process to landscape, but process and structure, as revealed in both, could carry information and communicate ideas. In all his films and installations he uses the simple structuring capabilities of moving image technologies, such as variable-frame rate, in-camera editing and multiple projection, in combination with natural phenomena such as wind and tides and the rotation of the planet, to produce works in which mind, technology, time, and nature are not seen as separate things divided along Cartesian lines, but as interconnected parts of one larger dynamic system.
A pioneer of moving images in the gallery, Welsby's expanded cinema works and installations from the 70's and 80's are now gaining renewed attention. Since 1993, Welsby has been making digital media installations, collections of which were featured in his 2005 solo exhibition Liquid Light at the Plug In ICA, Canada, and his 2007 solo exhibition at the Letherby Gallery, UK. His recent new media collaborations with Brady Marks have been well received in Toronto, at the 2006 Images Festival, and in South Korea at the 2006 Gwangju Biennial. Welsby was a founding member of the London Filmmakers Co-op and co-founder of the New Media Department at the Slade School of Fine Art, University of London. Currently, he is a professor of Film and Video at Simon Fraser University, Vancouver and participates in the University of British Columbia's Institute for Computing, Information, and Cognitive Systems (ICICS), an interdisciplinary research institute fostering a human-centered paradigm shift in emerging information technologies. 
For A Systems View of Nature Welsby will reflect on excerpts and documentation from his films, expanded cinema works, and digital media installations within a discussion of his philosophical, technical, and critical framework. The following works will be referenced and represented in excerpt or still image.
Seven Days, 1974, 16mm, colour sound, 20mins (dv 2min clip), UK.
Colour Separation, 1974-76, 16mm, colour silent, 2:30mins, (dv 2:30mins) UK.
Shore Line I, 1975, 16mm, colour silent, six projector installation, (still), UK.
Shore Line II, 1979, 16mm, colour silent, six projector installation, (dv clip 2min), UK.
Sky Light, 1986, 16mm, colour silent, six projector installation, 26mins (dv clip 2min), UK.
Lost Lake, 1998, colour sound, video wall installation, (still), CAN.
At Sea, 2003, 4 screen digital video installation sound, (still), CAN.
Waterfall, 2004, colour sound, single channel dv installation, (still), CAN.
Lost Lake II, 2005, color sound, interactive digital media installation, (dv clip 2min), CAN.
Trees in Winter, 2006, colour sound, weather driven digital media installation, (5min clip), CAN.
Tree Studies, 2006, colour sound, global weather driven digital media Installation, (10min documentary), CAN.
Taking Time, 2008, colour silent, new media web based/photographic sculpture public artwork, (still), CAN.
Heavens Breath, 2009, colour sound, weather driven digital media installation, (5min clip), CAN.
Images: (top) Seven Days, 1974, 16mm, colour sound, 20mins (dv 2min clip), UK (bottom) Shore Line I, 1975, 16mm, colour silent, six projector installation, (still), UK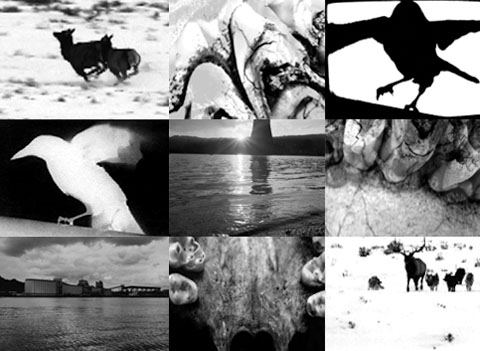 Programmed by Amy Kazymerchyk and Gabriel Saloman
Following the screening of Hope and Prey, their 3 channel video projection and live sound performance project at VIVO Media Arts Centre and the Signal + Noise Festival, Portland artists Vanessa Renwick and Daniel Menche present an intimate artist talk and screening of works that contextualize their collaboration. Vanessa's interest in place, relationships between bodies and landscapes, and all sorts of borders collides with Daniel's dedication to music that expresses the undisciplined purity of emotion that strives for one goal: vehement beauty.
Vanessa Renwick, Food is a Weapon. 1998, 4:00mins, Super8/DV, USA.
Vanessa Renwick, Olympia. 1984/1998,  11:00mins, Super8/DV, USA.
Vanessa Renwick, 9 is a Secret. 2002, 6:00mins, film/video, USA.
Vanessa Renwick, Portrait #1: Cascadia Terminal. 2005, 6:00mins, 16mm, USA.
Vanessa Renwick, Portrait#2: Trojan. 2006, 5:00mins, 35mm/DV, USA.
Vanessa Renwick, Portrait #3: House of Sound. 2008,  9:00mins,| 35mm/DV, USA.                                                                                  
Vanessa Renwick and Daniel Menche, Heavy Weight Boxing Championship of the Year 1940. 2003, Nitrate 35mm/DV with live sound performance, USA. 
Vanessa Renwick and Daniel Menche, Rub a Dub Dub. 2004, 16mm, 8:00mins, dual DV and live sound performance (documentation), USA.         
Daniel Menche, Fulmination. 2008, 20:00mins, Digital Images and Live Sound Performance, USA.
---
Thursday April 23 | 6:30-8:00pm | VIVO Media Arts Centre
Animal Mirror
Shana Moulton, Whispering Pines #5. 2005, 6:32mins, DV, USA.        
Shana Moulton, Whispering Pines #4. 2007, 10:53mins, DV, USA.
Shana Moulton, Feeling Free with 3D Magic. 2004, 8:13mins, DV, USA.
Fastwurms, Telepathicats. 2003, 3:30mins, DV, Canada.
Takeshi Murata, Monster Movie. 2005, 3:55mins, BetaSP, USA.
Geoffrey Pugen, Utopics. 2008, 24:33mins, BetaSP, Canada.
Vanessa Renwick and Daniel Menche, Hope and Prey. 2006, 23:00mins, 3 channel video projection and live sound performance, USA.
---
Vanessa Renwick (born 1961 in Chicago, Illinois) is founder and janitor of the Oregon Department of Kick Ass. She is a film / video / installation artist and lives in Portland, Oregon. A filmmaker by nature, not by stress of research. She puts scholars to rout by solving through Nature's teaching problems that have fretted their trained minds. Her iconoclastic work reflects an interest in place, relationships between bodies and landscapes, and all sorts of borders. Working in experimental and poetic documentary forms, she produces films, videos and installations that explore the possibility of hope in contemporary society. She is a naturalist, born, not made: a true barefoot, cinematic rabblerouser, of grand physique, calm pulse and a magnetism that demands the most profound attention.
Daniel Menche (born 1969) is a proud native Oregonian. Since the late 80s he has established himself as a musician with a sense of focus and determination uncharacteristic in a genre known for its randomness and chaotic structure. Rather than creating "noise," he strives for order and cohesiveness. His presentation of sonic structures is similar to the way a writer depicts a story, an allegory seems to arise, which uses confusion as a symbol for the imaginative process of total sound purity; aural intensity is not a representation of confusion or the chaotic, but a concerted effort to provoke and stimulate the listeners imagination by generating intensely powerful sounds and music.
www.esophagus.com/htdb/mench | danielmenche.blogspot.com 
Co-Sponsored by VIVO Media Arts Centre and Signal + Noise Media Art Festival www.signalandnoise.ca | www.vivomediaarts.com  
Programmed by Amy Kazymerchyk and Michael Lithgow
Decadent Resistance takes its name from an essay written by Michael Lithgow for Alex Mackenzie and Oliver Hockenhull's publication DAMP: Contemporary Vancouver Media Arts. In his essay Michael explores a dynamic between aesthetics and activism evidenced in West Coast video practice, a tension that defines to some extent one of the compelling qualities of West Coast video art over the past four decades and why it has attracted national and international attention. Decadent Resistance is community-curated media art program that invites programmers and directors of historical and contemporary media arts centres, organizations, and projects to submit video works that exemplify a perspective- an approach- an aesthetic- a position that touches on the tension between aesthetics and politics. Video artwork will be introduced and contextualized by their curator. A panel discussion between all representative will follow the screening. 
Introduction to SVES by Crista Dahl
Metro Media Introduction. 1973, 4mins, VHS, SVES.
Miles Mogulescu and the American Indian Movement,
Why Wounded Knee?
.
 1974, 28mins (9min excerpt), Beta SP, USA, SVES.
Andy Harvey, Uranium Question. 1978, 45:00 (5min excerpt), Beta SP, SVES.
Introduction to Metro Media and Isis Women in Film by Moira Simpson
Moira Simpson and Elizabeth Walker,
Can you hear me?
.
 1976, 1min, 16mm/BetaSP, 
Just a Minute Series NFB.
Moira Simpson, Elizabeth Walker, Emigrante. 1979, 13mins (7.5min excerpt), 16mm and VHS.
Introduction to Stan Douglas Television Spots and VIVO Media Arts by Crista Dahl
Stan Douglas,
 Television Spot 1.
 1988, 30sec, VHS.
Paul Wong, Jeanette Reinhardt, Gina Daniels, Gary Bourgeoise,
Confused Sexual Views
 (Compilation Edit). 
1984, 29mins (8min excerpt), VHS, Video Out.
Stan Douglas, Television Spot 2. 1988, 30sec, VHS.
Lorna Boschman & Persimmon Blackridge, Doing Time. 1991, 26mins (4:30min excerpt), VHS, Video Out.
Stan Douglas, Television Spot 3. 1988, 30sec, VHS.
Introduction to Working TV, ICTV, and Fearless City TV by Sid Chow Tan
Episode 37 "Searching for Gordon". March 07 1996, 1 hour TV Spot (4.5min excerpt), DV, Working TV.
EarthSeen: Trouble Makers??. Producer: Sid Chow Tan, 2000, 4:20mins, DV, ICTV.
Our Story: Chinese Head Tax Mash Up. Producer: Sid Chow Tan, 2008, 4:33mins, DV, ICTC.
Introduction to AMES and CITIZENShift by Moira Simpson
James Diamond, Man From Venus. 1999, 3:40mins, Super 8/VHS, AMES.
Aaron Chan and Lulu Gurney, Leaving My Mark. 2008, 5mins, Web Source, CITIZENShift/ Youth Co. Aids Society.
Moira Simpson and Carmen Pollard, With Love and Grief, 2005, 4:09mins, Web Source, CITIZENShift.
Introduction to desmedia by Ali Lohan
desmedia collective, desmedia 2. 2003, 57mins (8min excerpt), DV. 
Introduction to Projections by Justine Goulet and Alanna Maclennan
Projections Team, Wish List, 2005, 5:12mins, DVD.
Image: Moira Simpson and Elizabeth Walker travelling around with a video portapack in their little red wagon. Image from Michael Goldberg's - of Video Inn - Accessible Portapack guide. 1976