Friend's suicide inspires movie 'Mark' presents portrait of animal-rights activist
 
By Katherine Monk
Postmedia News
Monday, January 24, 2011
http://www2.canada.com/theprovince/news/etoday/story.html?id=505fbcea-e6...

Mike Hoolboom clawed himself out of the grave through art after he was diagnosed with HIV more than a decade ago. Every new film became a foothold, and every new boundary-pushing piece of experimentation gave him strength. But when a close friend and colleague hanged himself without warning in 2007, Hoolboom fell back into the hole.

"At that point, I realized I was compelled to make a movie about my friend, Mark. I started talking to the other people I knew who knew him. And we revisited that moment of impact of feeling completely bewildered and stunned. It was like the tile that we were all standing on was swept away," says Hoolboom.

"The one thing we all believed was that Mark was the last person who would have taken his own life. He was the guy who really took care of everyone and went out of his way to make people feel good. He did all that for other people, but in the end, he couldn't do it for himself."

Hoolboom spent the next three years going through photos, films and home-movie footage of his late buddy, and former film editor, Mark Karbusicky. The result is Mark, a feature-length documentary that presents an impressionist portrait of the animal-rights activist and all-around giver who failed in the ultimate human quest to love himself.

It's a potent piece of work, and perhaps the most cohesive, compelling and altogether accessible film to emerge from Hoolboom's experimental atelier that now houses a significant oeuvre, including more than 30 films, conceptual art pieces, books and essays.

When Hoolboom wrapped the intimate piece last year, he figured it would be the last movie he would ever make.

"I retired as a filmmaker," says the Toronto-based heir to Canada's experimental film tradition.

"I realized I needed to step back and just see who I am. There's this pressure, especially in Toronto, to be doing something. In fact, it seems people are only defined by what they do. When you go to a party, people ask you, 'Oh, what are you doing?' and that means more than just what you are doing; it means, 'Who are you?'"

Hoolboom says in the wake of Mark's exit, he needed to find an out-door of his own, and he turned the handle through yoga.

"Last year was really tough. I lost other dear friends, including Babz Chula," says Hoolboom, who cast Vancouver icons Chula and Gabrielle Rose in his cutting-edge Kanada, perhaps the most insightful peek into the Canadian psyche ever created.

"(Losing my friends) . . . was enough to make me recreate my life. Yoga was a part of it. I was looking for a release . . . . I was hoping to gain a deeper understanding of what happened, which is why I made the movie," he says.

Like all survivors of a loved one's suicide, Hoolboom found himself dealing with guilt, anger and depression, and not even the completion of the film portrait gave him any sense of catharsis.

"I don't know who I made the film for. Maybe for other people like Mark . . . maybe for other people like me. Maybe for myself alone. I don't know."

Either way, it made Hoolboom look long and hard at his own life, his own art and his own mode of expression. It made him see the mask we all wear in our everyday lives to cope, and to make sure others see the appropriately well-adjusted exterior.

"I think there's a register of all emotions," says Hoolboom, borrowing a musical term.

"Mark really tried to appear light and carefree all the time . . . but there was always something he was holding back."

As a result, Hoolboom says he looks at people differently now. "I really look at people's faces. I imagine what they may look like when they get old. I really study the subtle reactions, and I've noticed that men and women present themselves to the outside world so differently."

Men have a tendency to find an outward appearance they feel comfortable with, and stick with it.

"Men will present that same face every day," he says.

"But women . . . women are far more comfortable showing the nuances. You can see the fluidity of their reactions in their faces and it's all there to read for anyone who's interested."

In learning to really see people, and after a year of self-induced creative exile, Hoolboom decided retirement wasn't really for him: "The truth is, I needed to pay my rent."

Now officially unretired, Hoolboom is busy retooling and recharging. "I have to say, in taking a step back from filmmaking, and coming back to it, I've never loved it as much as I do now. I'm totally energized by it."

Hoolboom says it's the sense of connection that seems to be the most potent part of the creative voyage.

"I think there are times when we all feel totally alone," he says.

"But the truth is we are not alone -- ever. Even when we're in pain, and we feel the need to withdraw and shut down, we're not alone. . . . "

- - -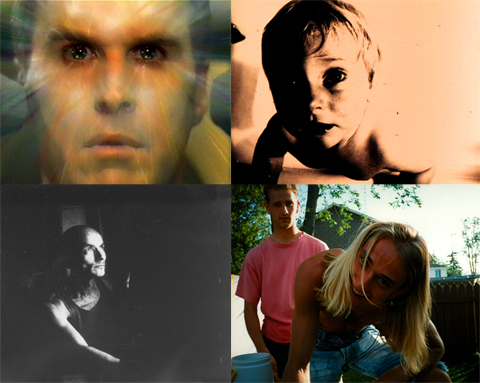 Programmed by Amy Kazymerchyk
When Roland Barthes discovered a photo of his mother as a child in a winter garden, he dreamt about enlarging it ad infinitum in order to reach her very being in the finest grain and know her truth. However, enlarging distorts and ruptures an image; rather than revealing truth or essence, the apparition of a loved one scatters. Only the factuality of the photograph's technology and materials remains. In Mike Hoolboom's portraits, the essence of his friends and family is protected from this scrutiny. Rather, Hoolboom enlarges, through extraction, montage, collage and repetition, the image-likenesses of our collective past, present and future — our meta selves. Through this macro gleaning of our shared cultural image bank (home movies, photo albums, music videos, commercials, medical imaging, scientific analysis, Hollywood films), he regards the entwinement of his subjects in the mediums of representation, in the vast weave of truths and likenesses, in the complexity of being and not being in a world of reproductions and facsimiles.
Mike Hoolboom is a Toronto-based artist working in film and video. Widely considered one of Canada's pre-eminent experimental filmmakers, he is a prolific creator whose works have screened in more than four hundred festivals, garnering some thirty awards. He was the 2009 recipient of the Bell Award in Video Art, given annually to a Canadian artist who has made an exceptional contribution to the art form. Hoolboom has published a pair of interview books with Canadian media artists, Practical Dreamers: Conversations with Media Artists (Coach House Press, 2008) and Inside the Pleasure Dome: Fringe Film in Canada (Coach House Press, 2001). In 1998 he authored Plague Years (YYZ Books) a tongue-in-chic autobiography. 
Monday January 17th
7:30pm
Mark. 2009, Video, 70 mins.
"Touching portrait of a lost friend. This moving film tells the story of Hoolboom's friend and collaborator Mark Karbusicky. Interviews with Mark's friends and family, as well as his lover, are interwoven with home movies, offering a glimpse into the life of this generous, loving and enigmatic figure. A powerful testimony to the enduring impact of our actions on the lives of others." (Edinburgh Festival)
+
9:00pm
Imitations of Life. 2003, Video, 70 mins.
"Major essay filmmaking from Canada's Hoolboom... An ambient assembly of diverse footages, from ads to classic clips, home movies to video diaries. Imitations explores the compulsion to document reality and the fissure between image and experience. Following the early childhood of his nephew Jack, Hoolboom delivers a profound, elegiac but often wryly humorous enquiry into the role of representation in the contemporary mindset. The presiding tone might be Markersque but the voice is Hoolboom's own, melancholy, moving and committed. It all adds up to a poetic, persuasive evaluation of the disquieting new world we are making, and the attendant disappearances along that road." Time Out, London
_____

Monday January 24

7:30pm
Public Lighting. 2004, Video, 76 mins.
"Public Lighting is a meditation on photography and the creation of images that can capture, replace and outlive our experiences. It's a video film in seven parts, related in both subject and sentiment to the wonderful Imitations of Life. Each chapter is a case study of the different types of personality that have been identified by the young author who guides us through the prologue. The first, a gay man, takes us on a tour of the bars and restaurants where his affairs have ended, recounting ironic stories of his many lovers. An homage to Philip Glass is incongruously followed by Hey Madonna, a confessional letter to the singer from a fan who is HIV positive. Carolynne celebrates another birthday, but has lost her memory to television. At least she has a camera. Hiro lives life at a distance, rarely venturing out beyond the lens, and an anxious young model recounts poignant moments from her past. Few filmmakers use re-appropriated footage in such an emotive way: at once humorous and incisive, these chains of images inevitably lead us back to parts of ourselves. Hoolboom's recent work is in profound sympathy with the human condition that speaks directly to our hearts." Mark Webber, London Film Festival
+
9:00pm
Tom. 2002-2009, Video, 53 mins.
World Premiere of Newly Re-edited Version! 
'One of the pleasures of the fetish scene is you don't have to be beautiful to be a narcissist,' says New York filmmaker Tom Chomont. 'All of the ugly kids from high school can have their day in the spotlight.' It's hard to believe that Chomont was ever one of the ugly kids, but he certainly gets his day in the spotlight in this avant-garde documentary by Mike Hoolboom. In Tom, Chomont's life unfurls in a style as unique as his own story. Found footage and archival film (including a fascinating survey of New York City over the years), home movies, photos and new video 'stream past in a hypnotic rush', says Hoolboom, 'offering a subject whose skin is cinema, whose flesh and blood have been remade into the picture plane.' Add in Chomont's recollections of infanticide, sex with his own brother, S&M, fetishism, visions of a white light that illuminates both the beginning and end of life, and excerpts from some of his own films, and Tom evolves into a deeply emotional portrait of a lifelong outlaw now battling both HIV and Parkinson' disease. This is a film that evokes as much as it depicts, and alludes as much as it describes. Hoolboom calls it 'cinema as deja vu or deja voodoo'. We call it one of the most spellbinding and unforgettable films in this year's festival." San Francisco International Gay and Lesbian Festival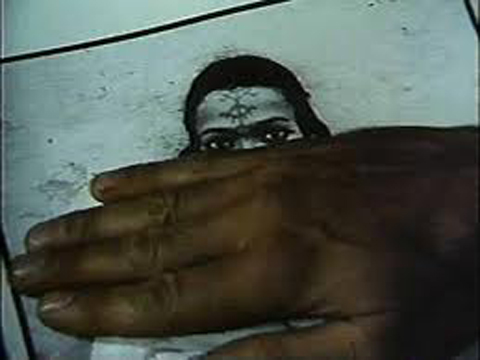 Programmed by Amy Kazymerchyk
Czech-born German filmmaker Harun Farocki (b. 1944) has made more than 90 short and feature-length films, videos, and multi-channel installations for the cinema, the gallery, and television. His documentaries and essay films probe the phenomenology, production, transmission and dissemination of images.  Farocki situates his inquiry within "the many histories of embodied vision, or the dialectics of embodied and disembodied vision, of human vision and the vision machines, and the kinds of productivity they engender" (Thomas Elsaesser).  Farocki implicates his own modes of production:  archiving, editing, and writing within this dialectic, as one that is torn between "'working like a machine' and 'working like an artist'" (Elsaesser).

Workers Leaving the Factory revisits the first film ever to be shown in public and contemplates the significance of inscribing the space in front of the factory gates throughout the history of documentary and narrative film.  I Thought I was Seeing Convicts focuses on surveillance images from a maximum-security prison in Corcoran, California, to parse the collusion of the field of vision and the sniper's cross hairs—the camera and the gun. The Serious Games series observes the role that gaming technology plays in training, deploying and healing military personnel in contemporary warfare.  Images of the World and the Inscription of War considers the implication of the camera's lens in the construction of memory, meaning and history in the 20th Century. From the misinterpreted aerial images of Auschwitz during WWII to the the first photos taken of Algerian women in the 1960's, optics have persisted in creating prosthetics that clarify, distort, diminish and expand our perception of the world.

Single Program $10.50/ Double Program $12.50
7:00 pm (90min)
Workers Leaving the Factory | 1995.  Video, 36 mins.
I Thought I was Seeing Convicts | 2000. Video, 25 mins.
Serious Games 1: Watson is Down | 2010. Video, 10mins.
Serious Games 3: Immersion | 2009. Video, 20mins.

8:45 pm (75min)
Images of the World and the Inscription of War | 1988.  16mm, 75 mins.

Harun Farocki: Vision Machines is programmed in conjunction with the Surrey Art Gallery's presentation of Farocki's 12-channel installation Deep Play, October 2- December 19, 2010.  www.arts.surrey.ca

Thomas Elsaesser, "Introduction: Harun Farocki," Senses of Cinema, July 2002.   http://archive.sensesofcinema.com/contents/02/21/farocki_intro.html
image: Images of the World and the Inscription of War (1988)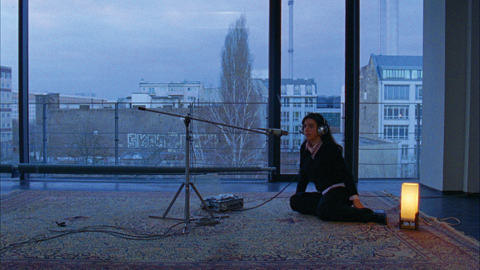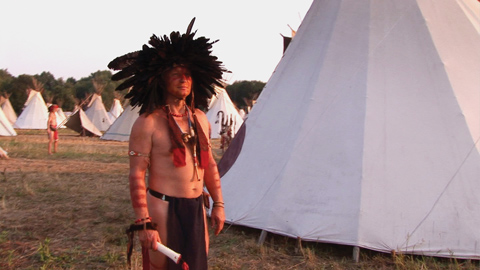 Programmed by Amy Kazymerchyk
Amie Siegel in attendance
American artist Amie Siegel continues to probe the psychological architecture of her adopted home, Germany, in her 2008 essay film DDR/DDR (Deutsche Demokratische Republik/ East Germany).  DDR/DDR excavates the psychic trauma and its residual endurance associated with the former socialist state and reunification. The social manifestations of this trauma unfold into "cine-constellations," a term that refers to Siegel's search for "more accumulative and architectural modes of structuring films." In DDR/DDR, the constellation is comprised of German Indian hobbyists, Psychoanalysts, a Stasi surveillance equipment collector, a Stasi spy, and a National Film Production sound recordist.  Their stories enfold around a survey of socialist architecture, Stasi training films, an urban tightrope walker and Siegel's narrative reflections.

Cinema's collusion with Stasi surveillance strategy and technology, Communist propaganda, German ethno-mythology, and Psychoanalysis is reflexively embedded within the film's exposition.  Siegel's camera and its prying lens figure as variable mechanisms for witnessing and being witnessed–for exposing and being exposed. Situated on both sides of the camera, Siegel implicates herself in her inquiry into the conflation of performance and disclosure, construction and objectivity, submission and omission, memory and history.
DDR/DDR. 2008, 135mins, HD, USA/Germany.
+
Amie Siegel Artist Talk
Monday November 15th
12.30 pm, SFU World Art Studio at Woodward's
149 West Hastings, entrance through the Cordova courtyard
______
Amie Siegel uses the cinematic image as material means to a conceptual end.  Her film, video and installation work mines the voyeuristic gaze, direct address and interview to consider how these repetitions shape cultural memory. Siegel's other works on Germany include Empathy (2003), Berlin Remake (2005), Deathstar / Todesstern (2006), and Deutsche Menschen / German People (2007). Exhibitions and screenings include the 2008 Whitney Biennial; The Walker Arts Centre; Andy Warhol Museum; BFI Southbank; and Austrian Film Museum. Siegel teaches in the Department of Visual and Environmental Studies at Harvard University.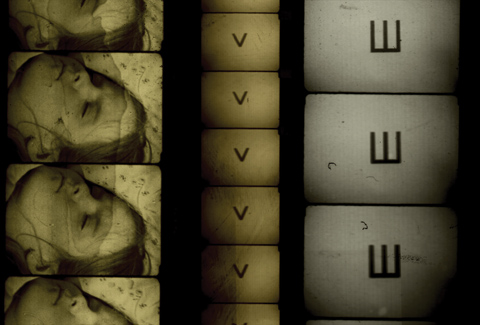 Programmed by Amy Kazymerchyk
the wooden lightbox: a secret art of seeing is an exploration and reconfiguration of cinematic apparatus and emulsion. Using the early development of cinema as a marker for cultural, technological and economic change, these film cycles draw from turn of the century cinematic prototypes and long forgotten ideas surrounding the moving image and its early promise. At the core of this approach is the use of a homebuilt hand-cranked projector in an expanded cinema format to present a striking array of handmade and processed emulsion. The vast potential of the film frame is drawn out through imagery both archaic and contemporary in shape and form. Hypnosis, panorama, motion studies, expectation, magic, the dream world and sleight of eye conspire in this intimate and immersive framework.
 "...[MacKenzie's] work often has an otherworldly quality, as if we were seeing images for the first time...his process allows for the re-entry of a sense of wonder, what theorist Walter Benjamin once referred to as the promesse de bonheur, or the utopian promise of technology that can only be reproduced through an artistic reinvestment in the hidden possibilities of a medium. Through his rediscoveries, MacKenzie takes us back to the birth of the moving image..."  -Chris Kennedy, Strategies of the Medium III: In the Dark, Toronto (LIFT/Pleasuredome).
Alex MacKenzie is an experimental film artist working primarily with relic analog film equipment and hand-processed imagery to create works of expanded cinema, light projection installation, and performance. His live media works have screened at the Rotterdam International Film Festival, the EXiS Festival of Experimental Film in Seoul, Lightcone in Paris, Kino Arsenal in Berlin and others. Alex was the founder and curator of the Edison Electric Gallery of Moving Images, the Blinding Light!! Cinema and the Vancouver Underground Film Festival. He was an artist in residence at Atelier MTK in Grenobles, France and Struts Gallery/Faucet Media in New Brunswick. Alex co-edited Damp: Contemporary Vancouver Media Art (Anvil Press 2008), and interviewed David Rimmer for Loop, Print, Fade + Flicker: David Rimmer's Moving Images (Anvil Press 2009).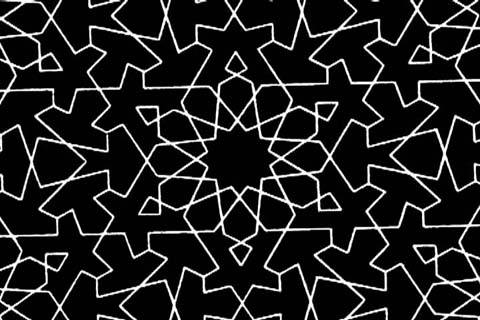 Programmed by Laura U. Marks
Particle bursts, mystical abstraction, and an intelligent suspicion of figurative images—qualities of some of the most thrilling media art works have deep origins in the great arts of Islam. Film, video, and digital works from the 1960s to the present celebrate, knowingly or not, their Islamic origins. Mounir Fatmi and Peggy Ahwesh propose a sober aniconism in response to a contemporary image-world of pornography and murder. In works by Takeshi Murata and Cory Arcangel a giddy iconoclasm takes over. Doug Richardson's analog vector experiments, Young-Hae Chang Heavy Industries' insistent jazzy textualism, and Usama Alshaibi's shimmying geometries celebrate the liberation from image making. The pixelline universe twinkles in the works of Walid Ra'ad, Paul Sharits, and Gheith Al-Amine, and finally Eric Siegel's analog abstractions take us into the blissful beyond of the image. 
PROGRAM
Mounir Fatmi, Dieu me pardonne. 2001, 8:02mins, DV, Morocco/France.
Peggy Ahwesh, She Puppet. 2000, 17:00mins, DV, USA.
Takeshi Murata , Untitled (Pink Dot). 2007, 5:00mins, DV, USA.         
Cory Arcangel and Radical Software Group, Low Level All-Stars: Video Graffiti from the Commodore 64 Computer, 2003, 21:03mins [6:00excerpt], DV, USA.
Doug Richardson, "Abstractions" from Visual Piano, 1972, 6:00mins, Video [silent], Australia.
Young-Hae Chang Heavy Industries, Lotus Blossom. 2001, 6:07mins, Web Video, South Korea/USA.
Usama Alshaibi, Allahu Akbar. 2003, 5:10mins, DV, USA.   
Paul Sharits, Analytic Studies IV: Blank Color Frames, 1976, 14:00mins, 16mm [silent], USA.                       
Walid Ra'ad, Miraculous Beginnings and No, Illness Is Neither Here Nor There, 1999, 2:00mins, Video, Lebanon/USA.
Gheith al-Amine, Ungrateful Ode to Adel Fakhoury and Brion Gysin, 2008, 7:40mins, Video, Lebanon.
Eric Siegel, Tomorrow Never Knows, 1968, 3:10mins, Video, USA.
+
Presented in conjunction with the launch of Laura U. Marks' book Enfoldment and Infinity: An Islamic Genealogy of New Media Art, on Tuesday September 21 from 5-7 p.m. at the Djavad Mowafaghian World Art Centre, SFU Woodward's, 149 W. Hastings St.
___
Laura U. Marks
is the author of
The Skin of the Film: Intercultural Cinema, Embodiment, and the Senses
(2000),
Touch: Sensuous Theory and Multisensory Media
(2002), and
Enfoldment and Infinity: An Islamic Genealogy of New Media Art
(MIT Press, 2010). Dr. Marks is the Dena Wosk University Professor in Art and Culture Studies at Simon Fraser University. 
Image from: Allahu Akbar, Usama Alshaibi (5:10, 2003, DV, USA)    
DIM Cinema illuminates Canadian film
Deanne Beattie, Sad Mag  |   8/27/2010
http://www.granvilleonline.ca/gr/vancouver/secret-city/dim-cinema-illuminates-canadian-film
Monthly experimental film event at Pacific Cinémathequè strives to keep Canadian film alive in Vancouver
"You probably couldn't name 10 Canadian filmmakers," Amy Lynn Kazymerchyk challenges me. "That aren't Atom Egoyan, I mean. Most people on the street, I don't think, could name 10 Canadian filmmakers."
Kazymerchyk is the founder of DIM Cinema, the Pacific Cinémathequè's monthly experimental film event. She estimates that in the two years the program has been running, DIM Cinema has built up a steady attendance of 20 to 40 people per screening—more if the event is screening an international work. She has noticed that in Canada's contemporary arts climate, it is more common that film fanatics will recognize an international filmmaker over a Canadian filmmaker, but that hasn't diminished her resolve to screen important Canadian cinema.
DIM Cinema
Pacific Cinémathequè, 1131 Howe St., Vancouver | Map
Third Monday of every month.
Tickets $9.50, $8 for students (plus membership to Pacific Cinémathequè, $3)
"Even if people don't know 10 Canadian experimental filmmakers, there are actually quite a few of them," she says. "If you were to look at the way that some of them have contributed to an international film movement, I would say that people internationally would be more familiar with Canadian filmmakers."
Arts funding cuts and the Canadian film industry
"We just don't have the same industry for it," says Kazymerchyk. "In Canada, I don't think we approach cinema culture the same way they do in America, or in Europe for that matter."
Against the entertainment mega-industry of the United States and the cultural legacies of European countries, Canada's film industry can't quite compare—especially after drastic cuts to government funding for the arts.
Cinémathequès, she explains, along with cultural institutions such as the Canada Council for the Arts and the National Film Board, were founded in the 1960s to support creation of Canadian culture, and by extension, the core of the Canadian identity.
"The Cinematheque doesn't make money off of the night that I do, that's for sure—they definitely lose money," says Kazymerchyk, "But the importance of why they choose to support it is the importance of screening national work, and the importance continuing to support a cinematic practice that is artistically and materially focused."
Vancouver venue closures stunt local arts and culture
"I started this because I had seen there really wasn't an experimental cinema centre after the Blinding Light shut down. For me, I really just wanted to see a space where it could happen," she says. The Blinding Light!! was an underground cinema in Vancouver that, like many artist-run centres, thrived for only five short years.
"In the city of no space, how can we use the spaces that we have?" asks Kazymerchyk. Herself a filmmaker as well as a staff member at VIVO, Kazymerchyk can count dozens of venue closures that have impacted the arts community here and prevent any real, continued cultural development in the city.
"It's not how much money you are making or how many people are going that's determining its worth," she says of DIM Cinema, and more broadly, of artistic initiatives in Vancouver. "It's the committed community of people who are in a deep engagement with the conversation.
"How are they determining the meaning of it?"
IMAGE BY: Brandon Gaukel
Amy Lynn Kazymerchyk of DIM Cinema.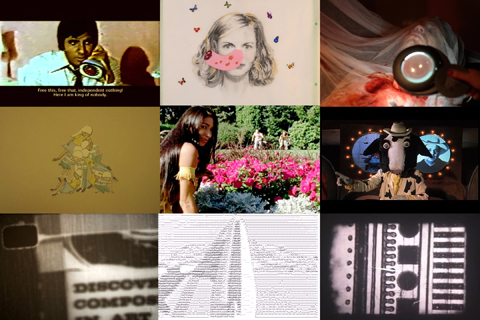 Programmed by Clint Enns and Leslie Supnet (in attendance)
A long, rich history of lo-budget inventiveness is woven into the civic consciousness of Winnipeg, Manitoba, the birthplace of K-Tel, Hunky Bill's Perogie Maker, and the Green Garbage Bag.  Countless Winnipeg artists have utilized the same Do-It-Yourself spirit in their practice, speaking to tradition as well as environmental necessity. Enriched with strange humour, hand-crafted experimentation and lo-fi/high-tec conundrums, the films and videos in this program are testaments to an aesthetic movement that is wholeheartedly Winnipeg's own.

We are proud to present films from our beloved bargain-hungry municipality.
PROGRAM
Mike Maryniuk & Matthew Rankin, Cattle Call (2008, 4min)
Walter Forsberg, Thunder at the Track (2005, 4min)
Darryl Nepinak, Zwei Indianer Aus Winnipeg (2009, 2.5min)
Leslie Supnet, How to Care For Introverts (2010, 1.5min)
Damien Ferland, Death by VHS (2010, 5min)
Sandee Moore, I'm BoHUNKy-Dory With It (My Nose) (2007, 2.5min)
Jaimz Asmundson, Drawing Genesis (2007, 3min)
Divya Mehra, Pants (2007, 2min)
Heidi Phillips, Discovering Compositions in Art (2008, 2min)
Clint Enns, The Death of Natural Language (2007, 2.5min)
Robert Pasternak, Traffiiiik (2007, 1.5min)
Gwen Trutnau, Brodeo in leather (2008, 3.5min)
Simon Hughes, Cold Satie (2007, 2min)
Andrew Milne, Mechanical Film Studies (3D Jesus/Yard/Architect's Table/2X4/Phantom) (2010, 5.5min)
Hope Peterson, In the Drugs (2006, 4.5min)
Programmed by Ben Donoghue
"It is the direct connection of light and audience that interests me. The screen continually shifts dimensionally from being an image-window, to a floating energy field, to simply light on the wall. In my films, the black space surrounding the screen is as significant as the square itself. Silence allows these articulations, which are both poetic and sculptural at the same time, to be revealed and appreciated." — Nathaniel Dorsky
Since the mid-1960s San Francisco-based Nathaniel Dorsky has explored the poetics of cinematic images, creating new potentials for seeing and experiencing through film. Working exclusively with 16mm film — and since 1980 with silent film projected at 18 frames per second (standard sound film is shown at 24 fps) — Dorsky has created a stunning body of work that presents a rigorous and unique perspective on cinema's potential. The flicker of the slower projection speed and Dorsky's method of cutting are integral elements of films that wash over the viewer and saturate the experience with sensuality rather than concrete memory.
PROGRAM
Sarabande — "Dark and stately is the warm, graceful tenderness of the Sarabande" (N.D.). 2008. 16mm, colour/silent, 18 fps. 15 mins.
Song and Solitude — Conceived and photographed with the loving collaboration of Susan Vigil during the last year of her life, Song and Solitudeis balanced more toward an expression of inner landscape, or what it feels like to be, rather than an exploration of the external visual world as such. 2005/2006. 16mm, colour/silent, 18 fps. 21 mins.
Winter — "San Francisco's winter is a season unto itself. Fleeting, rain-soaked, verdant, a brief period of shadows and renewal" (N.D.). 2008. 16mm, colour/silent, 18 fps. 22 mins.
Ben Donoghue is executive director of the Liaison of Independent Filmmakers of Toronto (LIFT). He previously curated "Cinema and Disjunction," presented at DIM in February 2009.
Pages