Programmed by Amy Kazymerchyk & Alex Rogalski (in person)
ONE ROLL. NO SPLICES. SHOOT AND SHOW. This is the mantra of the One Take Super 8 Event. Now in its eighth season, One Take Super 8 has inspired the production of over 400 Super 8 films that were shot on one roll of film and screened without preview or editing, in Regina, Winnipeg, Ft. Lauderdale FL, Montreal, Ottawa, Oberlin OH, and Syracuse NY. Toronto based filmmaker Alex Rogalski, the event's producer, will perform the projection of 18 selections from the event's archives. Like other DIY Super 8 Projects, such as Vancouver's Project8, the One Take Super 8 Event is a celebration of accessible filmmaking, empowered storytelling, and chance genius. 
Vancouver Program: Arlea Ashcroft & Andrea von Wichert Dead Mothers + Kitchen Floors;  Deco Dawson Metro's Birth; David Lopan F$%k'n Wild!; Shawn Fulton Lowlife; Kyle Ketchemonia Confidential; Alex Larose ARTIFICES; Terryll Loffler A Day Like Any Other; Tricia Martin Get off the Road; Terry Mialkowky & Shannon Jardine Belt Buckle/ Quonset Hut; Mike Maryniuk Fish Arms; Solomon Nagler Preliminary Notes on Gesture; Diane Ouellete La Moo; robert.daniel.pytlyk. STILL LIFE; Alex Rogalski Rielvolution; Daichi Saito Green Fuse; Vanda Schmockel Fred; Katherine Skelton Kanmon Kaikyo; Cam Woykin The Bourgeios Walk.
Programmed by Hooliganship: Peter Burr and Christopher Doulgeris (in Person)
The multimedia dance duo Hooliganship (Peter Burr and Christopher Doulgeris) have been touring the United States since September presenting the freshest incarnation of "Cartune Xprez", a program of short animated videos that celebrates the wilderness of imagination through motion pictures.  Takeshi Murata, Adrian Freeman, Blu, Bruce Bickford, Martha Colburn, Paper Rad, Shana Moulton, Timo Katz, Emanuele Bortoluzi, Eric Dyer, Jeff Kricshun, E*Rock, Mumbleboy, Corey Lunn, Ola Vasiljeva, Jim Trainor, Josh Mannis, Lief Hall, Taras Hrabowsky, Shayne Ehman, and Seth Scriver! Alongside this cartoon theater Hooliganship will be performing their most recent piece entitled "Realer" in which audiences strap on a pair of 3D glasses to bear witness to a televised parade gone awry. Come down and party with the cartoon spirits. www.cartunexprez.com
Vancouver Program:  Adventure Land Fun Baaloon by Crystalbeard; Untitled (Pink Dot) by Takeshi Murata; Shame Fellow by Adrian Freeman; Muto by Blu; The Comic that Frenches your Mind by Bruce Bickford; Michael Jackson Teaches Birds to Sing by Ola Vasiljeva; Booty by Paper Rad; Heads Fall Silently by Emanuelle Kabu; Alien Ice Miami by Philippe Blanchard; Sing Song by Jeff Kricshun; Asphalt Watches by Shayne Ehman and Seth Scriver.
Programmed by Amy Kazymerchyk
Peggy Anne Berton and Marc St. Aubin in person
ScareCity is a cinematic performance that fuses personally archived film and video with live improvised storytelling and music. Berton's first-person recount of her return home to rural Southwestern Ontario to care for her aging parents meshes with an emotionally charged personal archive of childhood films, a time lapse of subdivision development around her home, country landscapes, and portraits of economic castaways at the local drinking hole. Her poignant reflections on aging and memory transform into metaphors on the dwindling fuel economy, agriculture's increasingly violent use of antibiotics and pesticides, and the pandemic loss of wild and rural land to urban sprawl. St. Aubin's original live music score adds lyricism and punctuation to Berton's memories, often sustaining their emotional reverberations long after their words are uttered.
The Legend of Buck Kelly tracks Berton's obsession with the late Jeff Buckley across the terrain of her own love life; from New York where she first met him, to her home town of Dawson City where she imagines he went after faking his death. She illustrates the serendipity that linked her to Buckley- from the wilderness to the big city to boy friends with the names Buck and Kelly. www.peggyanneberton.com
7:30pm | The Legend of Buck Kelly by Peggy Anne Berton & Marc St. Aubin, Super 8, 72mins, Canada.
9:00pm | Scarecity: Performative Cinema by Peggy Anne Berton & Marc St. Aubin. Super 8 & DV, Live Music & Storytelling, 60mins, Canada.
Programmed by Miranda July and Shauna McGarry.
Last month I visited The Way That We Rhyme: Women, Art & Politics exhibit at the Yerba Buena Center for the Arts in San Francisco. The exhibit included a retrospective on Miranda July's Joanie4Jackie Project (formerly Big Miss Moviola).  As an independent distribution system and feminist art project Joanie4Jackie invited women filmmakers and video artists to submit their completed works which were then compiled onto a "Chainletter" tape of ten pieces in the order of their arrival. Each artist on a Chainletter tape received a copy of that tape and a corresponding booklet of letters written by the featured artists. In 12years Joanie4Jackie compiled 19 Chainletter tapes and three curated Co-Star tapes. As I stared down into the glass case that housed a decade of the project's video cassettes, letters, and related ephemera, I felt proud to have contributed my teenage movies to such a monumental exchange, and nostalgic that at 27yrs old something that was so tangible, raw and experiential in my lifetime was already an untouchable museum piece.  And yet Big Miss Moviola's challenge and promise continues to live on in the hearts of everyone who waited patiently for their Chainletter tape in the mail. We have adopted that promise and passed on the challenge to the girls and women that we teach and mentor to make, distribute, and screen their untold stories and dreams. www.joanie4jackie.com  – Amy Lynn Kazymerchyk

Joanie4Jackie: A Quick Overview | Shauna McGarry | USA 2007 | 20mins.
Dear Mom | Tammy Rae Carland | USA 1996 | 3mins
Removed | Naomi Uman | USA 1999 | 6mins
How the Miracle of Masturbation Saved Me From Becoming a Teenage Space Alien | Dulcie Clarkson | USA 1998 | 21.5mins
Cinderella +++ | Eileen Maxson | USA 2002 | 3.5mins
Electronic Ballet | C. Ryder Cooley, Zoey Kroll | USA 1997 | 2.25mins
The Slow Escape | Sativa Peterson | USA 1997 | 20.5mins
Toxic Shock | Vanessa Renwick | USA 1983 | 3mins
Atlanta | Miranda July | USA 1996 | 11mins
This is Sarah Nye | Sarah Hanssen | USA 2003 | 5mins
Program Running Time: 95mins
Programmed by Amy kazymerchyk
Bill Daniel in Person
Who is Bozo Texino? chronicles the search for the source of a ubiquitous and mythic rail graffiti- a simple sketch of a character with an infinity-shaped hat and the scrawled moniker, "Bozo Texino"-- a drawing seen on railcars for over 80 years. Daniel's gritty black and white film uncovers a secret society and it's underground universe of hobo and railworker graffiti, and includes interviews with legendary boxcar artists, Coaltrain, Herby, Colossus of Roads, and The Rambler.  Shooting over a 16-year period, Daniel rode freights across the West carrying a Super-8 sound camera and a 16mm Bolex. During his quest he discovered the roots of a folkloric tradition that has gone mostly unnoticed for a century. Taking inspiration from Beat artists Robert Frank and Jack Kerouac, the film functions as both a sub-cultural documentary and a stylized fable on wanderlust and outsider identity. "I was drawn to the subject by the universal graffiti impulse and the classic, corny notion of freight train blues escape." – BD www.billdaniel.net

Friday September 5 2008 5-6pm
Book Launch of Mostly True by Bill Daniel
Spartacus Books 684 E. Hastings St.
www.spartacusbooks.org

A rollicking rail zine of freight riding stories, interviews with hoboes and boxcar artists, historical oddities and tons of photos of modern day boxcar tags- known as monikers- the result of a 25year obsession with hobo and railworker folklore presented in the guise of a vintage railroad fanzine.

Friday September 5 2008 8pm
Sunset Scavenger
Maclean Park - 700 block E.Georgia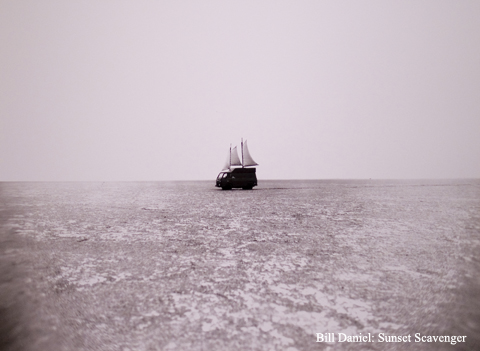 Sunset Scavenger is an outdoor video installation based on ideas concerning the end of the oil age. It is a collage essay on ecological catastrophe, sustainability, improvisation and self-reliance, featuring hippie houseboaters, punk back-to-the-landers, rubber tramps, off-the-gridders, and desert rats, who are today's true cultural vanguard. The two-screen video program is projected on the sails of the Sailvan, a 1984 Ford veggie oil-converted diesel van with a 2-masted gaff-rigged schooner that functions as tour vehicle, projection screen and metaphorical emergency escape craft.
 
Programmed by Amy Kazymerchyk
The selection of videos in Human Beyond a Cure, offer frank and poignant reflections on living in a culture that is simultaneously preoccupied with self-help and self-destruction. Cam Matamoros' In Four Years earnestly takes on a practice of goal setting and positive self-talk, while Daniel Barrow's Artist Statement exposes the meaninglessness of success and art stardom. Both Subtitled and We Belong Together illustrate the inextricable influence of pop culture on our desires for intimacy and connection. Hannah Jickling and Kevin Hegge challenge the hetero-normative status quo in Knee for All, which celebrates the taboo of asexuality and radical desire. Shana Moulton's Whispering Pines #4 makes an unapologetic leap into the quagmire of consumption based 'healing' modalities and their aesthetics, and Nina Yuen's Alison takes us deep into the woods, down deserted highways, and into the psyche of a lost woman. The program's namesake Songs of Praise for the Heart Beyond a Cure strings together a series of uneasy lullabies that neither assuage our fears of the world's end, nor secure our hope in finding a cure for being human.

Daniel Barrow, Artist Statement. 2006, 5:30mins, Canada.
Cam Matamoros, In Four Years (adjectives and adverbs). 2007, 5mins, Canada.
Shana Moulton, Whispering Pines #4. 2007, 12mins, USA.
Benny Nemerofsky Ramsay, Subtitled. 2004, 2mins, Canada.
Goody B. Wiseman, Keeping Her Cool. 2002, 3:50mins, Canada.
Hannah Jickling & Kevin Hegge, Knee for All. 2007, 4mins, Canada.
Leah Glushien & Maiko Tanaka, We Belong Together. 2007, 3:45mins, Canada/USA.
Emily Vey Duke & Cooper Battersby, Songs of Praise for the Heart Beyond Cure. 2006, 15mins, Canada/USA.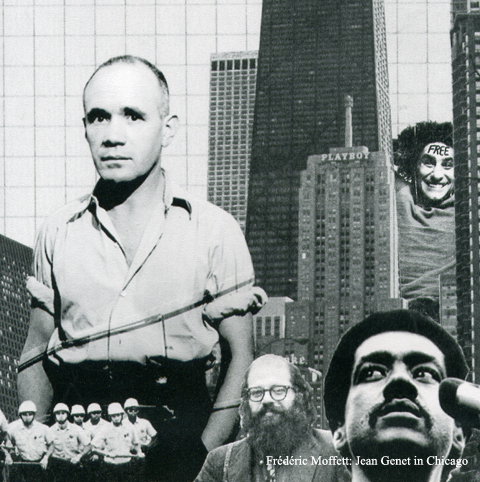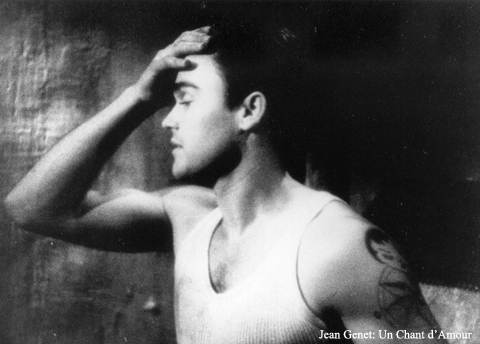 Programmed by Amy Kazymerchyk
Frédéric Moffett is interested in revolt. Not necessarily political revolution, but revolt as Julia Kristeva defines it as "a permanent state of questioning, transformation, [and] an endless probing of appearances. His film Jean Genet in Chicago, which he refers to as a 'thief video', is a poignant revolt against apathy and malaise in contemporary American culture. Saturated with appropriated quotations from literature, media archives, and Genet's memoirs, the film transforms anecdotes of his historical visit to Chicago in 1968 to cover the National Democratic Convention into a reflection on political decay, social dislocation, and the roots of radical queer consciousness.
One the most contentious and openly queer scenes in Jean Genet in Chicago was clearly 'thieved' from Genet's own film Un Chant d'Amour. In Moffett's film, Genet is repeatedly distracted from praising the successes of America's radical movements by sexually objectifying the Chicago Police. This contention between political values and sexual desires grips the heart of Un Chant d'Amour. Its narrative is set in a French prison where a guard takes pleasure in observing two prisoners act out their unrequited love through masturbatory gestures on either side of the brick wall that separates them. Shot in 1950, this erotic visual poem was clearly influenced by Genet's African military service, which no doubt ignited a psychic struggle between his attraction and repulsion to state power and force. Frédéric Moffett's interest in revolt is no doubt inspired by Genet's, and it is an honor to show these two poignant films together.
Frédéric Moffett, Jean Genet in Chicago. 2006, 26mins, Beta SP B&W, Canada/USA.
Jean Genet, Un Chant d'Amour. 1950, 25mins, newly restored 35mm print B&W, France.
Pages