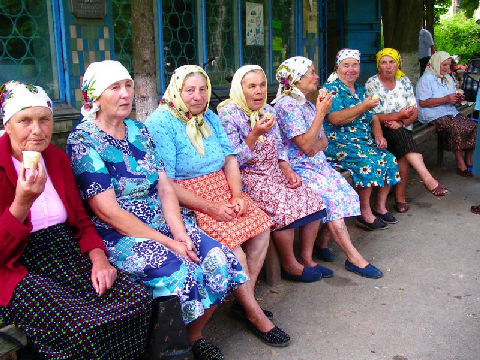 Programmed by Amy Kazymerchyk
Naomi Uman in attendance
Like a crochet needle swiftly passing through loops of silk and wool,  sun-thickened fingers prying at garlic-clove sheaths, or a chorus of wedding songs around a table of varenyky and boiled dumplings, Naomi Uman's camera lives amongst the people, homes and villages she films. 
Setting out to retrace the footsteps of her family's own immigrant history, Naomi, an American artist who divides her time between Los Angeles and Mexico City, made a reverse journey of her great-grandparent's emigration from Uman, Ukraine.  She bought a house in Legedzine, just outside of Uman, toured films around the country, befriended village babushki, and established an artist residency for cultural exchange. 
The films in "Ukrainian Time Machine" evolved out of the tactile and visceral experience of living in Legedzine. Kalendar chronicles her early days of Ukrainian language lessons.  Clay is a portrait of a brick factory that sits atop the ruins of the 5000- year-old, clay-based Trypillian civilization. 
Unnamed Film contains footage, in chronological order, shot from the time she arrived in Legedzine to the time she left. "Ukrainian Time Machine" is the latest extension of an artistic practice that involves Uman's prolonged immersion in the world of her subjects; in previous projects, she lived with a diary-farming family in rural Mexico and with a Mexican immigrant family employed in industrial dairy production in California.   
 
Kalendar. 2008, 10mins.
On This Day. 2008, 5mins.
Window. 2008, 3mins.
Coda. 2008, 3mins.
Clay. 2008, 12mins.
Unnamed Film. 2008, 55mins.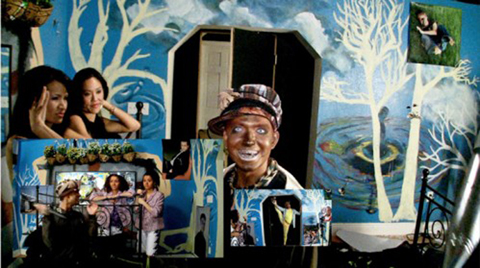 At Emily Carr University of Art & Design
South Building Lecture Hall, Room 301- 1400 Johnston St. Granville Is. 
Co-presented by VIVO Media Arts Centre, ECU Spring 2010 Speakers Series and Fillip
Introductory Performance by Frederick Cummings accompanied by James Diamond
Ryan Trecartin was recently named winner of the Jack Wolgin International 
Competition in the Fine Arts, and New Artist of the Year by the Guggenheim 
Museum's First Annual Art Awards. Trecartin will screen his forty-minute video P.opular S.ky (section ish) (2009) which will be followed by a discussion with Amy Kazymerchyk and the audience.
At once highly complex and fast-paced, Trecartin's videos, which are usually 
exhibited within installations, place viewers inside exhilaratingly chaotic 
environments primed for post-racial, post-gender, and post-human encounters that collapse time, space, and identity into a layered and wholly unforgettable experience.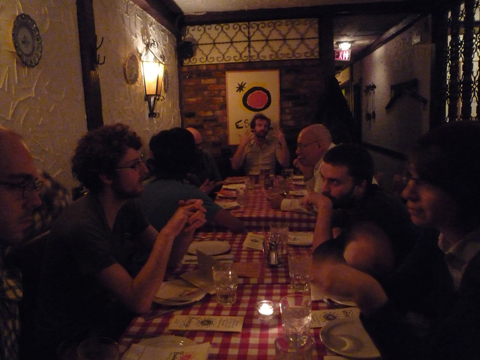 You can watch Gabriel Saloman Mindel's YTSSP essay Mystery Ecology here:
You can watch Sam Gould's YTSSP essay  Human Masks here:
Robby Herbst presented his YTSSP essay Mediation, Self Marginalization and Post Politics in Protest Media at an offsite event at Studio 1202. You can view this essay here:
Programmed by Red76
Gabriel Saloman & Sam Gould (Red76) and Robby Herbst in person 
The
YouTube School for Social Politics (YTSSP)
invites historians, artists, and theorists to construct passages of historical inquiry through assemblages of YouTube clips. In an increasingly invisible society we are each a consumer, creator, and clearing house for knowledge, just as much as we are receiver, producer, and disposer of material goods. These notions of surplus knowledge play a central role within the YouTube School for Social Politics. Scattered throughout YouTube lie countless personal and collective points of view and scattered historical moments. By arranging segments of documentaries, personal missives, family films, newsreels and music videos, new light is shed on the sociopolitical landscape of history past and history present.
Red76
is the moniker for initiatives most often conceived by Sam Gould and collaboratively realized with Zefrey Throwell, Gabriel Mindel-Saloman, Dan S. Wang, Mike Wolf, Laura Baldwin, and many others dispersed throughout the world. Their initiatives focus on the facilitation of discussion, thought and action within public space. Their projects manifest within the realms of printed matter, multi-media, social practices and anything else they can get their hands on. 
Gabriel Saloman,
Mystery Ecology
. 2009, 55mins, dv.
Sam Gould, Human Masks. 2009, 50mins, dv.
+
Artist talk: Sam Gould and Robby Herbst
Saturday January 16 2010, 2pm, Free
Artspeak 233 Carrall Street
Sam and Robby, editors of the Journal of Radical Shimming and The Journal of Aesthetics and Protest respectively, will discuss their use of printed matter in art, social engagement and politics.
+
Screening & live A/V performance: Robby Herbst & Sade Sade
Saturday January 16 2010, 7:30pm, $10 suggested donation
Studio 1202, RSVP programming(at)dimcinema(dot)ca for location
Complimentary light food and beverages will be available, but b.y.o.b. is welcome.

Robby Herbst, Mediation, Self Marginalization and Post Politics in Protest Media. 2009, 60mins, dv.
Sade Sade, War Requiem. 2009, 12mins, a/v performance.
Robby Herbst
is part of the editorial collective of the Los Angeles based publication, The Journal of Aesthetics and Protest. Also an artist and writer, Robby's work looks at the intersection of theory, beauty and social upheaval. His work examines both what forms and images are created in the act of protest and how it is influenced by the world of art. Robbie will be screening and discussing his YTSSP essay in an informal and convivial environment. Complimentary light food and beverages will be available, but b.y.o.b. is welcome.
Also this evening will be a debut of Sade Sade's YTSSP inspired composition, War Requiem. A meditation on musical and lyrical forms of opposition to War,  War Requiem layers video featuring Benjamin Britten, CRASS, John Cage and Arvo Part to create an original sound work which acts both as a study and a response to these artists.
Co-presented with ARTSPEAK and VIVO Media Arts