Programmed by Amy kazymerchyk
Bill Daniel in Person
Who is Bozo Texino? chronicles the search for the source of a ubiquitous and mythic rail graffiti- a simple sketch of a character with an infinity-shaped hat and the scrawled moniker, "Bozo Texino"-- a drawing seen on railcars for over 80 years. Daniel's gritty black and white film uncovers a secret society and it's underground universe of hobo and railworker graffiti, and includes interviews with legendary boxcar artists, Coaltrain, Herby, Colossus of Roads, and The Rambler.  Shooting over a 16-year period, Daniel rode freights across the West carrying a Super-8 sound camera and a 16mm Bolex. During his quest he discovered the roots of a folkloric tradition that has gone mostly unnoticed for a century. Taking inspiration from Beat artists Robert Frank and Jack Kerouac, the film functions as both a sub-cultural documentary and a stylized fable on wanderlust and outsider identity. "I was drawn to the subject by the universal graffiti impulse and the classic, corny notion of freight train blues escape." – BD www.billdaniel.net

Friday September 5 2008 5-6pm
Book Launch of Mostly True by Bill Daniel
Spartacus Books 684 E. Hastings St.
www.spartacusbooks.org

A rollicking rail zine of freight riding stories, interviews with hoboes and boxcar artists, historical oddities and tons of photos of modern day boxcar tags- known as monikers- the result of a 25year obsession with hobo and railworker folklore presented in the guise of a vintage railroad fanzine.

Friday September 5 2008 8pm
Sunset Scavenger
Maclean Park - 700 block E.Georgia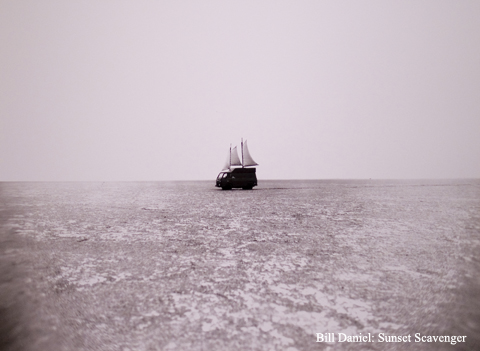 Sunset Scavenger is an outdoor video installation based on ideas concerning the end of the oil age. It is a collage essay on ecological catastrophe, sustainability, improvisation and self-reliance, featuring hippie houseboaters, punk back-to-the-landers, rubber tramps, off-the-gridders, and desert rats, who are today's true cultural vanguard. The two-screen video program is projected on the sails of the Sailvan, a 1984 Ford veggie oil-converted diesel van with a 2-masted gaff-rigged schooner that functions as tour vehicle, projection screen and metaphorical emergency escape craft.
 
Programmed by Amy Kazymerchyk
The selection of videos in Human Beyond a Cure, offer frank and poignant reflections on living in a culture that is simultaneously preoccupied with self-help and self-destruction. Cam Matamoros' In Four Years earnestly takes on a practice of goal setting and positive self-talk, while Daniel Barrow's Artist Statement exposes the meaninglessness of success and art stardom. Both Subtitled and We Belong Together illustrate the inextricable influence of pop culture on our desires for intimacy and connection. Hannah Jickling and Kevin Hegge challenge the hetero-normative status quo in Knee for All, which celebrates the taboo of asexuality and radical desire. Shana Moulton's Whispering Pines #4 makes an unapologetic leap into the quagmire of consumption based 'healing' modalities and their aesthetics, and Nina Yuen's Alison takes us deep into the woods, down deserted highways, and into the psyche of a lost woman. The program's namesake Songs of Praise for the Heart Beyond a Cure strings together a series of uneasy lullabies that neither assuage our fears of the world's end, nor secure our hope in finding a cure for being human.

Daniel Barrow, Artist Statement. 2006, 5:30mins, Canada.
Cam Matamoros, In Four Years (adjectives and adverbs). 2007, 5mins, Canada.
Shana Moulton, Whispering Pines #4. 2007, 12mins, USA.
Benny Nemerofsky Ramsay, Subtitled. 2004, 2mins, Canada.
Goody B. Wiseman, Keeping Her Cool. 2002, 3:50mins, Canada.
Hannah Jickling & Kevin Hegge, Knee for All. 2007, 4mins, Canada.
Leah Glushien & Maiko Tanaka, We Belong Together. 2007, 3:45mins, Canada/USA.
Emily Vey Duke & Cooper Battersby, Songs of Praise for the Heart Beyond Cure. 2006, 15mins, Canada/USA.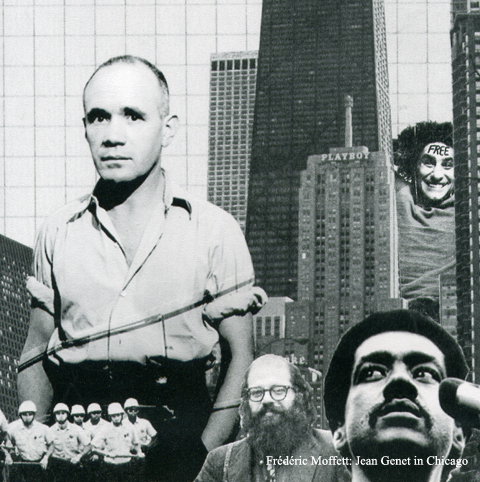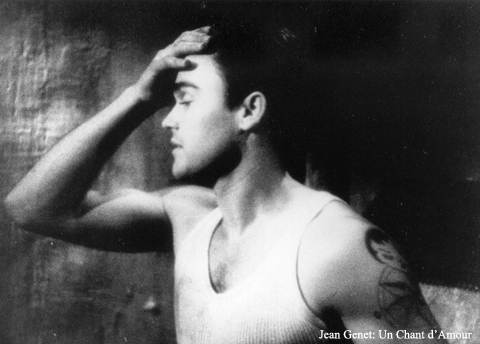 Programmed by Amy Kazymerchyk
Frédéric Moffett is interested in revolt. Not necessarily political revolution, but revolt as Julia Kristeva defines it as "a permanent state of questioning, transformation, [and] an endless probing of appearances. His film Jean Genet in Chicago, which he refers to as a 'thief video', is a poignant revolt against apathy and malaise in contemporary American culture. Saturated with appropriated quotations from literature, media archives, and Genet's memoirs, the film transforms anecdotes of his historical visit to Chicago in 1968 to cover the National Democratic Convention into a reflection on political decay, social dislocation, and the roots of radical queer consciousness.
One the most contentious and openly queer scenes in Jean Genet in Chicago was clearly 'thieved' from Genet's own film Un Chant d'Amour. In Moffett's film, Genet is repeatedly distracted from praising the successes of America's radical movements by sexually objectifying the Chicago Police. This contention between political values and sexual desires grips the heart of Un Chant d'Amour. Its narrative is set in a French prison where a guard takes pleasure in observing two prisoners act out their unrequited love through masturbatory gestures on either side of the brick wall that separates them. Shot in 1950, this erotic visual poem was clearly influenced by Genet's African military service, which no doubt ignited a psychic struggle between his attraction and repulsion to state power and force. Frédéric Moffett's interest in revolt is no doubt inspired by Genet's, and it is an honor to show these two poignant films together.
Frédéric Moffett, Jean Genet in Chicago. 2006, 26mins, Beta SP B&W, Canada/USA.
Jean Genet, Un Chant d'Amour. 1950, 25mins, newly restored 35mm print B&W, France.
Pages